Let these fantastic sides tantalize your tastebuds this Thanksgiving: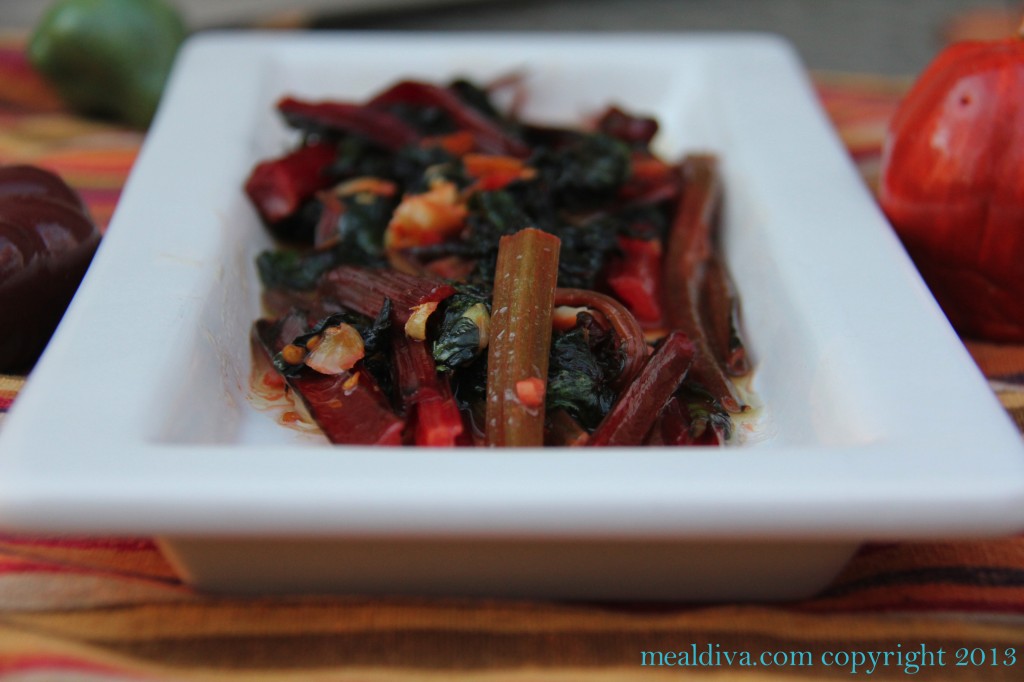 1. Swiss Chard with Pancetta and Pine Nuts
If you are a chard fan, check out my other recipe for Swiss Chard as well. Both are yummy!
Ingredients:
2 thin slices pancetta, diced
2 garlic cloves, sliced thin
1 lb. chard, stems and leaves separated and chopped
1 tsp. thyme
1/3-cup water
½ lemon, juiced
2 tbs. pine nuts, roughly chopped
A sprinkle of salt and pepper to taste
Directions:
In a large Dutch oven over medium-high heat, cook pancetta until crispy, about 5 minutes.
Transfer to a paper-towel-lined plate.
Add garlic, chard stems and thyme to the pan drippings and cook until shallots being to brown, 4 minutes.
Add chard leaves.
Add water and lemon juice and cook, stirring until wilted.
Cover and cook for 4 minutes more until everything is tender.
Remove from heat; add pancetta, nuts and salt and pepper. Enjoy!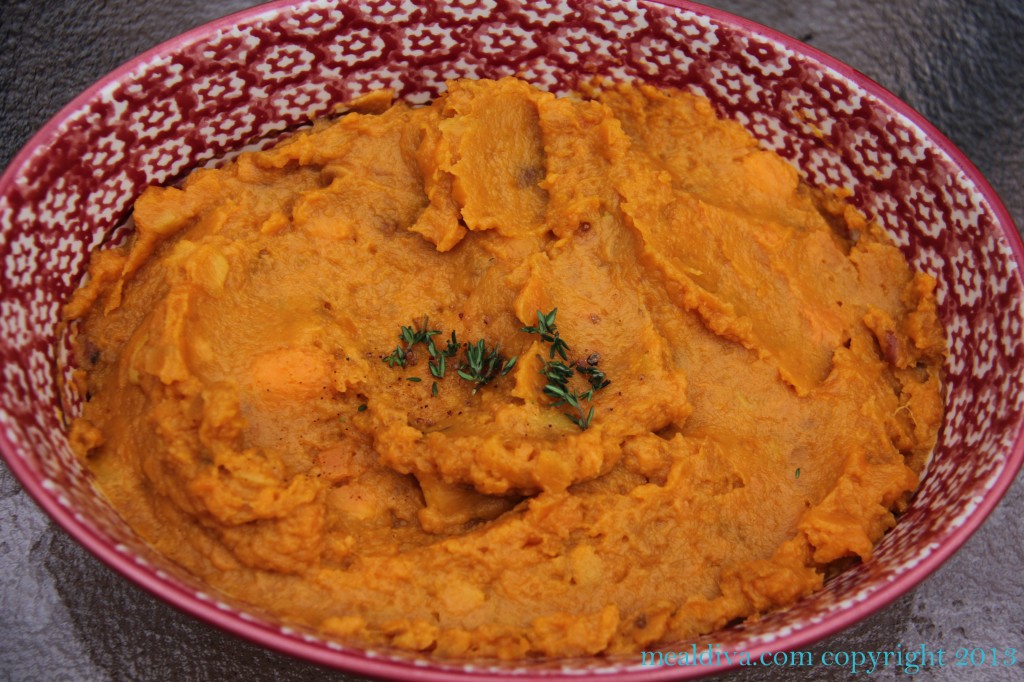 2. Mashed Sweet Potatoes
Sweet potatoes: a classic Thanksgiving side! Yum! If you love sweet potatoes, check out these MealDiva sweet potato fries as well!
Ingredients:
6-8 sweet potatoes, peeled and cut into chunks
1 stick of butter at room temperature
1-cup chicken stock
1/2-cup brown sugar
1/2 teaspoon grated nutmeg
Salt and pepper to taste
Splash of heavy cream
Directions:
Boil potatoes until tender, drain and set aside.
Return the pot to the stove.
Add butter, stock and sugar to the pot.
Mash together until combined.
Season with nutmeg, salt, pepper.
Mash again and enjoy!!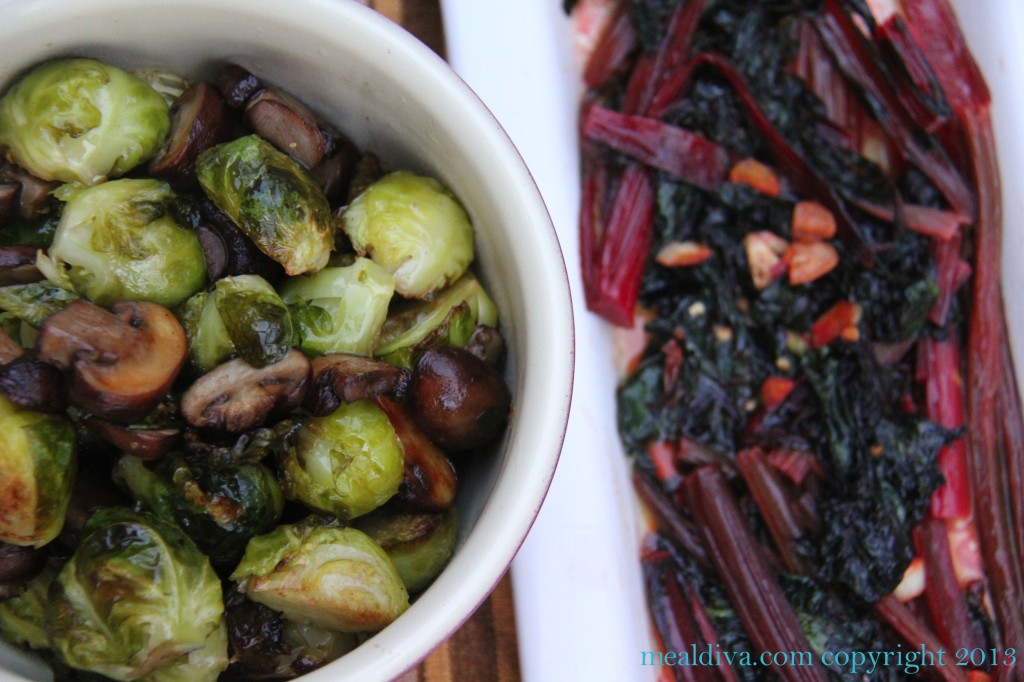 3. Brussels Sprouts with Mushrooms
I love brussels sprouts: they are a must have at the holiday's! For another great recipe check out Drew's Brussels Sprouts as well!
Ingredients:
4 cups Brussels sprouts, trimmed and halved
1/2 pound whole mushrooms
5 tablespoons butter
1/2 cup chopped fresh parsley
Salt and pepper to taste
½ lemon, juiced
Directions:
Cook Brussels sprouts in a pot of lightly salted boiling water for 10 minutes, until fork-tender; strain through a colander, removing as much water as possible.
Set aside.
Melt butter in a large skillet over medium high heat.
Add mushrooms and stir to cook until browned. T
Toss Brussels sprouts with mushrooms, and sprinkle with parsley and lemon juice. Serve immediately.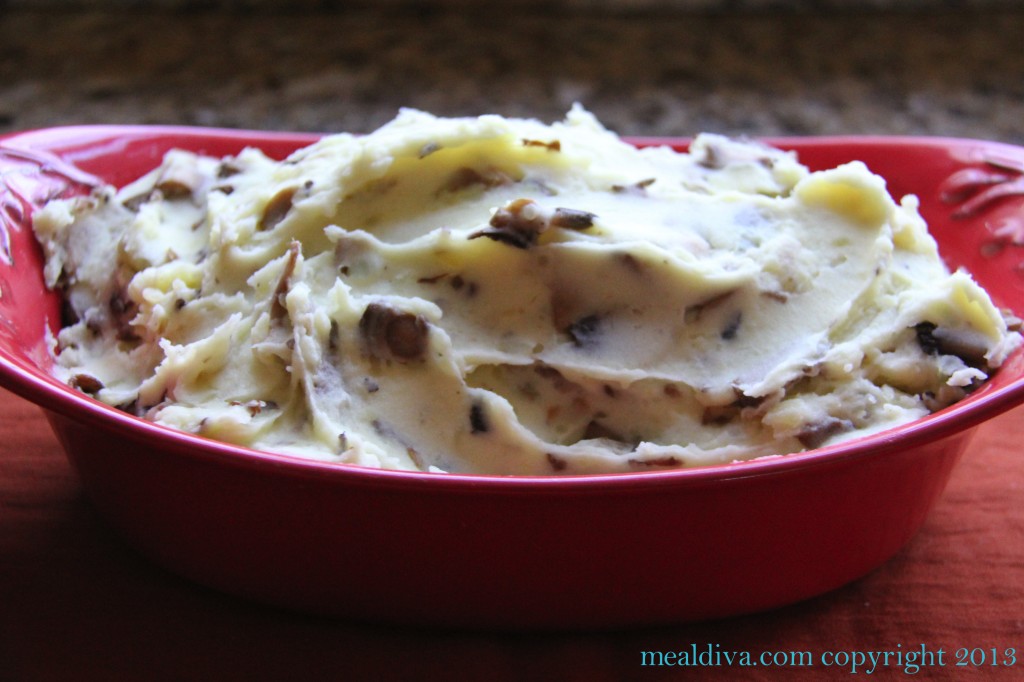 4. Mashed Potatoes with Skillet Mushrooms
I think I saw this on yummy.com or some other recipe website last year. I can't remember because I jotted it down while Stew was napping in the car. Regardless, it's amazing and I have to share it with you! Also, the potatoes and mushrooms can be prepared 2 hours ahead. Let them stand separately at room temperature and re-warm separately over medium heat before continuing with the recipe. Enjoy! Be sure to check out MealDiva's crispy potatoes as well!
Ingredients:
5 Yukon Gold Potatoes, peeled and cut into cubes
6 tbs. butter
2/4-cup skim milk
1-2 lbs. crimini mushrooms, sliced (use more or less depending on how much you like mushrooms. I usually buy a package of pre-sliced ones at the grocery store)
Salt and pepper to taste
1 small yellow onion, diced
2 tbs. fresh chives, diced
Directions:
Cook potatoes in large pot of boiling water until tender, about 25 minutes.
Drain potatoes and place them back into the same pot.
Add 4 tbs. butter to potatoes; mash well.
Add the milk and mix, (you can add more by tablespoonfuls to reach desired consistency).
Season potatoes to taste with salt and pepper.
Melt 2 tbs. butter in large skillet over medium-high heat.
Add half of mushrooms and sauté until they start to soften, about 3 minutes.
Add remaining mushrooms and onion.
Sauté until juices evaporate and mushrooms brown, about 15 minutes
Season with salt and pepper.
Mix mushrooms into potatoes. Top with remaining mushrooms; sprinkle with chives.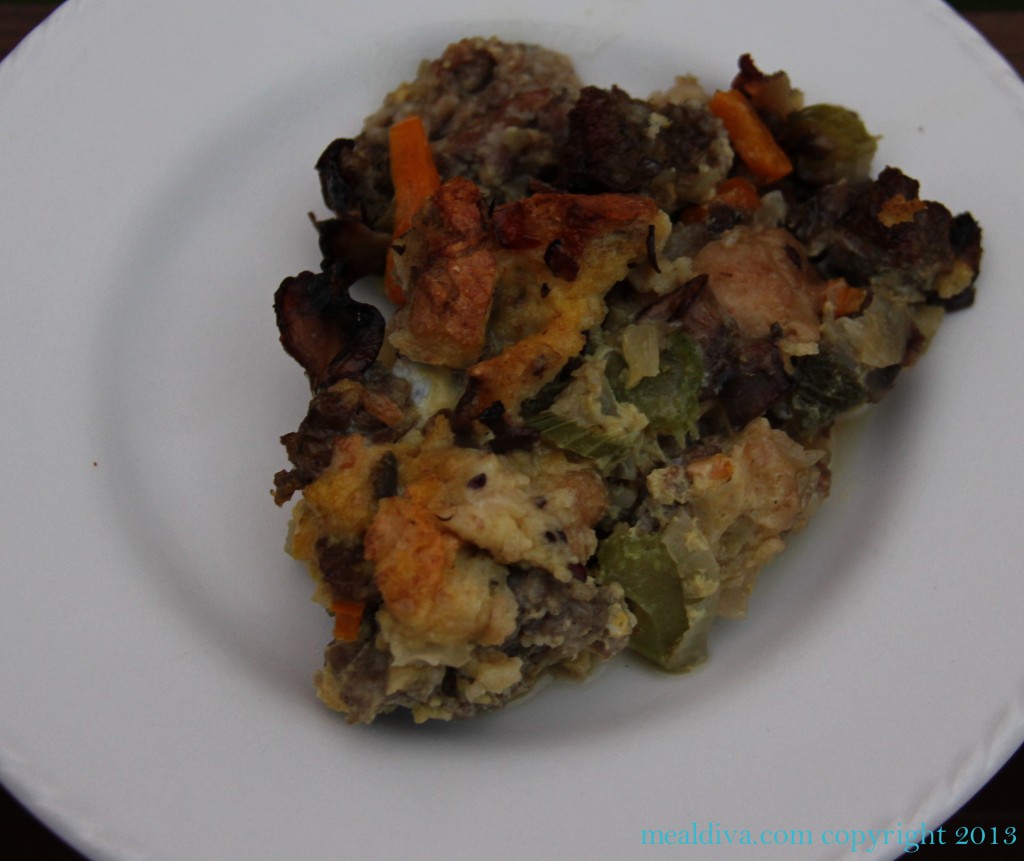 5. Sausage and Whole-Wheat Bread Stuffing
This stuffing is soooo yummy…I've been thinking about it all day and can't wait to eat it tonight. Yes, tonight. I don't host Thanksgiving so there will be an array Thanksgiving sides served this evening. It's like a pre-turkey-day celebration without the turkey!
Ingredients:
1 pound sweet Italian Sausage, casings removed
3 tbs. olive oil
1 medium red onion, chopped
2 celery stalks, chopped
2 cloves garlic, diced
1 orange pepper, chopped
1 package of white mushrooms, sliced
8 slices of day old whole-wheat bakery bread
½ cup toasted wheat germ
2 large eggs, beaten
½ tsp. salt
¼ tsp. pepper
2 cups chicken broth
3-4 fresh sage leaves, torn
A small handful of fresh thyme leaves, removed from stem
Directions:
In a large skillet, cook the sausage, breaking it apart with a spoon so it's crumbly.
Remove from skillet and set aside to cool.
Add olive oil to skillet and mushrooms, sauté for 3 minutes then add onion, celery, garlic and pepper.
Cook on medium-low for 6-10 minutes until the veggies are soft and the onion is translucent.
Turn off heat and let cool.
In a large bowl toss the sausage and bread together then add the wheat germ, eggs, salt and pepper. Toss to combine then add sage and thyme.
Stir in enough broth to moisten the mixture (it may be less then 2 cups — you want it moist but not soaking wet or it will be soggy).
Put mixture in a buttered baking dish and bake at 325 for 50 minutes until lightly browned.
And don't forget to check out MealDiva's Cranberry Sauce!