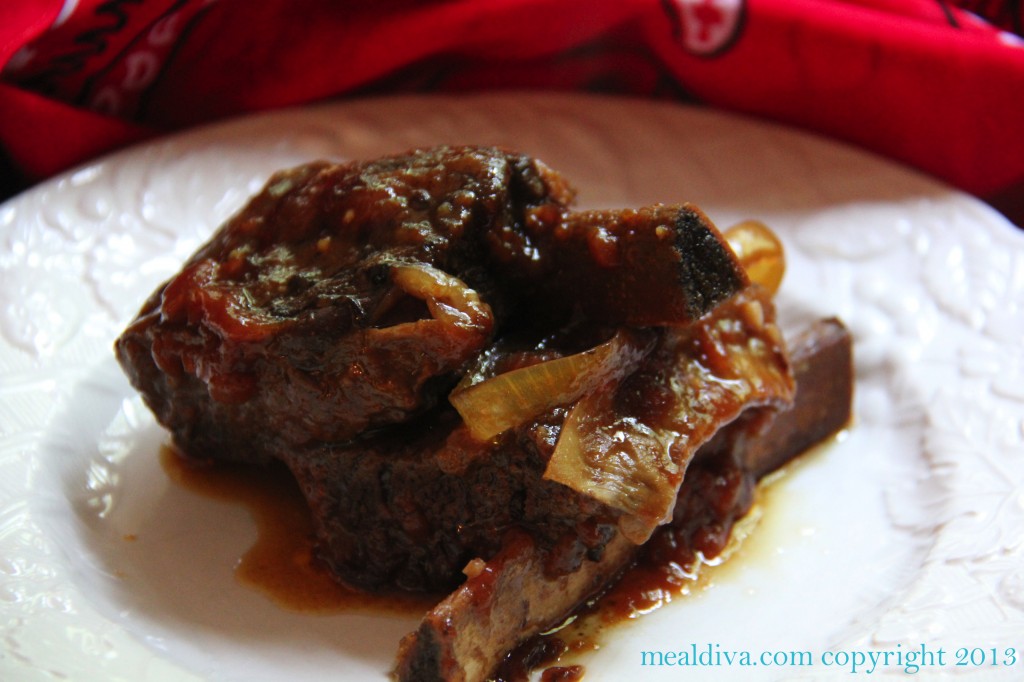 Slow cook your week away with 5 great & easy crockpot recipes from MealDiva:
 1. Beef Brisket
Ingredients:
1 bottle of beer (I like a Pale Ale)
1 packet of onion soup mix (I use Lipton's)
12 ounces Chile sauce (I like Heinz)
1 4 lbs. beef brisket, trimmed
Directions:
In a slow cooker with a minimum 3 ½-quart capacity, combine the beer, soup mix, and chile sauce. Add the brisket and coat with the sauce. (Note that in the smaller models, the meat may not lie flat.) Cover the cooker and cook on low until the brisket is fork-tender, 8-10 hours.
Transfer the brisket to a cutting board and slice against the grain. If the sauce needs to be thickened and intensified, reduce it in a pan on the stove before serving with the brisket Source: http://www.thedailymeal.com
2. Pork shoulder
Pork shoulder is a delicious and super cheap cut but needs a while to get tender and for the fat throughout it to dissolve.
Ingredients:
3-4 pounds pork shoulder, bone-in
2 cloves garlic, diced
1-cup orange juice
½ cup limejuice
1 tbs. Chile powder

2 tsp. cumin seed
1 1/2 tbs. fresh oregano

2 tsp. fresh thyme
2 tsp. salt
2 tsp. pepper
1 tsp. olive oil
Directions:
Rinse pork shoulder with cold water and pat dry.
Trim off excess fat, especially if the butcher left on the skin and fat on one side. Make small slits on both sides of the meat and insert the garlic slices inside.
Whisk together the citrus juices and spices salt and pepper.
Put the pork in a plastic container or large sealable plastic bag and pour marinade over.
Refrigerate for 1-2 hours (or overnight), turning a couple times so all of the sides get marinated.
Heat the olive oil in a large frying pan.
Sear the shoulder on all sides.Put in the crockpot for 5-6 hours on low.
3. Bean and Cabbage Soup
Ingredients:
1 small package of shredded cabbage or 2 cups chopped
1 yellow onion, chopped
2 carrots, sliced
2 celery stalks, diced
2-chicken or veggie stock
1 (16 oz) can white beans, rinsed and drained
1-½ cups diced ham
1 tsp. dried parsley
A good sprinkle or salt and pepper
Directions:
Spray a slow cooker container with butter-flavored cooking spray.
In prepared container, combine cabbage, onion, carrots, celery, and water.
Add beans, ham, parsley flakes, and black pepper.
Mix well to combine.
Cover and cook on low for 8 hours. Mix well before serving. (Taste soup before serving and add more salt if necessary).
4. Taco Soup

Ingredients:
1 lbs. ground beef, browned and drained
1 clove of garlic, minced
2 ( 14 oz) cans of chicken broth
2 (14 oz) cans stewed tomatoes, chopped with liquid
1 1/2 cup medium salsa
2 tbs. dried cilantro
1 tbs. ground cumin
1 tbs. chili powder
3-4 taco shells or corn chips for serving
Grated jack or cheddar cheese
Optional toppings
Diced avocado
Sour cream
Chopped fresh cilantro
Sliced green olives ( my favorite)
Directions:
Combine all of the ingredients except the taco shells/corn chips, cheese and toppings in a crockpot.
Cover and cook on high for 4-6 hours or on low for 8-10 hours.
Skim excess fat off of the top and ladle hot soup into individual serving bowls over the taco shells and cheese.
5. Amazing Crockpot Short Ribs
Ingredients:
2 lbs. beef short ribs
1-2 tbs. olive oil
1 yellow onion, sliced
2 cloves of garlic, diced
1 (14.5 oz) can beef broth
2 tbs. soy sauce
3 tbs. maple syrup
4 tbs. honey
4 tbs. BBQ sauce
1 tsp. dry mustard
Directions:
Heat olive oil in a skillet on medium high.
Brown short ribs for 3 minutes on each side and transfer to the crockpot.
Add garlic and onion to crockpot.
Whisk together broth, soy sauce, maple syrup, honey, BBQ sauce and mustard in a mixing bowl then pour over ribs.
Cover and cook on low for 6-8 hours until the meat is falling off of the bone!
*Note: crockpots can vary in heat so if your sauce looks to runny, transfer the contents to the stove top, add 1 tbs. of cornstarch and simmer for an extra 10 minutes before serving*