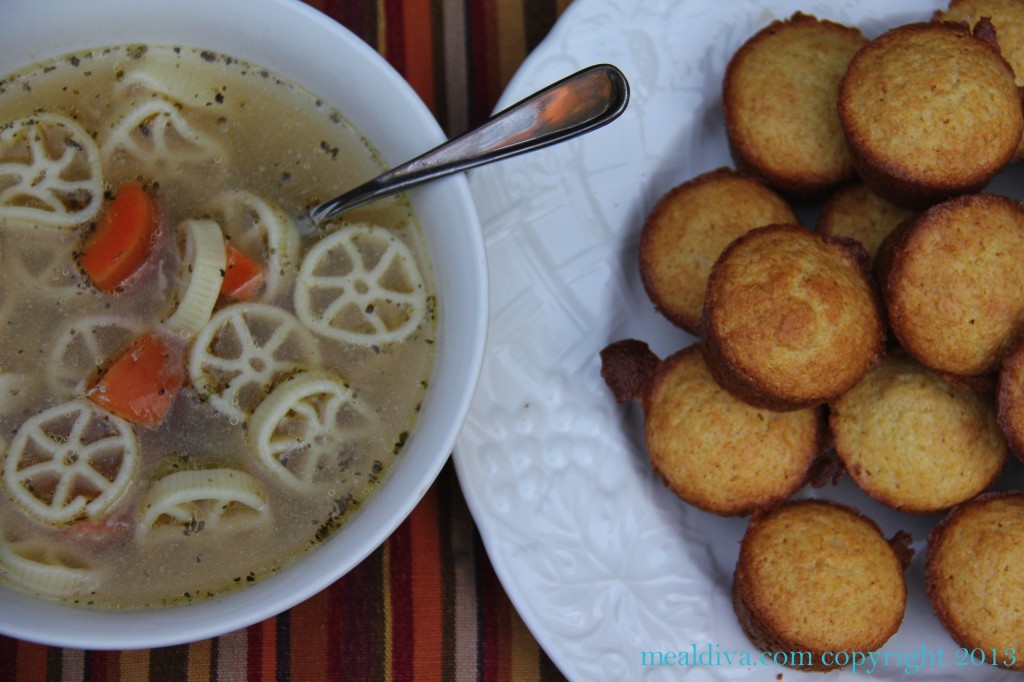 If your looking for a truly satisfying, cool weather crockpot recipe that's simple and soothing, this chicken soup is the perfect choice. In fact it's destined to make you very happy as I usually have just enough left over for lunch the next day… twice the comfort!
When do you like to make chicken noodle soup? To make this a MealDiva Approved meal, serve it with a nice salad and a lovely french bread stick or cornbread muffins!
Crockpot Chicken Soup
Ingredients:
4 cups chicken broth
4 cups water
2 carrots, chopped
2 celery stalks, chopped
1 yellow onion, diced
2 garlic cloves, minced
2 bay leaves
½ tsp. dried thyme
2-4 tsp. salt
½ tsp. black pepper
1 (3.5 lbs.) whole chicken (giblets removed)
½ box whole-wheat noodles of choice
Directions:
In 4-1/2 to 6-quart Crockpot combine chicken broth, water, carrots, celery, onion, garlic, bay leaves, thyme, salt and pepper.
Place whole chicken on top of veggies
Cover slow cooker with lid and cook as manufacturer directs on low setting 8 to 10 hours or on high 4-5 hours
Transfer chicken to cutting board. Discard bay leaves. Add noodles to Crockpot; cover with lid and cook (on low or high) 20 minutes.
While noodles cook, remove and discard skin, fat and bones from chicken; shred meat.
Skim fat from the soup and discard. Return shredded chicken to the pot and serve.
If you enjoy cooking with your crockpot, be sure to check out MealDiva's Short Ribs, Taco Soup and top 5  Fall Crockpot Recipe's!