Credit your mom for being right- again. Breakfast really is the most important meal of the day. Studies show that among numerous benefits, breakfast eaters tend to be slimmer than morning meal abstainers. And, if you really want to stay trim, may I suggest a little protein.
A recent study published in The American Journal of Clinical Nutrition examined effects of a high protein breakfast on appetite control and evening snacking. If you find yourself noshing on junk food once the kids go to bed, you might want to look at what your eating for breakfast. When over weight college-age women ate a breakfast with 35 grams of protein, they experienced fewer bad food cravings during the day and snacked less at night compared to those who skipped breakfast (as a side note – women only need 46 grams of protein and men need 56 grams a day). According to the study " eating protein alters brain signals that control hunger" and it may also reduce food cravings and motivational drive to eat, all of which lead to less snacking.
If you are a vegetarian, you still have many ways to get in the protein. Breakfast basics like soy milk, yogurt, nut butters are a good place to start. I often enjoy a little protein like beans and lentils as they shake up my morning routine in a yummy way. The study recommends structuring your breakfast so you are getting roughly 40-50% of your calories from carbs, 25 % from protein and the rest from healthy fats. While the carbs provide the energy, fats make it taste better and support the absorption of fat- soluble vitamins.
To help get some protein- powered breakfasts with minimal guesswork, check out the recipes below. Who knows? Maybe breakfast will become your favorite meal of the day!
Article inspired by Vegetarian Times October 2013 article
Pineapple Lime Smoothie – from Dr. Oz
Ingredients:
1 1/2 cup spinach
2 cups water
2 cups pineapple, chopped
1 frozen banana
1 lime, juiced
2 tbs. chia seeds
Directions:
Blend together until smooth.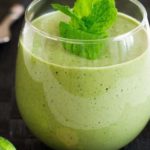 Savory English Muffin – Vegetarian Times
Ingredients:
1 whole-grain English muffin, toasted
2 tbs. green onion, chopped
1/4 cup ricotta cheese
1 tomato slice
1 slice bacon
1 oz cheddar cheese, grated
Directions:
Stir green onion into ricotta cheese then spread mixture over english muffin.
Top with tomato and bacon slices then cheese.
Broil for 2 minutes until the cheese on top melts.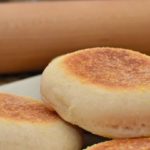 Yogurt Granola Parfaits – MealDiva
Ingredients:
Whole-milk Organic Yogurt
Fresh fruit of choice
Crunchy high protein granola
Raw honey
Directions:
Layer yogurt, fruit, granola and honey in a small bowl, class or jar.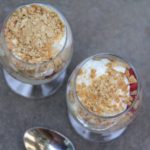 Breakfast Quinoa – Cooking Light
Ingredients:
1/2 cup uncooked quinoa
3/4 cup light coconut milk
2 tbs. water
1 tbs. light brown sugar
1/8 tsp.salt
1/4 cup flaked unsweetened coconut
1 cup sliced strawberries
1 cup sliced banana
Directions:
Preheat oven to 400°.
Place quinoa in a fine sieve, and place the sieve in a large bowl. Cover quinoa with water. Using your hands, rub the grains together for 30 seconds; rinse and drain quinoa. Repeat the procedure twice. Drain well. Combine quinoa, coconut milk, 2 tablespoons water, brown sugar, and salt in a medium saucepan, and bring to a boil. Reduce heat, and simmer 15 minutes or until liquid is absorbed, stirring occasionally. Stir mixture constantly during the last 2 minutes of cooking.
 While quinoa cooks, spread flaked coconut in a single layer on a baking sheet. Bake at 400° for 5 minutes or until golden brown. Cool slightly.
Place about 1/2 cup quinoa mixture in each of 4 bowls. Top each serving with 1/4 cup strawberry slices, 1/4 cup banana slices, and 1 tablespoon toasted coconut. Serve warm.