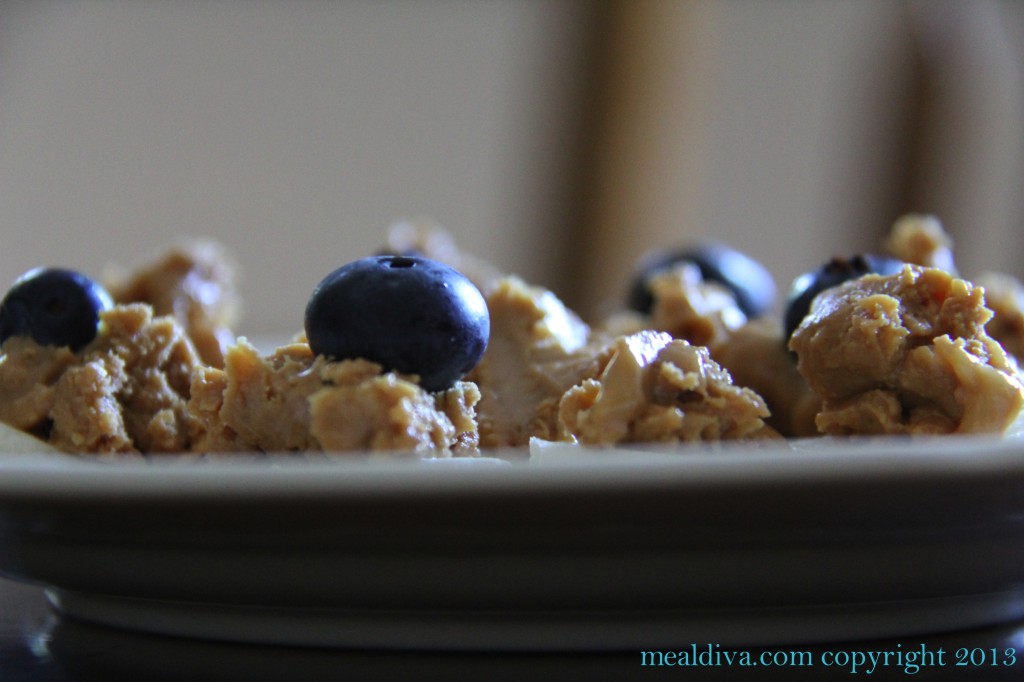 5 Healthy Nighttime Snacks
To nosh or not to nosh at night…that is the question…or is it?
I have read countless diet books that tell the reader not to eat after 7:00pm …and… I can't help but strongly disagree! I firmly believe that the time you eat doesn't matter as much as WHAT your putting into your mouth. When I lived in Spain, we ate at 9:00pm and the family that I was staying with was anything but "large." Eating at night, if done right, can offer some surprising benefits as well. For example, eating protein can help you build muscle while you sleep while eating low-glycemic carbohydrates can help your morning blood sugar levels regulate. Below are 5 healthy nighttime snacking ideas that will help keep you healthy and your waistline small! Enjoy!
1. Almond Butter and Blueberries
Almond butter has recently emerged as a healthier alternative to peanut butter. It is said that it's good for your heart, it can lower and help control your blood pressure, help with weight control and it's full of antioxidants! I grew up eating it and think it's AMAZING! In the MealDiva house, we take 1 tsp. of almond butter and top it with 1 blueberry ( as pictured above). This snack can be popped right into your mouth and the sweetness of the blueberry makes it both a savory and sweet treat! Delicious!
2. Cinnamon Ricotta
This very yummy snack can be made in just a few minutes with the help of a microwave. Simply combine protein-rich, part-skim ricotta cheese with vanilla extract, a dash of cinnamon and a pinch of nutmeg and heat for 45 seconds (or more depending of your personal preference). Consider adding extra cinnamon and maybe a drizzle of honey after heating; cinnamon is said to help stabilize blood-sugar levels.
3. Pistachios
Pistachios in the shell are a brilliant nighttime snack as the de-shelling process requires some work, thus slowing down how fast you can eat them. The slower you eat, the less you will devour. Another great thing about pistachios is that you get to eat more nuts per ounce (50 nuts) than any other nut. The combination of getting to eat more and having to eat them slower makes pistachios one of the best options. If you are looking for something a little sweet, salty or savory as well, try adding a little goat or sheep cheese or a fruit, like apples to the mix.
4. Berries and Cream
The combination of berries and cream is an effortless and enjoyable dessert. By substituting plain Greek yogurt for the cream, you can still enjoy a high protein version of this thick and rich dessert. Top ½ cup of plain Greek yogurt with ¼ cup strawberries and ¼ cup of blueberries and a little drizzle of local honey.
5. Dark Chocolate Covered Strawberries
This is an indulgence and the serving should be no greater then 3 strawberries but, according to many sources including Longevity.com, Dr. Oz and my own Pediatrician, produce, including fruit, makes up the foundation of a healthy diet, and the U.S. Department of Agriculture recommends eating 1.5 to 2 cups of fruit daily. Strawberries dipped in dark chocolate can contribute to your fruit intake and offer some health benefits due to the nutrients in the chocolate and the berries. Make sure the chocolate is truly dark and enjoy! Click here for the recipe.
What Do YOU Think?
Do you like eating at night, or do you avoid it all together? Do you think you'll try any of these late night snack ideas? Do you have other late night snack ideas that we should know about? Leave a comment under "speak your mind" to share them with the MealDiva audience!