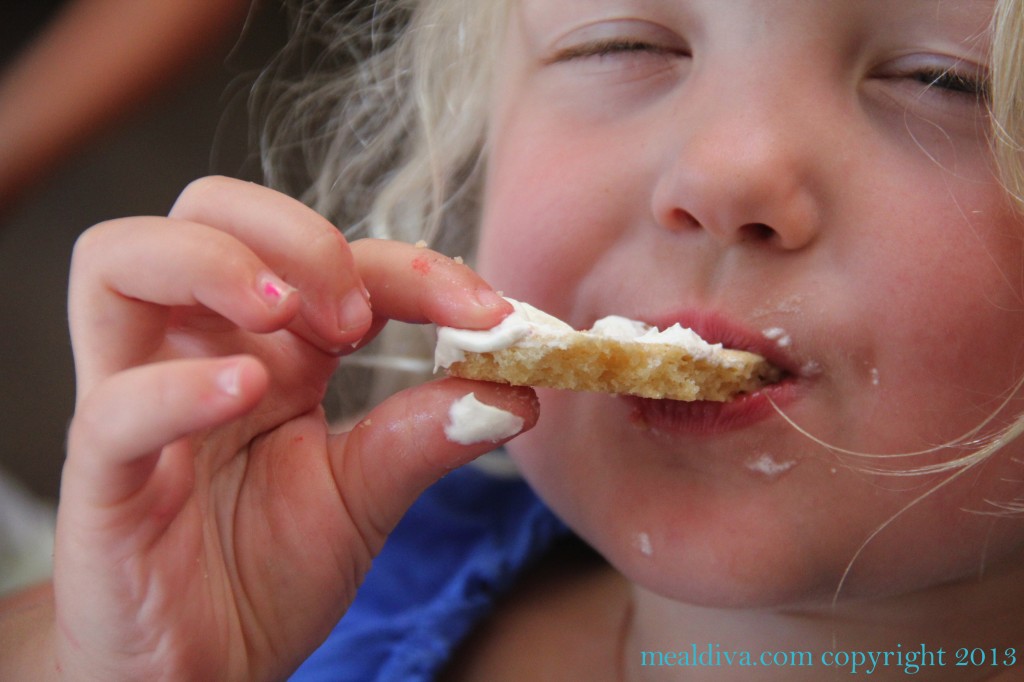 The label "organic" is confusing many consumers. Just because the packaged food is labeled, as "organic," does not mean that it isn't loaded with processed chemical garbage and sugar! With so many junk food options now labeled as such, it makes people feel ok about allowing their children to munch on cheddar bunnies, super sweet yogurts and organic gummy fruits. After all "organic" means "healthy" — right?
While these choices are obviously better than artificially flavored popcorn or trans-fat laden crackers, sometimes I feel that if these convenient "healthy" options didn't exists, more people would be forced to slice up a banana or whip up some zucchini bread when snack time rolled around.
Recently, because Peanut has food allergies, I was asked to help come up with a class list of "approved snacks" My friend and I did our best to include packaged food as well as fresh food items like fruits and veggies. Upon submitting the list, I promptly received a few e-mail messages from parents asking about additional packaged products and other processed items that were (very unintentionally –seriously, I didn't even know they existed) left off the list because they are "the only snack my will child eat and they are organic." HOLD THE PHONE: did those parents just tell me that their kids don't eat anything but sugar-laden, processed, "organic" food? I ask you this, what is wrong with an apple? It doesn't even need a food label!
Eating habits are learned behaviors; they're not intuitive. So what your children learns to eat at home early in life sticks with them well into adulthood.
In reality, a few simple tools combined with a mantra of "variety, moderation, and balance" will provide you with all you need to ensure the long-term nutritional health of your child. Everybody should be eating the rainbow!
Now, I'm not suggesting that you're a bad parent if your child is a picky eater. My middle child is one of the pickiest eaters around! Spud is a great example of a child who needs multiple exposures to new foods before accepting them. Most nights, she sinks low in her chair and makes a face if I place an unfamiliar dinner item in front of her. Take cauliflower for example: until last month, it was totally rejected. I've tried to feed it to her a variety of ways and was not successful until she tried Cauliflower Puree: it was a total hit! I then exploited the similarities with mashed turnips and potatoes to expand the variety of food she will eat. As a side note, she still won't touch most orange vegetables but I will keep trying!
Below are 10 food-related  ideas that may work to get your kids to eat more of the 'Good Stuff:"
1. Kale Chips: I always have to mention this, as it's really my picky-eater's FAVORITE! You can add nutritional yeast — which is full of B vitamins — for a cheesy flavor. 

2. Salads: Yes, even Spud and Stew will try salads… if I make them the right way. You can experiment with mincing the veggies really small or even using a veggie peeler to slice them thin or a mini cookie cutter to cut them into fun shapes. Try adding grapes, apples or any dried fruit. My kids will only eat two types of salads: those that involve Ranch Dip and this Chive-Vinaigrette Salad.

3. Sweet Potato "Fries:" Sweet potatoes, full of fiber and beta carotene, are more nutritious than their white cousins, but even regular potatoes, if sliced and baked instead of fried, make a great snack and are certainly better than the greasy alternative you'll get at McDonalds. Here's my recipe for Sweet Potato Fries and Baked Potatoes Fries
4. Parfaits: Divide and layer one container of Peach Greek Yogurt with ¼ cup blueberries and ¼ cup strawberries.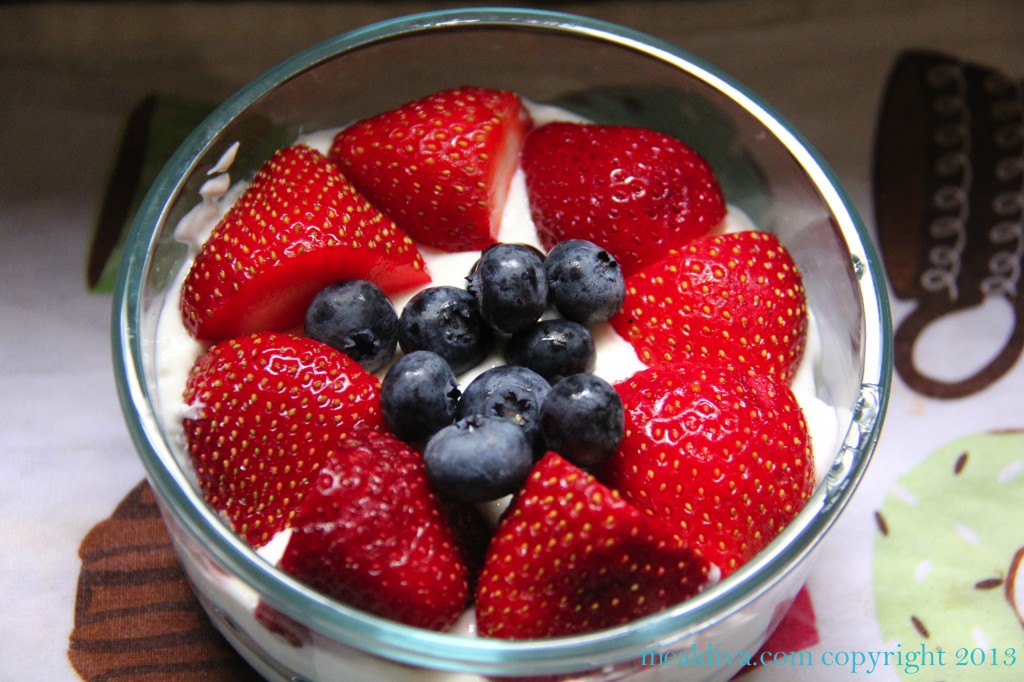 5. Mashed Sweet Potatoes and Carrots: Cook 2 large sweet potatoes, 4 large carrots and 2 garlic cloves in large pot of boiling salted water until very tender. Drain; return to same pot. Next, Mash with potato masher. Add a little cream and butter and mash until smooth and creamy. Season to taste with salt and pepper and a sprinkle of cheese.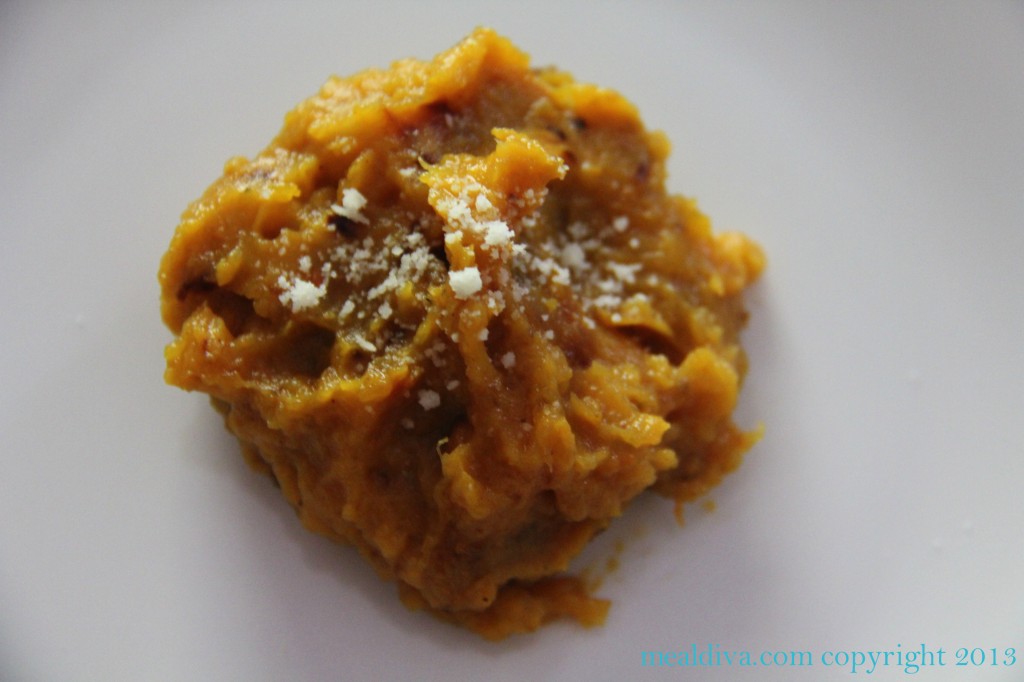 6. Quick Kabobs: Take ¼ cup grapes, 6 dried apricots or ¼ cup cherry tomatoes and ¼ cup mini fresh-mozzarella balls and thread onto a wooden skewer. Make sure the kids don't stab each other and your all set!
7. Romaine Lettuce Wraps: I take left over ground taco meat (from recipes like taco soup  just strain the meat from the liquid ) and roll it up for a tasty finger food. Despite its mild flavor and relatively light color, romaine is actually a super healthy green, full of folate. Bib lettuce works well too!
8. Spud's Cauliflower Puree: Bring 1 head cauliflower and 1 (24oz) carton chicken stock to a boil in a pot. Simmer until cauliflower is soft with pierced with a fork. Transfer cauliflower to a blender using a spoon with holes in it. Add a little cooking liquid and then blend until smooth. (You could also mash cauliflower & liquid in a pot like making mashed potatoes.) Add a little sour cream and butter. Combine. Add salt and pepper to taste.
9. Almond Butter-Banana-Graham Crackers: A graham cracker smeared with almond butter and topped with a banana and a sprinkle of coconut is super YUMMY!
10. Sliced Apples and Pears: Well, duh, we all know that sliced fruit makes a nutritious snack, but paired with almond or peanut butter for dipping or even a nice soft goat or ricotta cheese makes it even healthier!
Does your child have a favorite "heath food" or are you struggling to improve their eating habits? Leave me a response under "speak your mind" and maybe we can all help each other feed our kids better!