Local Bites, Cocktails, Food & Events for January, February & March 2015:
So far 2015 has been filled with lots and lots and lots of snow days (did I say lots)? I must admit, I was getting a little sick of being stuck at home with my kids and that's when my friend Jill shared this hilarious video with me. It it made me laugh so hard that I just had to share it with you (sometimes you just have to laugh away your winter blues).
On to food and cocktails: 
I could go on and go about how delicious the Seafood Platter was at the Gladstone Tavern this month ( doesn't the picture say it all). I also had a nice night out with Daddy Diva at Delicious Heights  in Far Hills. I really like their cocktails, specifically this Belgian style triple ale and the Vodka Martini ( extra olives). Of course this month we also stopped at "The Tewks," (Tewksbury Inn) where Dave, my favorite-bartender-of-all-time, made my husband his favorite: a yummy Old Fashion. I think one of my favorite things to do is stop for a drink with my husband.  Speaking of drinking, I may have done a lot of that this month, relying on Villa Antonori from Bourbon Street Liquors to get me through the long snow days…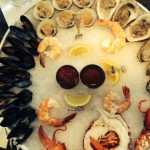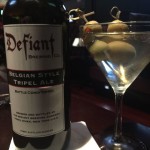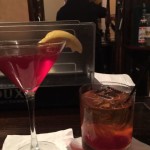 I promise you that I'm not an alcoholic…
Some other things that made February happy was the day I ventured out to PA to make some cheese! Thanks mom for inviting us! Milkhouse Creamery was simply fantastic! In addition, I discovered Christie's Artisan Bread and Pastry Shop in Clinton: they have the most amazing ciabatta buns EVER. I also cooked up a little New Jersey produced Sweet Bee Granola, munched on some addictive Wasabi Peas from Nuts.com and indulged in some delicious New Jersey made, allergy-friendly chocolate from Premium Chocolatiers.
Yes, my taste buds were happy.
As for food, I celebrated Heart Health Month by cooking up some great heart healthy dishes like Vegetarian Cuban- Style Black Beans and Rice, Salmon with Pomegranate Salsa , Almond Coconut Bites and Mustard- Maple Roasted Salmon from Food Network . I served this dish with some Garlicky Green Beans and life was good.
If you're looking to get out and about, here are some MealDiva recommend food-related events: 
March 17: Join bartender Chris James at Jockey Hollow Bar & Kitchen as he teaches a Hendrick's Gin class .You can email them for more information: cocktailclasses@jockeyhollowbarandkitchen.com
March 23rd- 29th: Frenchtown will be hosting a Restaurant Week where participating restaurants throughout Frenchtown and the surrounding areas will showcase some delicious lunches and dinners.
March 20 to 22: Tickets are on sale for the 7th Annual New Jersey Wine & Food Festival, at the Crystal Springs Resort. This year, the guest of honor is David Kinch of Manresa in Los Gatos, CA, which has earned two Michelin stars. Proceeds benefit the James Beard Foundation. Complete details and tickets info can be found at www.njwinefoodfest.com or by calling 855-391-7454. Crystal Springs Resort, Hamburg.
March 25: Join Chef Bryan Gregg and Chef Todd Villani at Escape Montclair, a five course dinner to benefit the Carol G. Simon Caner Center. Dinner begins at 7:30 p.m. and tickets are $68 person with 50 percent of the proceeds going to the caner center. For more information, click here or call (973) 744-0712. Escape, 345 Bloomfield Avenue, Montclair.
March 28: The Woman's Club of Tewksbury presents "A Taste of Tewksbury" with tastings of food presented from 10 area restaurants and food sources. Among those showcasing their special menu choices will be A la Carte, Andrea's, Bex Kitchen, Brunello Trattoria, Chocodiem, Clean Table, Max 31, Metropolitan Seafood and Gourmet, Melick's Town Farm and Oldwick General Store Catering. Tewksbury Fine Wines and Spirits will again provide ten vendors offering a selection of over sixty very fine wines, which will be sampled in a keepsake wine glass.. Among the wines to be showcased will be ribera del duero's, priorats, picpouls, rieslings and South African wines. Also featured will be Cabernet sauvignons, malbecs, merlots, pinot noirs, chardonnays, sparklers to name a few. . For more information visit www.tewkwomansclub.org.
April 13: MealDiva is excited to be working closely with Saltopia to bring you a freezer-meal cooking class. More details to come.
Want to be featured on MealDiva? Let me know about your event, locally made New Jersey food or restaurant!! I also have a sponsored content program. Email jen@mealdiva.com for details.