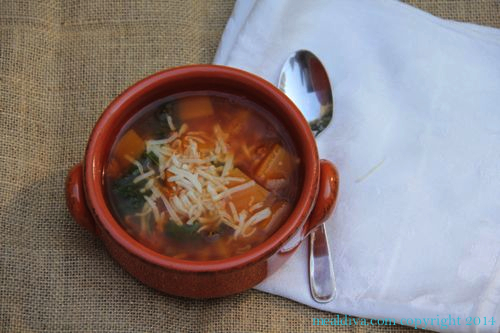 I'm publicizing #CrockpotThursday a few hours early today because, in addition to blogging about this fantastic soup, on Thursday November 6th,  I'll be serving it up as well.  The Long Valley Green Market has very graciously invited me to cook up some fun stuff from 3-7 pm. So come stop in and say "hi!" I'd LOVE to see/meet you!
Today's soup is very seasonal, slow food. "Slow food" isn't always food that's cooked in the crockpot, it's food that's locally grown and sustainable (i.e. fresh and delicious). I enjoy cooking with seasonal ingredients because I'm always inspired to cook something new and fresh. When you buy from local farms, you get something that tastes truly amazing.
So today I'm cooking with butternut squash, chickpeas and kale because squash is so "very fall." I hope you enjoy this fantastic, in season soup recipe!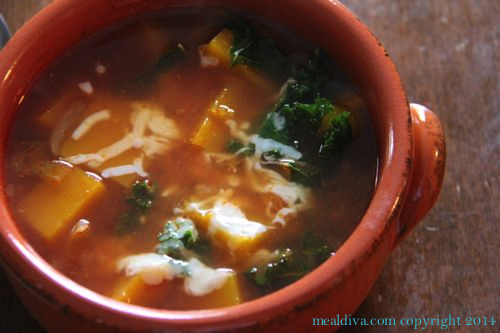 Crockpot Butternut Squash Soup
Ingredients:
2 tbs. olive oil
1 large yellow onion, diced
3 garlic cloves, diced
3 tbs. tomato paste
A pinch of red pepper flakes
1-½ cups dried chickpeas, rinsed
1 small butternut squash, peeled and cut into bite-sized pieces
1 bunch of kale, leaves separated from stems and roughly chopped
1 piece of Parmesan cheese rind
8 cups chicken stock, homemade or store-purchased
Salt and pepper to taste
Pepper-jack cheese, shredded for topping (optional)
Crusty bread for serving
Directions:
Heat olive oil in a large pan over medium heat.
Add the onions and cook for 3 minutes then add the garlic and sauté until both are golden and soft, about 2 more minutes.
Add tomato paste and red pepper flakes, sauté for 1 minute.
Add ½ cup water to the pan and stir, scraping up any brown bites from the bottom.
Transfer mixture to the Crockpot.
Add the chickpeas, squash, Parmesan rind and chicken stock to the Crockpot and give it a good stir.
Cover and cook on low for 8-10 hours.
5 minutes before serving, stir in the kale leaves; discard the Parmesan rind and season with salt and pepper.
Ladle coup into bowls and serve topped with a sprinkle of cheese and a slice of crusty bread.
Are you obsessed with squash in the fall? If so, be sure to check out some of my other great recipes:
Simple Roasted Butternut Squash & Tomato Soup