These are my two favorite Flu ( and cold) fighting teas. Not only do they taste great but they are very effective at soothing a cough and sore throat while fighting off infection at the root!
Flu Fighting Tea is perfect for fever, aches, pains, a wracking cough, or a sore throat. Sounds like the flu to me! It's never fun to feel under the weather, but so many of the cold and flu remedies available are full of chemicals that you wouldn't otherwise put in your body. One of my favorite all-natural ways to feel better is to drink a big cup of honey lemon flu fighting tea.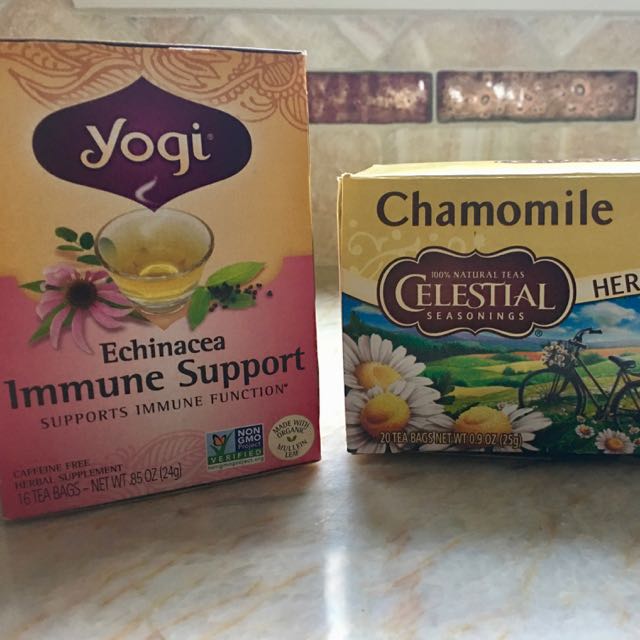 All of the ingredients are so, so, so good for you! Ginger, honey, lemon, camomile and echinacea – Don't you love it when something delicious love turns out to be good for you? Me, too! Stay healthy and enjoy!
Flu Fighting Ginger, Lemon and Honey Tea
Ingredients:
1 -inch piece ginger root, peeled and sliced
1 large strip lemon rind
6 cups water
1/3 cup raw honey
1 lemon, juiced
4 camomile or other tea bags
Directions:
Heat the ginger, lemon rind, water and honey to a boil in small pot.
Add lemon juice to hot water and transfer to a tea pot.
Add tea bags to pot and steep.
Remove bags and serve tea.
Flu Fighting Echinacea Tea
Ingredients:
1 good quality echinacea team bag
1- inch piece ginger root, peeled
1 lemon, juiced
1/4 cup raw honey
A pinch of cloves, cinnamon and cayenne pepper
Directions:
Steep tea bags and ginger root in hot water in a small pot.
Add lemon juice and honey; stir to combine then add spices ( optional).
Remove tea bags and serve tea.