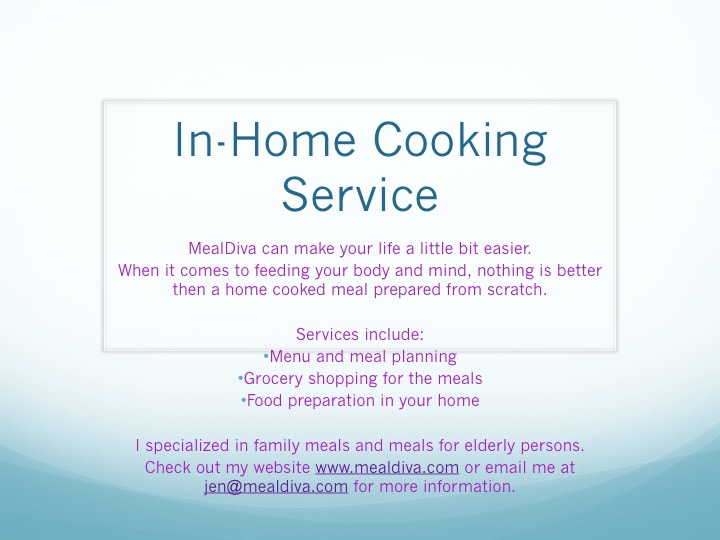 I specialize in customizable, fresh, family- friendly and healthy meals. I also specialize in stocking your freezer with fabulous freezer meals. Simply cook or heat according to directions and enjoy a healthy family dinner at home.
Please contact me via email for current pricing and a menus. jen@mealdiva.com
I cook in your kitchen- it's the easiest and most cost efficient way to cook for you. Health Department regulations require that I either cook in an approved commercial kitchen or in your home. By cooking in your home, I save the cost of running a commercial kitchen, and that savings is passed along to you – you get gourmet food in a convenient format, ready whenever you are!

What does the customer have to supply for me to cook for them?
All you need is a kitchen with a sink, stove, microwave and refrigerator/freezer; I bring everything else. You don't have to worry about pots, pans, utensils, spices, groceries or cleaning supplies; I bring all that with me when I come to complete your service.
My fee covers all the components of your personal in-home cooking service. The assessment process includes the initial phone or email interview and customizations for each week's menu to suit your likes, dislikes, specific requests and special dietary requirements. Menus are then prepared and submitted to you for approval a week before each service date. Preparing the delicious meals, as well as time spent returning your kitchen to its initial spotless state are part of the service fee as well.
 Most packaging costs are also covered in the service fee. One large advantage of using me is convenience – you get delicious, home cooked food without having to make reservations, find parking, wait for a table, hope for good service, pay for food and tip your server, and drive home. You simply go to your refrigerator, select the food you want from your refrigerator/freezer, reheat your dinner and serve.
Why I stated MealDiva Meals:
Whenever I think about the happiest moments in my life, it revolves around the kitchen table.  From planning family meals to shopping for produce to serving healthy and delicious food, I feel truly inspired. Many families today juggle with fitting the ritual of "The Family Meal" and all its related chores into their tight schedule.  For me, it's a labor of love.  As a mother to an allergy child, I've skillfully managed to turn what could have a stressful time into a desire to make healthy, safe, delicious food and I want to share it with others!
I'm not sure how, but somewhere between all the stresses of life, my greatest achievement has been establishing a signature cooking style that my husband and kids wholeheartedly approve of.  Whether it was my Vegetable Stir Fry, my Red Sauce, or my Chicken Noodle Soup, my measure of success is who wants second helpings.  Now I am taking the skills and the confidence that I can please all tastes and transforming it into a business!
I can customize meals tailor made for vegetarians, gluten free, dairy free, nut free and other diets.  I emphasize the value of a stress-free mealtime!  It can be challenging to coordinate a meal for a family with conflicting dietary restrictions, but it's how I live my everyday and I know that communication is key to understanding my clients' needs.
When you have the opportunity to taste a home cooked dinner made with wholesome ingredients, it's a privilege nowadays.  To have access to the time required in order to prepare home cooked meals is an extravagance in itself.  I make that luxury a reality, and will leave families with a refrigerator full of meals and a clean kitchen!  I am empowered by spices and simmering sauces and relish the challenge of any picky eater!
I have been inspired to provide lasting memories for the senses, something seldom enjoyed by families these days.  I am driven by a passion to nourish and nurture and I love bringing families back to the dinner table.