Cinco de Mayo is this week and I feel like everyone reaches for the limes. Don't you think margaritas, guacamole, tequila and chicken all taste delicious with a little bit of lime?  That's why today I'm sharing a favorite lime- based dressing along with a colorful and mouthwatering chopped salad. This Mexican Salad will be a hit at your next party.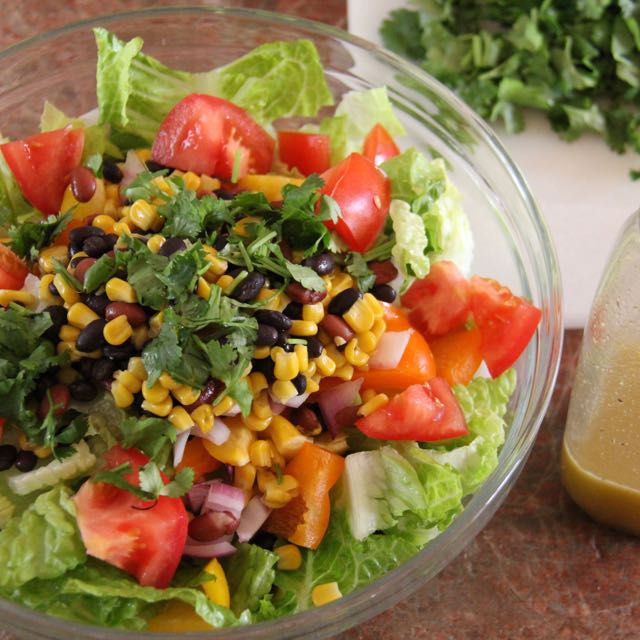 Cino de May- or the fifth day of May- commemorates the Mexican army's 1862 victory over France at the Battle of Puebla during the Franco-Mexican War. It's actually not a popular holiday in Mexico but here in the USA it is a celebration of Mexican culture and heritage. It's also my good friend Jenny's birthday. It's one of my favorite days.
That being said, I aim to please so you can definitely add a little jalapeño to this salad and a little chili pepper to the dressing if your looking for more a kick. I find that most people prefer the salad without the kick. Serve this salad with a little Mexican Marinated Steak, Mexican Chicken in Cream Sauce , some Homemade Lemonade and a little Mexican Chocolate Ganache Cake for dessert. Happy Cinco de Mayo! Cheers & Enjoy!
Zesty Cilantro Lime Mexican Chopped Salad
Ingredients:
Ingredients for the dressing:
¼ cup fresh lime juice ( freshly squeezed prefered)
2 1/2 tbs. honey
½ tsp. ground cumin
1 garlic clove, diced small
A pinch of salt
2 tbs. Canola oil
2 tbs. Olive oil
Salt and pepper to taste
Ingredients for the salad:
1 medium head romaine lettuce, torn into bite sized pieces
1 medium bell pepper, diced
½ medium red onion, diced
½ medium jicama, peeled and diced
2 Tomatoes, diced
1 ½ cups frozen corn ( if in season, fresh corn would be lovely)
1 (14oz) can black beans, drained and rinsed
½ cup Cilantro, chopped
Directions:
For the dressing, combine lime juice, honey, cumin garlic and salt. Stir to combine. In a steady stream, add the oils, whisking continuously. Taste and add more salt and pepper, if needed. Set aside.
For the salad, combine salad ingredients in a large bowl.
Toss to combine then add dressing and stir to coat all ingredients. Garnish with cilantro leaves, if desired.
Serve with tortilla chips for a little crunch.