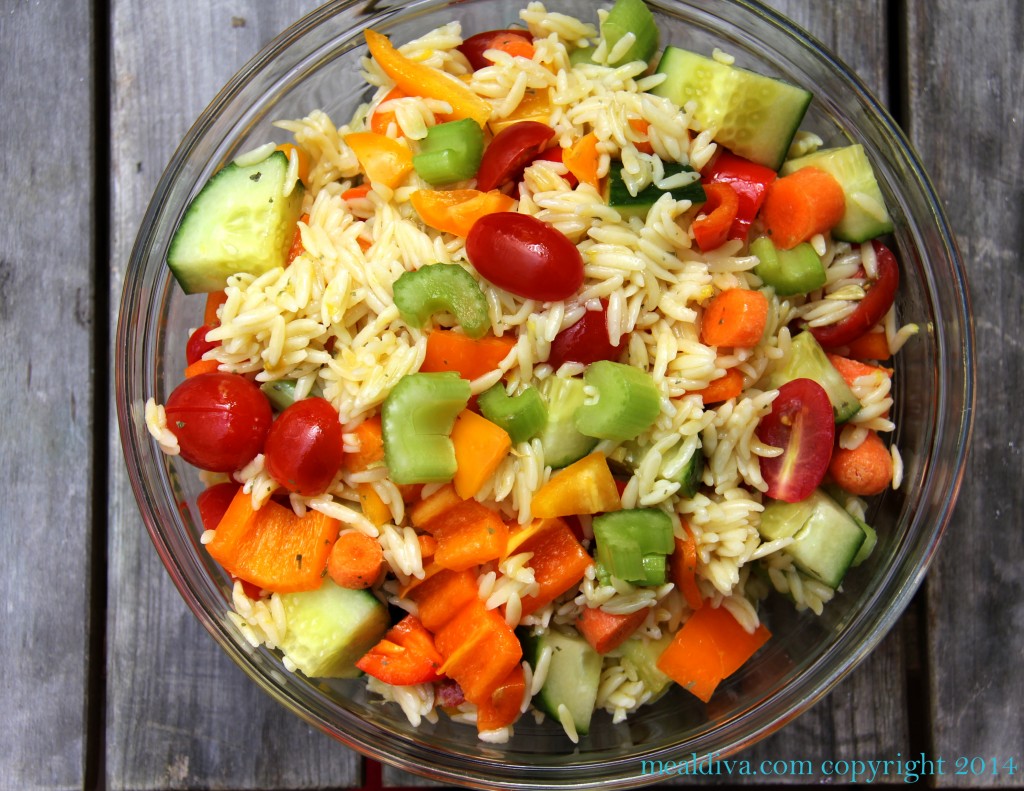 This week's #WeekdaySupper is all about potluck meals! I love a good potluck dinner – trying new, interesting and often-tasty recipes is one of my favorite things to do (I know your surprised that I love an event that involves food). Traditionally, a potluck party has a host, who makes the main dish and the guests bring the rest. Personally, I like to bring this Stuffed Orzo Salad recipe to potluck dinners because it can be served cold and still tastes great the next day!
My family adores this recipe and when they know that it will be served for dinner, they hurry to the table. Seriously – they willingly devour vegetables when they are served with a little orzo and lemon – a real life miracle at it's best.
So without further ado, here's an easy, fun and tasty potable dinner/side dish! Happy eating!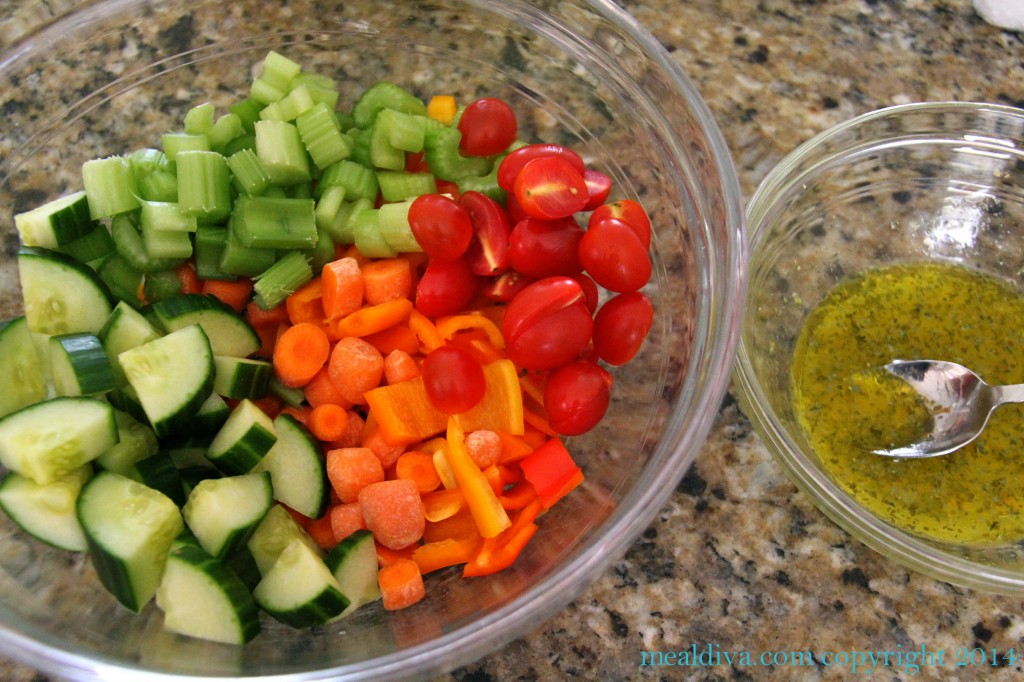 Stuffed Orzo Salad
Ingredients:
1 cup uncooked orzo (rice shaped pasta)
6 small peppers, a variety of colors, seeded and chopped
1 small cucumber, chopped
1-pint cherry tomatoes cut in ½
2 medium carrots, peeled and chopped
2 celery stalks, choppedhttp://mealdiva.com/
¼ cup chopped fresh cilantro or 1 tbs. dried cilantro
1 lemon, zested and juiced
1 cup extra-virgin olive oil
A pinch of salt
1 garlic clove, crushed
Optional: ½ cup crumbled feta cheese
Directions:
Cook pasta according to package directions, omitting salt and butter or olive oil.
Drain and rinse with cold water and put aside.
Combine lemon juice, cilantro, olive oil, salt and crushed garlic in a small bowl and whisk to combine. This
In another bowl, add the pasta and vegetables and toss gently to combine then add the dressing and toss some more.
Add salt and pepper to taste if desired and feta cheese if using.
If you are looking for other great #WeekdaySupper ideas and recipes, be sure to check out the links below. Each day a #WeekdaySupper blogger will be posting a fabulous, must try potluck recipe! Enjoy!
Monday – Stuffed Orzo Salad by MealDiva
Tuesday – Grilled, Garlicky Lamb Lollipops by Culinary Adventures with Camilla
Wednesday – Easy Japanese Savory Okonomiyaki Pancakes by NinjaBaking.com
Thursday – Chicken and Israeli Couscous Vegetable Salad by Shockingly Delicious
Friday –Coconut Rice Pilaf with Peas & Fresh Herbs f by Sue's Nutrition Buzz