CSA season kicked off this week in New Jersey and I'm excited! Here in my part of the world there is an abundance of Community Supported Agriculture options that you should check out and try!
Here's why:
I think a good CSA is a real treat, especially during the summer and fall months. Besides, there are several "feel good" things about participating. First, it's local. Your purchases help local farmers while helping you further your PC quotient all at the same time. Next, it's fresh. VERY FRESH! Unless you grow it, you can't get much fresher. Third, it's a healthy choice.
Bonus: it's good for you!
So this week asparagus was featured in my CSA and I came home and dappled with a few new ideas on how to prepare it and this Raw Shaved Asparagus Salad With Parmesan Vinaigrette is a HIT!
And my kids ate it up! Double HIT!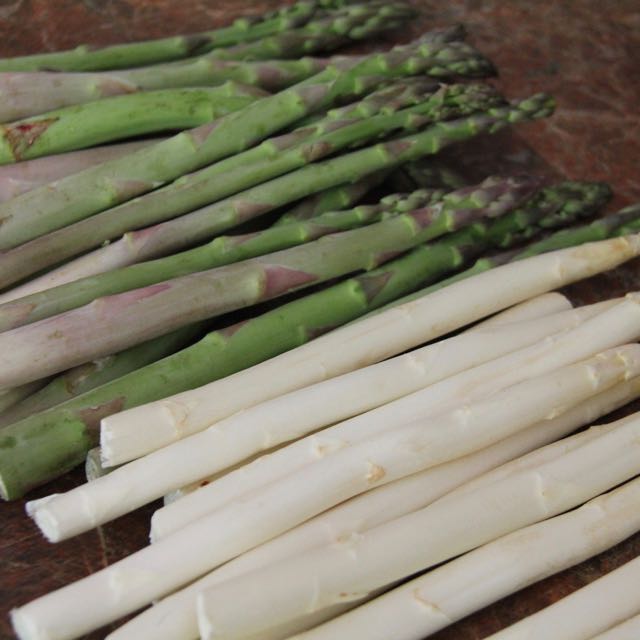 You really can't go wrong with spring asparagus. I mean really, there is nothing more delicious then farm fresh spring asparagus- it's delectably crisp and sweet and delicious and doesn't need much doctoring up.
And that's why we decided to enjoy it served raw in this salad.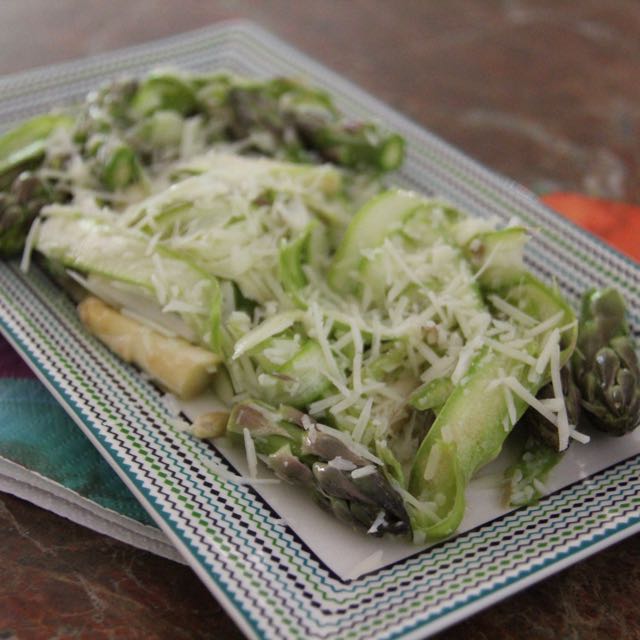 This salad is not only mouthwatering but my kids ate it and asked for seconds so I consider it a win! Makes me happy.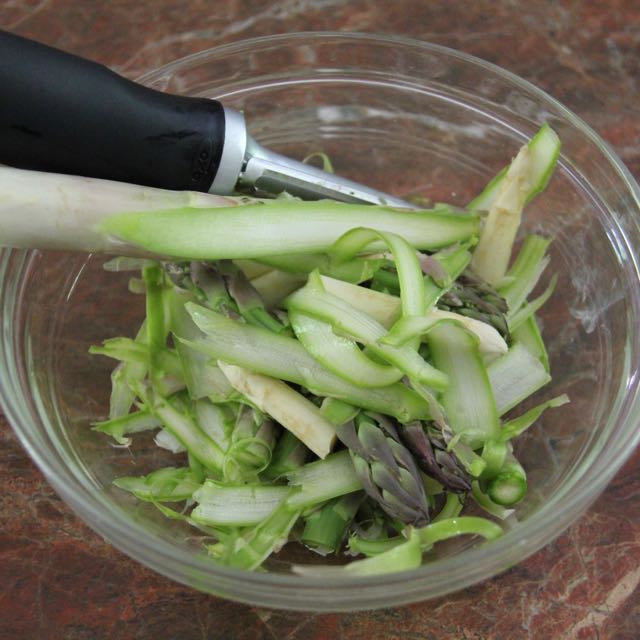 Start by trimming the tips off of the asparagus and placing them into a bowl. Leaving the tips whole adds a nice texture and beautiful look to the salad. Second, use a vegetable peeler to peel asparagus into strips. This might be a little challenging but certainly worth the effort.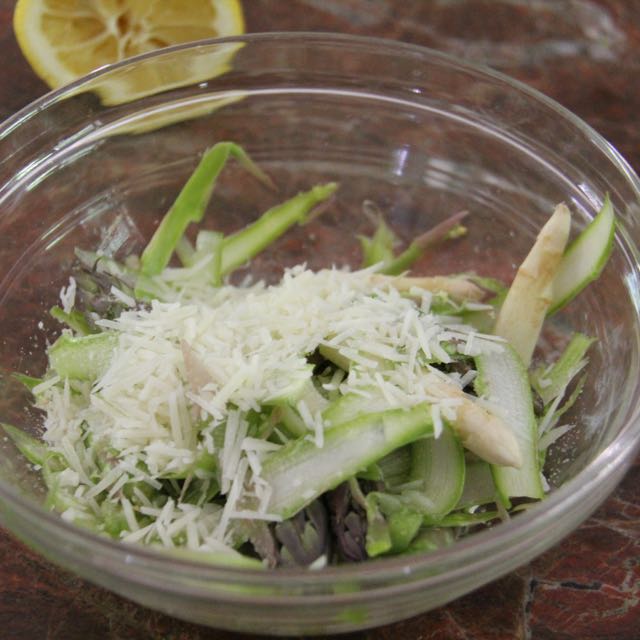 Next, make the simple lemon and oil vinaigrette, then toss it with the asparagus and add the extra cheese! Done! How easy was that!
Enjoy!
Shaved Asparagus With Parmesan Vinaigrette
Ingredients:
12 large asparagus spears (about 1 lb.), tips trimmed and stalks peeled
1/4 cup + 1 tbs. finely grated Parmesan plus a piece for shaving ( if desired)
Juice of 1 lemon
1/4 cup extra-virgin olive oil
Sea salt and freshly ground black pepper
Directions:
Over a medium bowl, trim asparagus tips from stalks.
Working with 1 asparagus spear at a time, use a vegetable peeler to shave spears into long, thin shavings.
Combine 1 tbs. grated Parmesan and lemon juice in a small bowl and slowly whisk in oil until well blended.
Season vinaigrette generously with salt and pepper.
Drizzle vinaigrette over asparagus, add the remaining cheese and toss to coat.
This can be made a few hours in advance or served immediately.