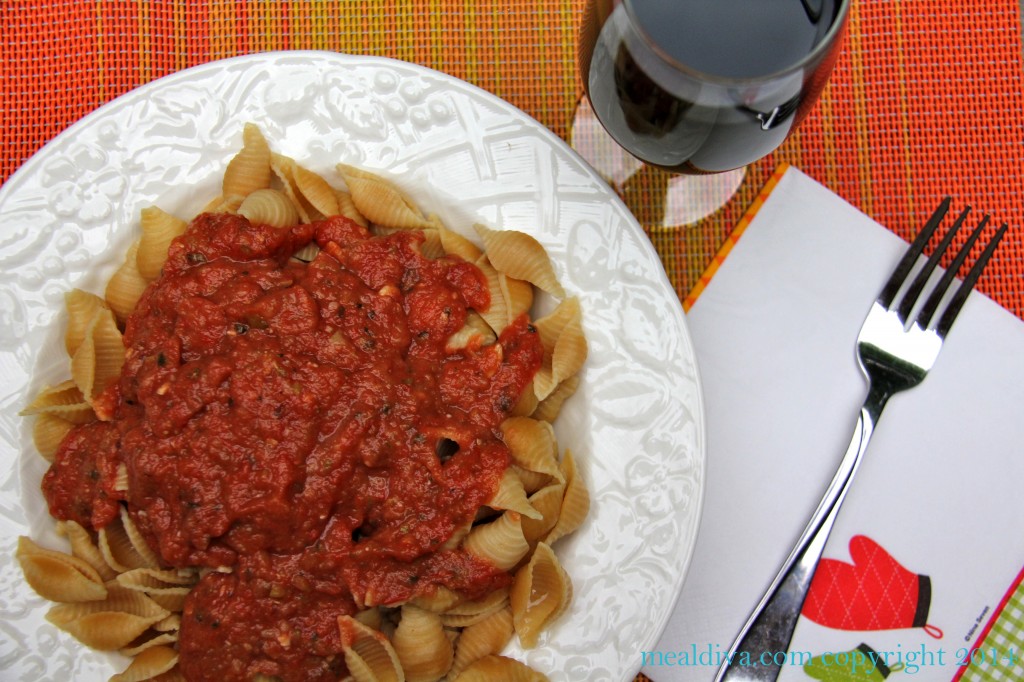 Wine for summers' Bounty #WinePW
It's no secret that I am a devout red wine drinker – and the more full bodied, the better! In my opinion, nothing goes better with a nice glass of red wine then red sauce. Today, for #WinePW, I'm using up summer's bounty in a fresh Roasted Vegetable Red Sauce served with AMARONE Della Valpolicella 2008.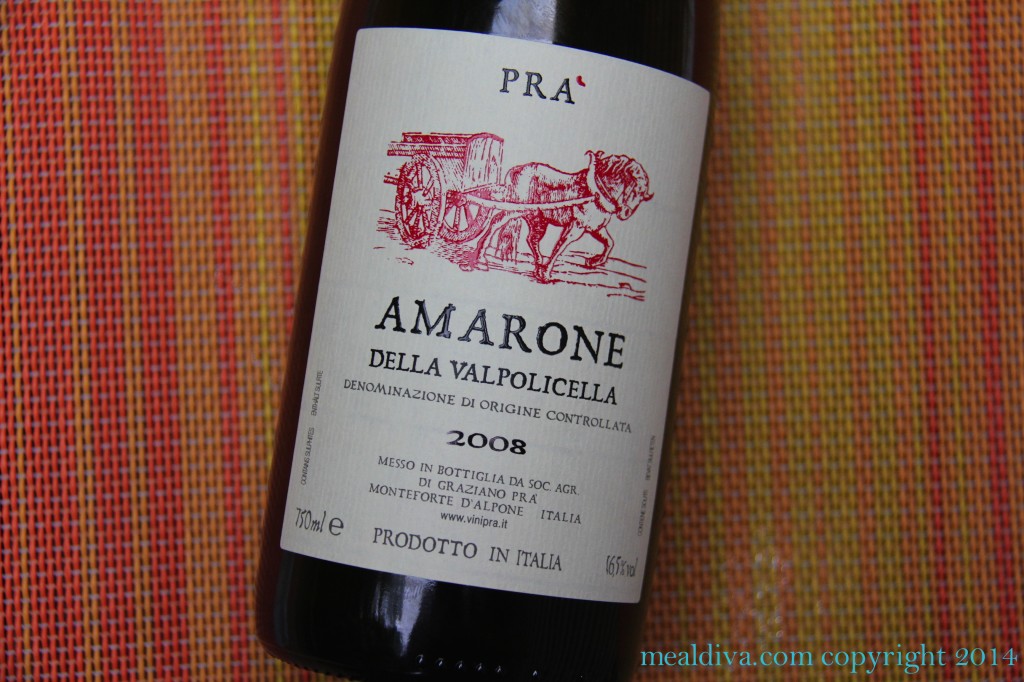 Before I go any further, if you're a wine drinker, I know that when you think of Amarone, you probably think of red meat. Rib eye and filet mignon are perfect for Amarone but I think that this roasted red sauce is hearty enough that wines' bright acidity and tannins really shine though. It's a stunning sauce and compliments the smooth, rich but elegant wine perfectly.
In fact, there are very few things more delicious then this pairing.
Onto the red sauce….
This recipe may seem reminiscent of The Sneaky Chef book (where the vegetables are concealed in a brownie or transformed with a paring knife into winsome bunnies and elephants) but I promise you that the flavors of the sweetly roasted garlic, onions, zucchini and eggplant shine through magnificently in this gorgeous sauce.
First, prepare the vegetables for roasting (I realized after the fact that there was no eggplant in this picture…but I promise you that it was beautifully situated on the pan as well). To roast the vegetables, just toss them with olive, salt and pepper and place them into the oven for 15-20 minutes until the zucchini and eggplant are soft. Once they are roasted, set them aside for a few minutes before transferring them to the blender to puree.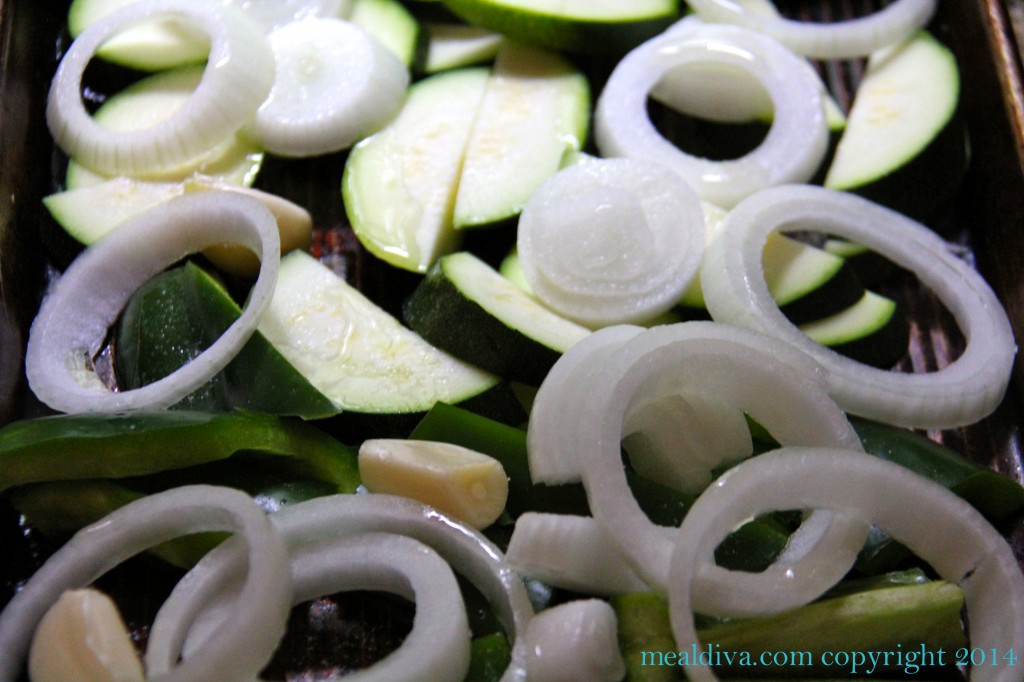 Once the vegetables are pureed, it's time to combine them with the tomatoes and simmer for 10 minutes before serving. For tonights dinner, I served this sauce over whole-wheat pasta but it also tastes delicious with meatballs, sausages or even polenta! Enjoy!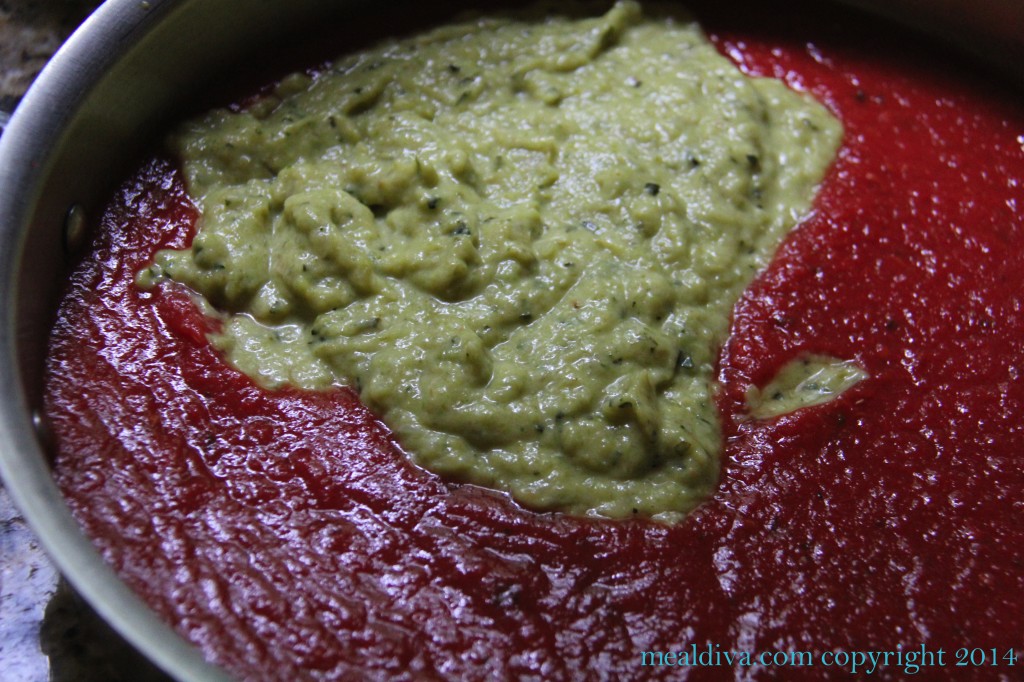 Mmmmm…. serve it with Italian Amarone and you will be in Heaven! The wine rounds out the flavors in your mouth as the taste of the sauce is balanced spectacularly by the dry, fresh, full-bodied depth and flavor concentration of the wine. Delicious!
Roasted Vegetable Red Sauce with AMARONE Della Valpolicella 2008
Ingredients:
1 green pepper, cut into strips
1 yellow onion, cut into wedges
1 zucchini, cut into bite-sized pieces
½ eggplant, cut into bite sized pieces
4 garlic cloves, peeled
2 tbs. olive oil
A pinch of salt
A pinch of pepper
1 (24 oz) can crushed tomatoes
Directions:
Preheat oven to 450 degrees.
On a large cookie sheet or roasting pan, place pepper, onions, zucchini, eggplant and garlic.
Drizzle with olive oil and salt and pepper then toss to coat.
Bake for 15-20 minutes, stirring ½ way through the baking time.
Remove vegetables from oven and allow to cool for 10 minutes.
Transfer vegetables to a blender or food processor and process until smooth.
Meanwhile, in a large, high-sided sauté pan, heat the tomatoes.
Add roasted vegetable puree and bring to a simmer.
Turn down the heat and simmer for 5-10 minutes until some of the liquid has evaporated and the sauce is heated through.
Serve over meatballs, pasta or even polenta & enjoy!
Wine Pairing Weekend # 3 Bloggers: Be sure to check out what my fellow bloggers have come up with for the August Wine Pairing Weekend!
Pull That Cork shared "Wine for Summer's Bounty. Will Garnacha Do the Trick?"
Meal Diva paired "Summer Vegetable Red Sauce with Amarone"
Culinary Adventures with Camilla posted "Pan-Seared Padròns with DeRose Vineyards' Négrette"
Vino Travels — An Italian Wine Blog shared "Tomato, toe-mah-toe: Summer's bounty with Sicilian wine Donnafugata"
Grape Experiences paired "Cecchi Chianti Classico 2010 and Vegetable Lasagna"
Curious Cuisiniere shared "Chipotle Garden Salsa with Wild Hare Petite Sirah"
ENOFYLZ Wine Blog posted "Grilled Paiche with a White Greek Blend"
Take a Bite Out of Boca shared "Quinoa-Crusted Eggplant and Heirloom Tomato Stacks paired with Monrosso Chianti"
foodwineclick shared "Summers' Bounty or Attack of the Killer Turnips?"
Confessions of a Culinary Diva blogged about "Lobster Paella and Albarino"
Tasting Pour shared "Summertime and the Cooking is Easy"
Cooking Chat paired "Linguine with Pesto, Fresh Tomatoes and a Sauvignon Blanc"
Join the #winePW conversation: Follow the #winePW conversation on Twitter throughout the weekend and beyond. If you're reading this early enough, you can join us for a live Twitter chat on our theme "Wine for Summer's Bounty" on Saturday, August 9, from 11 a.m. to noon Eastern Time. Questions for the chat are posted here on the #winePW site. You can also visit our group Pinterest board to pin some great pairing ideas for later! Stay tuned for the September Wine Pairing Weekend, which will focus on "Regional Food and Wine Pairings" on Saturday, September 13.