Quinoa – a MealDiva staple: my kids love it, my husband adores it and I'm pretty sure that the dog will eventually get a taste and be in love as well. I usually prepare quinoa to serve as a cold Red Quinoa Salad and my daughter Peanut has her own self-created recipe as well. But, with the cold weather approaching, I thought it was time to heat up the kitchen with a little warm Quinoa Risotto with Broccoli – and wait until you try this dish – OMG – mindblowingly ( is that a word?) delicious and healthy to boot!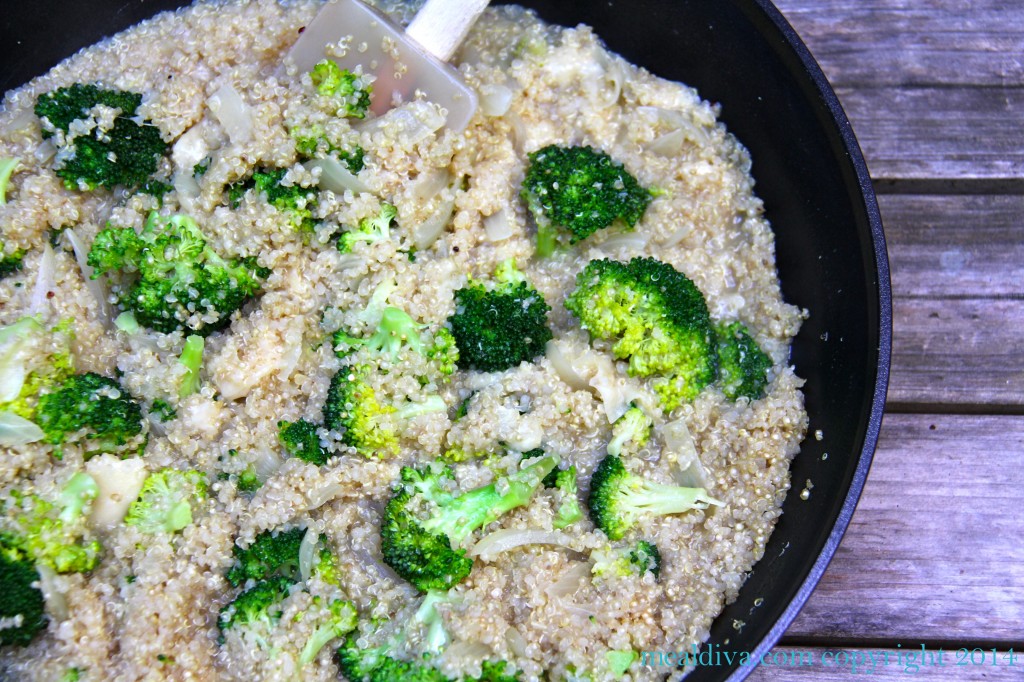 In fact, my children gave me double thumbs up and looks of sincere adoration as they licked their bowls clean.
It's that good. No joke. Seriously.
First, start by gathering the ingredients. Yes, the wine is missing from the picture because I poured myself a nice big glass of it ( I like to drink when I cook) and totally left it out of the picture. For anyone interested, I used a CA Chardonnay because that's what I had in the house….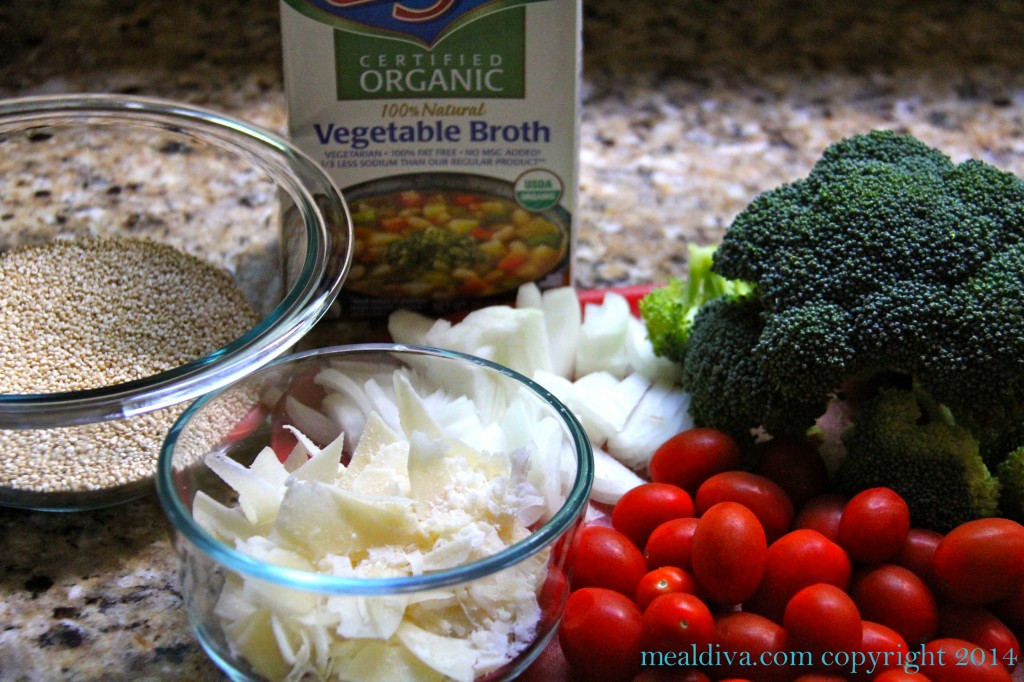 First bring the broth and water to a low simmer then start cooking the onions. Sauté them until they start getting fragrant and then add the quinoa followed by the white wine. Mmmmm I'm starting to get excited about this dinner already!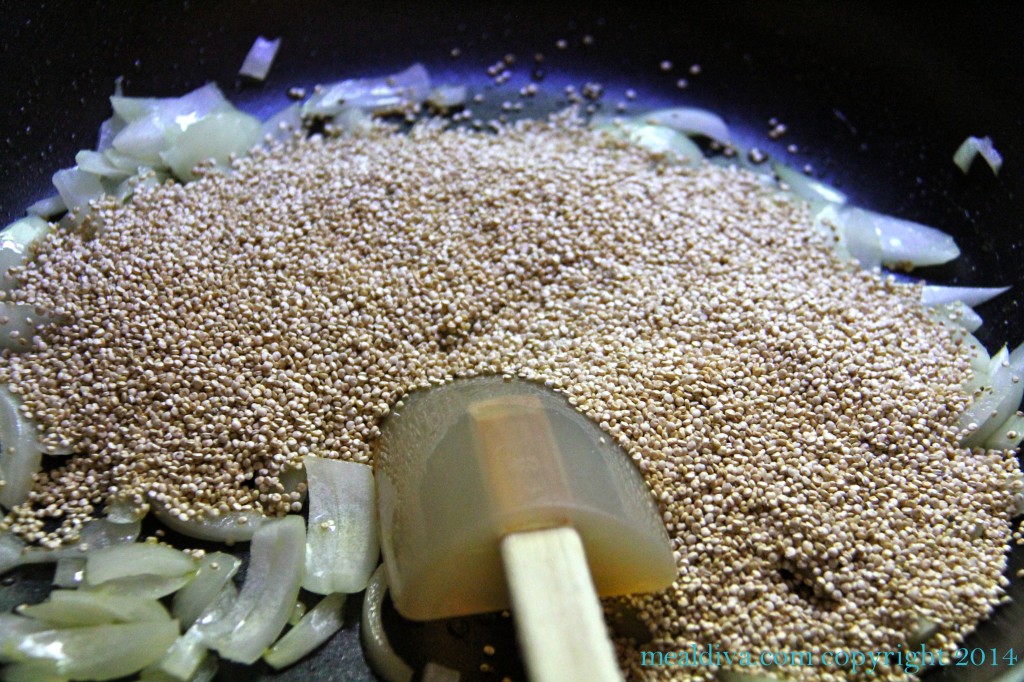 As a side note, if you make this dish and LOVE it, please share it with your friends! Tag it #MealDiva on Instagram, Facebook or Twitter. It means the world to me to see and hear what your cooking up and if my recipes are working for you!
Once the wine is almost completely absorbed, add a ladle- full of broth to the pan. Stir the mixture continuously until the liquid is almost absorbed and repeat the process, stirring and admiring the cooking quinoa risotto until there is one ladle of broth left in the pan.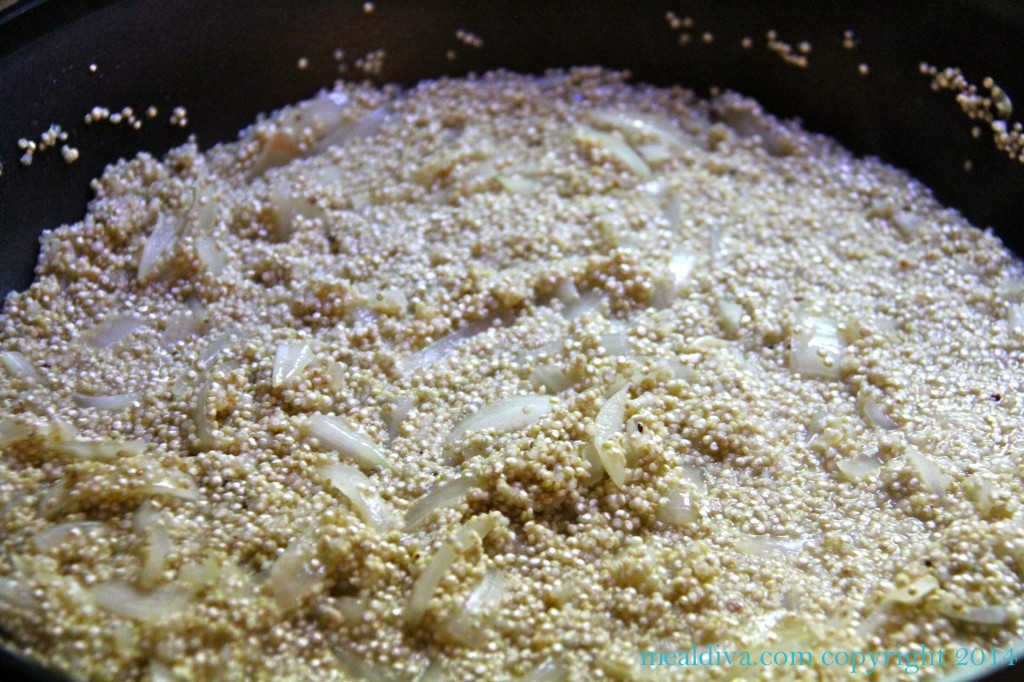 Can you smell this through your computer screen? Damn. No words.
Sorry, got side-tracked again. Back to risotto: add the broccoli florets and the final ladle of broth to the pan and stir to combine until the liquid is absorbed and the broccoli is bright green. Remove the pan from the heat and add the cheese and salt and pepper to taste. Let it all melt together and then serve it up hot, straight from the pan! Enjoy!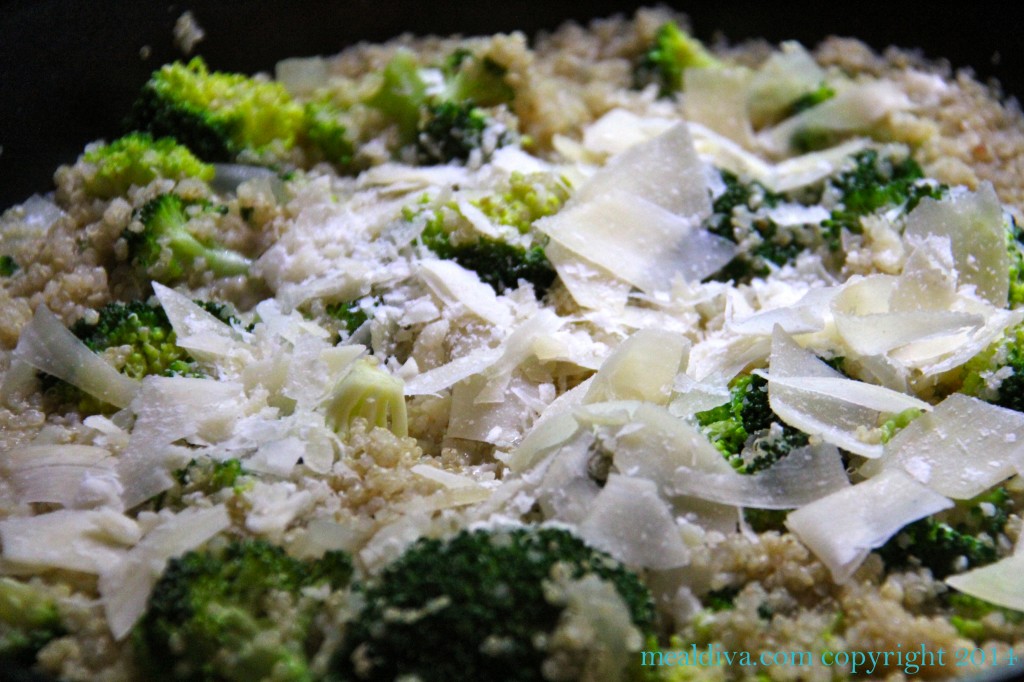 Here it is, perfection in a pan! Mmmmmm….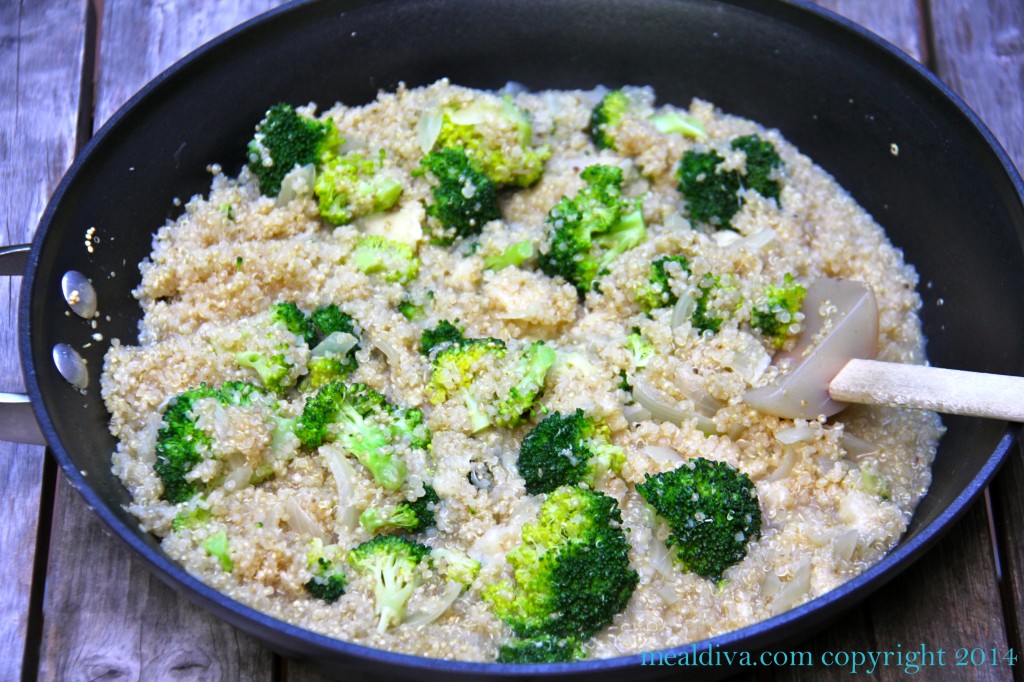 Quinoa Risotto with Broccoli
Ingredients:
2 1/2 cups vegetable broth
2 cups water
1 tbs. olive oil
1 cup medium onion, chopped
1 cup uncooked quinoa, rinsed and drained
½ cup white wine
1 large head of broccoli, trimmed and cut into florets
¼ cup parmesan cheese, shredded
Salt and pepper to taste
Directions:
Combine broth and water in a small saucepan and bring to a steady simmer ( do not boil). Keep liquid warm over low heat.
Heat oil in a large skillet over medium-high heat.
Add the onion and cook for 3 minutes.
Add quinoa and sauté for 1 minute then add wine.
Cook for 60 seconds until liquid is nearly absorbed.
Stir in 1 cup broth mixture and cook until liquid is almost absorbed, stirring continuously.
Add remaing broth mixture, 1 ladle scoop ( ½ cup) at a time until each portion is absorbed before adding the next portion ( should take 20 minutes).
Add broccoli with the last ½ cup of broth.
Remove pan from heat and stir in cheese and salt and pepper to taste.