This is a quick and easy #WeekdaySupper recipe for Potato Soup that's topped with healthy, roasted cauliflower.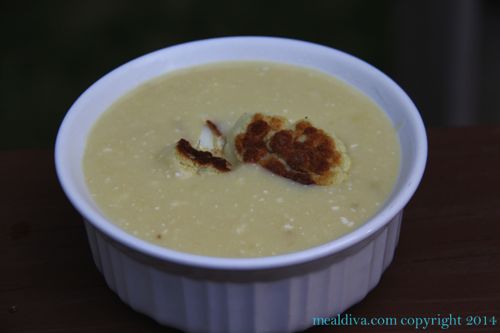 I don't know about you but I got a lot of potatoes from my CSA and potato planting friends this year. I baked them, scalloped and stuffed  them …. And then I was gifted 4 beautiful heads of cauliflower. Bowing not to visit the grocery store or farm stand until I had used up all of my potatoes and cauliflower, I set to work, trying numerous tasty recipes.  The one that won the hearts of my family was this simple, lightened-up Potato Soup with Roasted Cauliflower. I was inspired to top the soup with cauliflower while standing in line at the grocery store: there, I saw a picture of potato soup topped with cauliflower, perused the recipe and promptly forgot what magazine it was in. Typically I top potato soup with sausages or cheese but I was pleasantly surprised when my kids cleaned their bowls and ask for more!
Lets start cooking!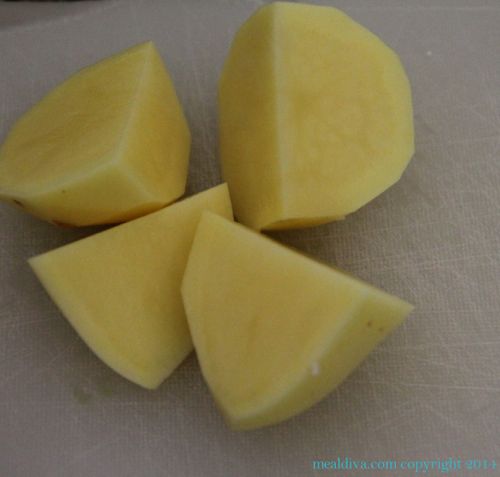 First, peeled and quarter your potatoes into small pieces. This is a very important step because the larger the potato piece, the longer it takes to cook the potatoes. I learned this lesson when I first started cooking and it took me all day to make my first batch of potato soup. Looking back I wonder what I was thinking ( or wasn't thinking)? Need to make this soup even faster? Par-boil the potatoes in the broth/water combo 1 day ahead and store in the fridge until your ready to make the soup. When your ready, simply bring the potatoes to a boil and continue with the recipe.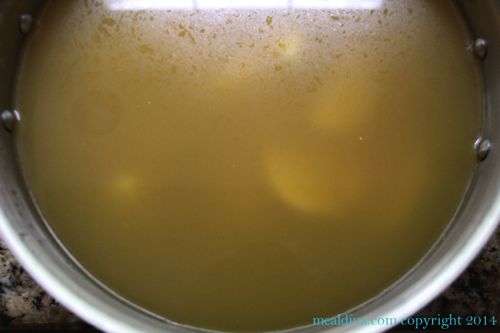 Into the broth and water pot go the potatoes. Bring to a boil and cook until the potatoes are fork tender. If you chopped them small enough, it won't take anymore then 7-12 minutes.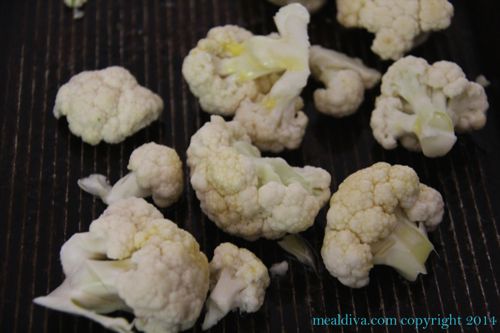 Meanwhile, drizzle the cauliflower florets with olive oil and salt and get them roasting in a 375 degree oven until they are nicely browned. When they are done, remove them from the oven and set aside.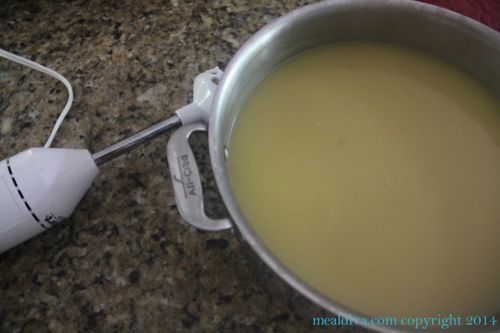 Once the potatoes are cooked, remove the pot from the heat and blend. If you have an immersion blender, I stick it right into the pot and start blending right away. If your using a blender, be sure to let the soup cool for a few minutes so that you don't burn yourself.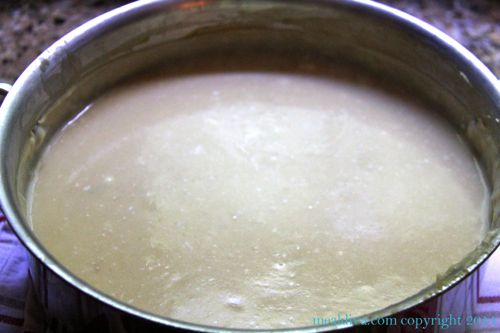 In goes  the cream of potato soup followed by the cheddar cheese and cream cheese. Oh yes, all three of these ingredients make this yummy, yummy in my tummy! Simmer until the cheese melts and enjoy!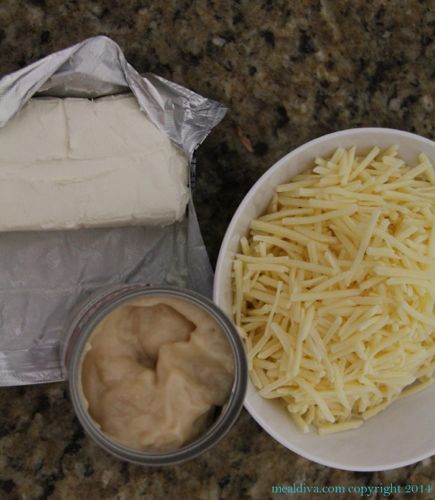 Ladle the soup into some soup bowls and serve topped with roasted cauliflower. Yum, yum, yum!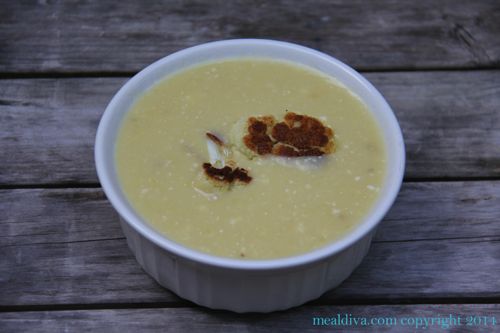 Quick Potato Soup & Roasted Cauliflower
Ingredients:
1 large cauliflower head, cut into florets
2 tbs. olive oil
A good pinch of salt and pepper
6-8 yellow-fleshed potatoes (like Yukon gold) peeled and cubed into small, bite sized pieces.
6 cups chicken broth  (you can use vegetable broth if you prefer)
2 cups water
1 (10 oz) can cream of potato soup, no water added
1/2 cup white cheddar cheese
1  (8oz) block light cream cheese
Black pepper to taste (if desired)
Directions:
Preheat oven to 375.
Place cauliflower on a baking sheet and toss with olive oil and a good pinch of salt and pepper. Bake for 15 minutes or until they are browned.
Meanwhile, in a large pot, combine potatoes, broth and 2 cups of water and bring to a boil over medium-high heat. Cook for 12 minutes until the potatoes are tender.
Using a blender (make sure soup has cool enough to handle) or immersion hand-held blender, blend soup until smooth and creamy.
Return to the stove and add the cream of potato soup, cheddar cheese and cream cheese, stirring until the cheese melts, about 5 minutes.
Ladle soup into bowls and serve topped with roasted cauliflower. Sprinkle with pepper if desired.
Looking for more fast, easy and delicious recipes? Be sure to check out what my foodie friends cooked up this week for #WeekdaySupper:
Monday – Eggplant Schnitzel by A Kitchen Hoor's Adventures
Tuesday – Perfect Roasted Pork & Carrots by A Mama, Baby & Shar-pei in the Kitchen
Wednesday – Fish and Chips Casserole by Bobbi's Kozy Kitchen
Thursday – Pork Piccata by Hezzi-D's Books and Cooks