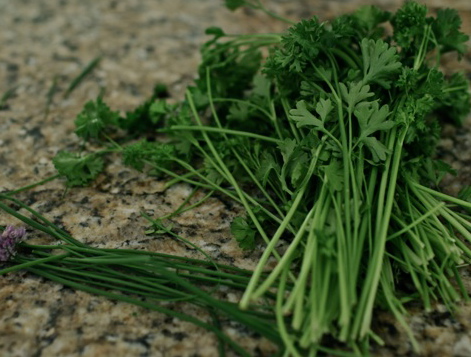 I just read an article about the health benefits of fresh parley and I was blown away! Here are a few reasons a sprinkle of it can not only add a nice flavor to your meals but also benefit your body!
It's full of:
Antioxidants
Anti-Inflammatory
Healthy Immune System
Healthy Heart
Vitamin K
I grow both flat-leaf and curly parsley in my garden. In fact, year after year they grow back all by themselves; making them a great, cheap investment! I think it always goes well with pasta and is a tomato's best friend. Even if you don't have it out back in your garden, you can always pick it up at your grocery store and experiment with it. I promise, it won't let you down!
In our house, we like to eat it simply tossed into a salad or vinaigrette. Here is a delicious parsley vinaigrette recipe that is so good! Try it!
Parsley Vinaigrette
Ingredients:
2 garlic cloves, smashed
¼ tsp. salt
3 tbs. red-wine vinegar
6 tbs. olive oil
3 tbs. fresh parsley, chopped
Directions:
Crush garlic cloves.
Using a fork, mash garlic with salt to form a paste.
Add red-wine vinegar and stir.
Whisk in olive oil.
Add chopped parsley and stir to combine.
Toss with salad greens and enjoy!