This eggplant salad recipe is for anyone who has been searching, searching and searching for an easy, nutritious, farm to fork eggplant recipe to feed the family.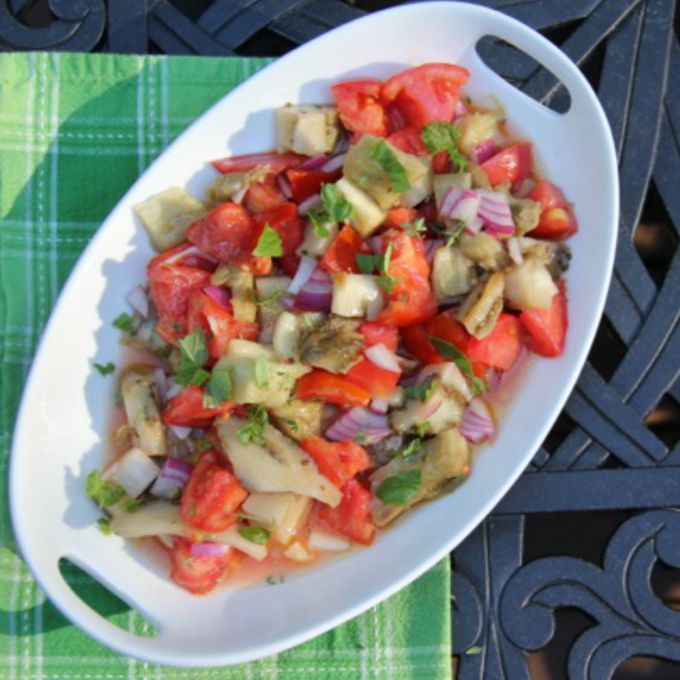 This fantastic eggplant salad recipe is easy to prepare and even my kids LOVE it!
If you want a little char flavor in your salad, feel free to grill the eggplant on medium heat for 30 minutes instead of baking it in the oven. If baking, remember to prick your eggplant on all sides to let the steam out or it will EXPLODE! Seriously, it happened to me the first time I tried to bake a whole eggplant. It wasn't pretty.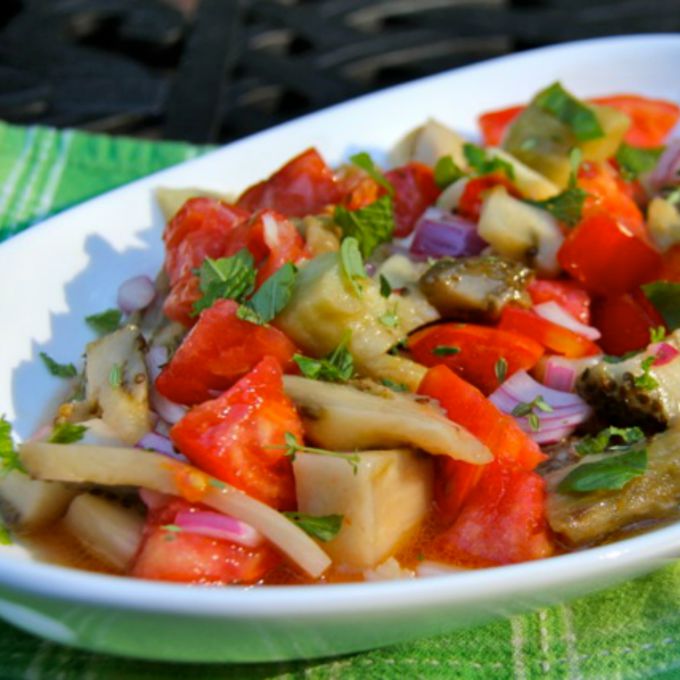 Enjoy!
Oven Baked Eggplant Salad
Ingredients:
1-2 large eggplants
1 medium red onion, diced
1 tbs. plus a little more sea salt
1 tbs. red wine vinegar
2 medium tomatoes, sliced
1/4 cup olive oil
1/4 cup freshly squeezed lemon juice
6 basil leaves, finely chopped
6 mint leaves, finely chopped
1 tablespoon fresh oregano, finely chopped
1 medium garlic clove, diced
1 teaspoon coarsely ground black pepper
Directions:
Preheat oven to 375°F
Place the eggplant on a baking sheet lined with parchment paper and bake for 35 minutes or until they're soft and collapsed.
Remove to a paper towel lined plate and allow to cool.
Meanwhile, combine onion, 1 tsp. salt and vinegar in a medium, nonreactive bowl. Allow to marinate at least 5 minutes.
Once the eggplant is cool, scoop the flesh from the skin and coarsely chop it.
Combine eggplant with marinated onions and remaining ingredients.
Toss ingredients together gently and season well with additional salt and freshly ground black pepper to taste.
Serve at room temperature as a side dish or with grilled pita or baguette toasts.
Love Eggplant? Check out my Eggplant Rollatini, Eggplant Parm and Eggplant Pasta recipes as well.