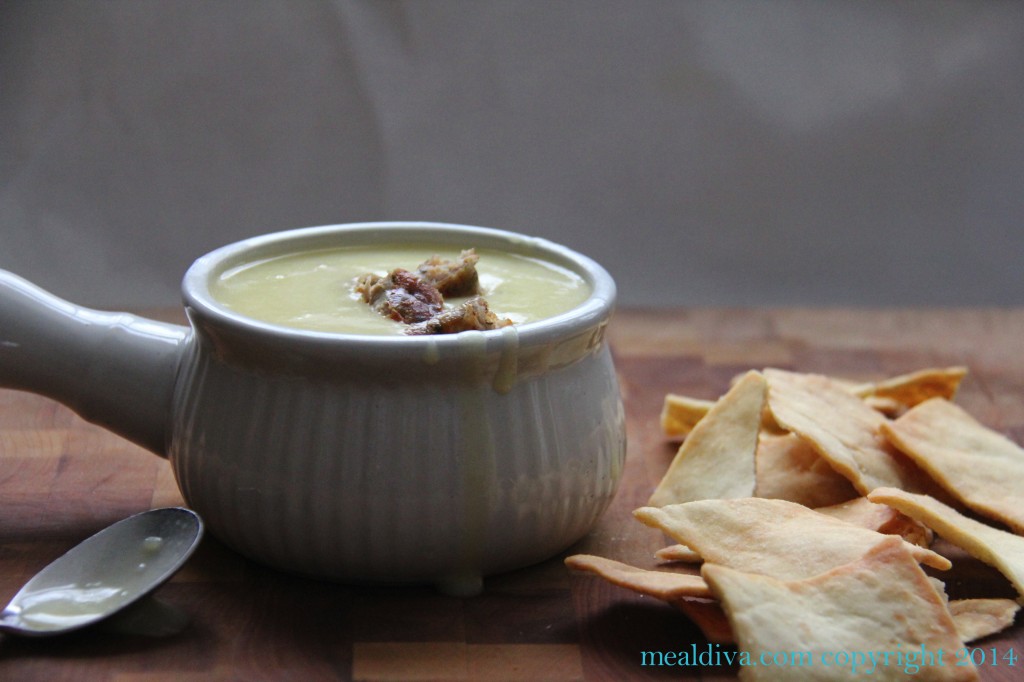 I think I'm drowning in snow and ice. I keep looking outside wondering where the clear skies and sun are… someone PLEASE tell me that spring is around the corner!
I guess the good news is that it's still soup season…
To celebrate, today I made a Lightened Up Loaded Potato Soup.
I LOVE potatoes: they are one of my favorite things to eat and I make them at least once a week. This soup is SOOOOOOOOOOOO GOOD! Go ahead and "pin" it or "share it on FB" — this way you can quickly find the recipe when you're ready to make it!
I hope it keeps you warm until Spring…
Lightened-Up Loaded Potato Soup
Ingredients:
1 ½ tbs. olive oil, divided
1 small yellow onion, chopped
2 sprigs fresh thyme, leaves removed from stem
6 cloves of garlic, peeled and roughly chopped
1 lb. baking potato, peeled and cubed
1 lbs. Yukon gold potatoes, peeled and cubed
6 cups unsalted chicken stock
Salt and pepper to taste
1 bay leaf
1 head of cauliflower, cut into florets
PAM cooking spray
1 ½ cups fat free milk
3 scallions, chopped
½ cup fat-free sour cream
a little grated cheese of choice
2 sausages, roasted until done and chopped into bite size pieces (optional)
Directions:
Preheat oven to 450°.
Heat a large Dutch oven over medium-high heat.
Add 1 1/2 tsp. oil to pan
Add onion, thyme, and garlic; sauté 5 minutes or until tender
Add potatoes, stock, 1/2 teaspoon salt, and bay leaf; bring to a boil.
Cover, reduce heat, and simmer 35 minutes or until potatoes are very tender, stirring occasionally. Remove from heat; discard bay leaf.
While potatoes simmer, combine remaining 1 tablespoon oil, cauliflower, salt and pepper on baking sheet and toss to coat.
Roast at 450° for 20 minutes or until browned, turning once.
Place cauliflower mixture and milk in a blender ( be careful it's HOT)
Blend until smooth.
Pour cauliflower mixture into a large bowl.
Add half of potato mixture to blender; pulse 5 to 6 times or until coarsely chopped.
Pour into bowl with cauliflower mixture.
Repeat with remaining potato mixture.
Place cauliflower-potato mixture in Dutch oven over medium heat.
Add salt and pepper to taste, scallions and sour cream.
Stir until well combined.
Ladle soup into bowls. Top evenly with cheese, and if you wish, sausage bites.
If you like this recipe, be sure to check out my Potato-Leek Soup as well!