We eat soup all year round – from Garlic-Sage Soup to Potato Soup to Beef Soup to Onion or Beer and Cheese Soup – we love it all. Soup is also the perfect make-ahead or freezer meal.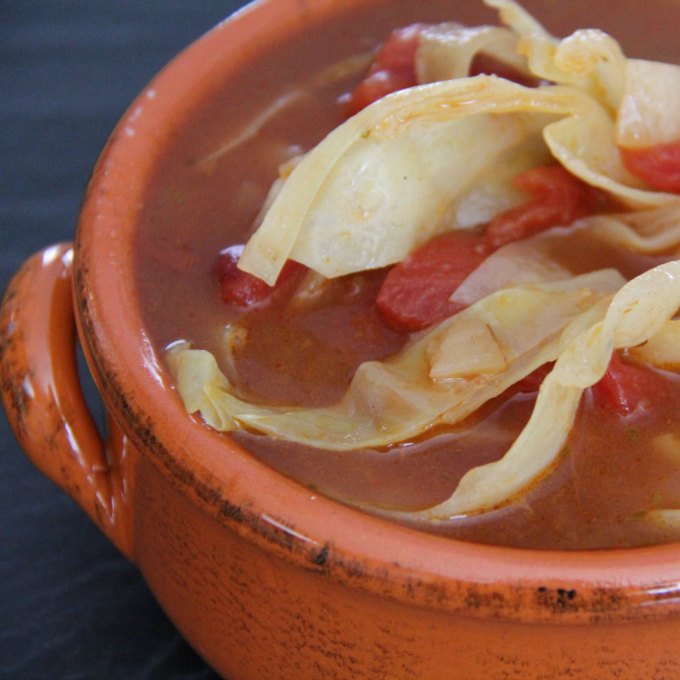 Today we are cooking up a Classic Cabbage Vegetable Soup. I think cabbage is often over looked and if you rarely cook with it, I highly encourage you to give this yummy recipe a whirl!
Enjoy!
Classic Cabbage Vegetable Soup
Ingredients:
2 tbs. olive oil
1 yellow onion, diced
4 garlic cloves, diced
5 medium carrots, peeled and chopped
5 celery ribs, chopped
1 (4oz) can tomato paste
1 ½ tsp. chili powder
1 ½ tsp. dried basil
1 ½ tsp. dried oregano
Salt and pepper to taste
1 (15oz) can fire roasted tomatoes
5 cups chicken broth ( or vegetable broth)
1 medium head of cabbage, chopped
Directions:
Heat oil in a large soup pot over medium-high heat.
Add onion and sauté until fragrant, about 5 minutes then add garlic for an additional minute.
Add celery and carrots and sauté vegetables for 5 minutes.
Add tomato paste, chili powder, spices and stir to combine.
Add the tomatoes, broth and cabbage.
Bring to a boil and stir well.
Let soup simmer for 20 minutes until the vegetables are tender.
• If you want to add a little protein to the soup, 1 (15oz) can small white beans (rinsed and drained) makes a nice addition!