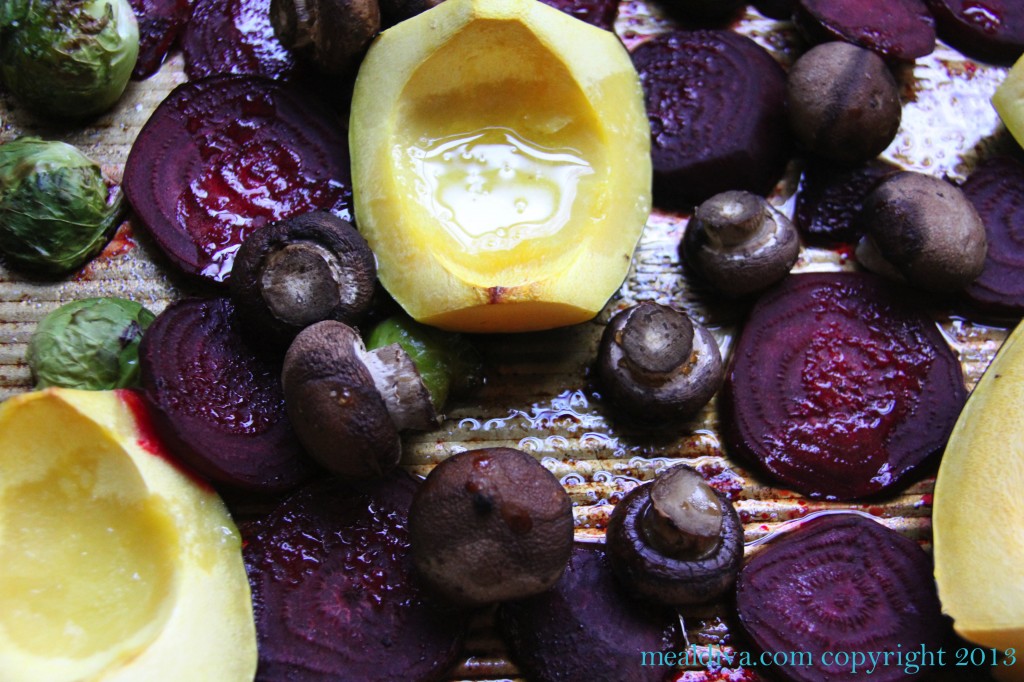 What is better then a gorgeous medley of roasted vegetables? This is one of my favorite roasted vegetable recipes: so many beautiful textures, colors and flavors. If you are in search of some other great vegetable recipe's, be sure to check out Swiss Chard and Twice Baked Squash as well!
Beautiful Roasted Veggies
Ingredients:
4 medium beets, prepared per directions below
3 tbs. olive oil, divided
2 acorn squash, peeled and sliced into quarters
1 1/2 pounds Brussels sprouts, sliced
6 large garlic cloves, peeled and sliced
1 package baby portabella mushrooms
1/2 tsp. sea salt (Saltopia's Dirty Wedding Infused Sea Salt is yummy)
1/4 tsp. freshly ground black pepper
1 tbs. freshly chopped thyme leaves
Directions:
Preheat the oven to 375 degrees F.
For the Beets:
Put the beets into a small baking dish and rub them with 1 tbs. of oil.
Cover the dish with foil and put into the oven for 30 minutes.
For the other veggies:
Put the squash, brussel sprouts garlic cloves and mushrooms into a large baking dish and toss with the remainder of the oil.
Sprinkle with salt and pepper.
After the beets have been cooking for 30 minutes add the large pan of vegetables to the oven and cook everything for 1 hour more, stirring the vegetable mixture once or twice.
Remove the beets from the oven and transfer to a cutting board to cool.
Stir the thyme into the vegetable medley mixture and continue cooking for another 10 minutes.
When the beets are cool enough to handle, peeled and sliced them.
Remove the other vegetables from the oven, toss with the beets, season with a drizzle of olive oil (if needed) and sprinkle with additional salt and pepper ( if needed).