Not only does this tomato salad make a fantastic summer side dish, it is also super yummy served as a light lunch over a toasted baguette. Be sure to use the leftover bread to sop up the leftover juices.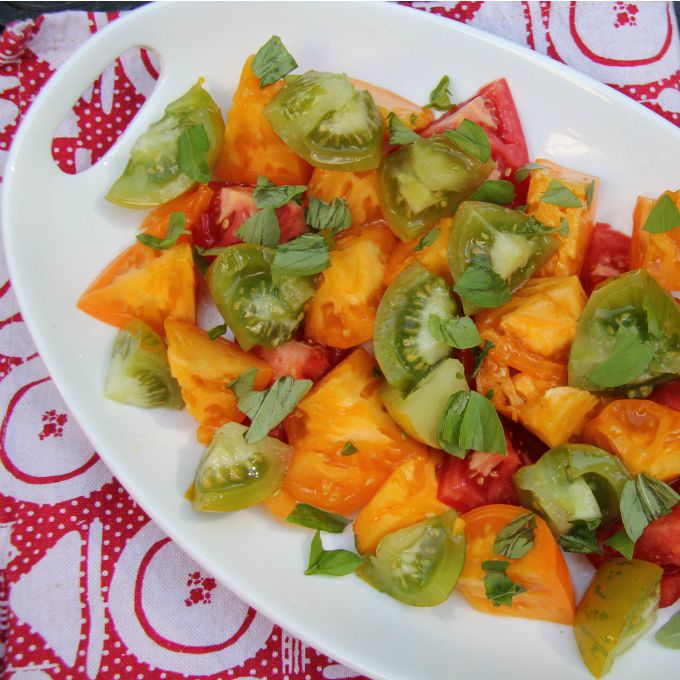 Does anyone remember when Jamie Oliver used to have an amazing cooking show on the food network? Daddy Diva and I used to DVR it and watch it during our nightly baby feedings. I'm thinking this was 7 or 8 years ago… anyway, Jamie ( my inspiration) has these amazing gardens and all of his recipes are simple and fresh. One episode, he made this mouthwatering tomato salad and my family LOVES it so today I thought I'd share my version with you.
So simple, so pretty and so delicious.
The best part about this recipe is that you don't even have to measure. The measurements below are really meaningless – if you love vinegar, add more; if you love salt, add more; hate olive oil? Omit it- the key to this recipe is drizzling the amount of vinegar and olive oil that you really want. Personally, I LOVE vinegar and I add a lot….
I love how simple, fresh and seasonal ingredients allow us to prepare such simple yet amazing dishes like this one! Enjoy!
Easy Fresh Tomato Salad
Ingredients:
1-2 pounds heirloom (or simply ripe) tomatoes
Sea salt and fresh pepper
1/8 cup red wine vinegar
½ tbs. olive oil
Fresh herbs like basil, oregano or thyme
Directions:
Slice the tomatoes into large chunks then arrange them on a platter or plate.
Sprinkle a good serving of salt and pepper over the tomatoes.
Sprinkle red wine vinegar over the tomatoes.
Drizzle olive oil, sprinkle a few torn, fresh herbs over top then serve.