Happy Sunday! I hope everyone had a wonderful Thanksgiving! I had a fantastic weekend filled with wonderful family and friends! In addition, the Diva house is fully decorated for Christmas and I'm super excited that the Holiday Season is upon us! Speaking of the Holiday's, starting tomorrow, I will be sharing 12 days of Christmas Confections and Sweet treats that are 100 % kid-approved ( so be sure to follow me on Facebook, Pinterest or sign up for my newsfeed). The next 12 days promise to be super sweet!
Now lets start cooking!
Today's #SundaySupper is being hosted by Renee of Magnolia Days and we are sharing recipes that will inspire you to stay home from the mall and spend a little more time in the kitchen whipping up some mouthwatering, homemade gifts to give to family and friends for the holidays. I've perused the recipes from my fellow #SundaySupper bloggers and they look scrumptious so be sure to check them out below!
Now lets talk Reindeer Snack Mix: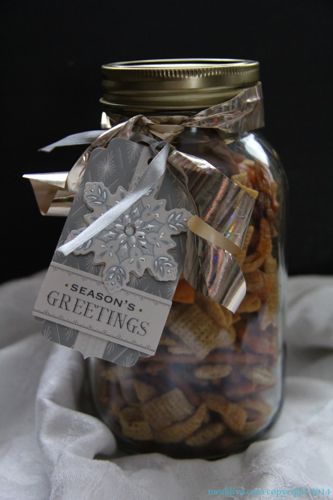 I was given this recipe last year as a gift and my family went BANANAS for it! It came from my daughter's kindergarden class and was wrapped up in a cellophane bag with a pretty red bow and a gorgeous tag that listed the ingredients and the instructions. I altered the recipe a little by removing the nuts and making sure my ingredients were tree-nut allergy safe. I also added a few red pepper flakes and made sure that my maple syrup was a delicious grade B ( PLEASE don't use fake maple syrup! You can read more about why and about the different grades of maple syrup  in my pancake mix post). Using a little pinch of heat and real maple syrup definatly helps to bring out the sweet and salty flavors in the mix!
Is there anything better then crunchy, sweet and salty all rolled into one? Yum!
So thank you to whomever shared this fantastic recipe with Spud's class last year! I'm thrilled to be sharing it with all of you because I know that you will enjoy it as much as we did!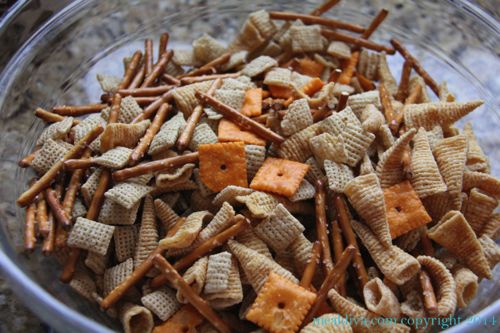 First, get your ingredients ready: measure out and toss together the dry snack mix and then measure out the wet ingredients and give them a good stir.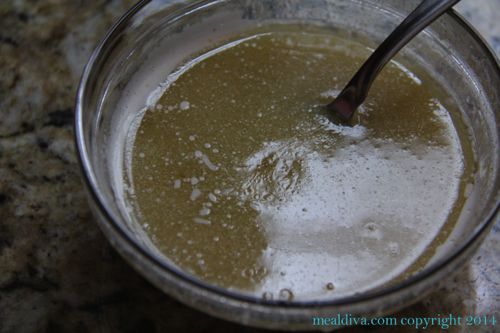 Next, pour the wet ingredients over the dry ingredients and, using your hands, toss it together. Once I start tossing, I can't help but sample a few bites. Even uncooked, this is so good, that I have to stop myself from eating it so I can actually finish making the snack mix.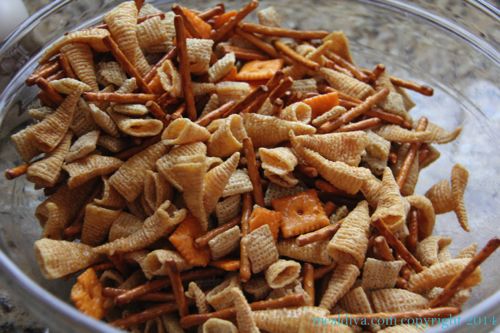 Once it's all tossed together, lay it out on a cookie sheet ( or in my case 2 cookie sheets since I cook in an apartments sized oven).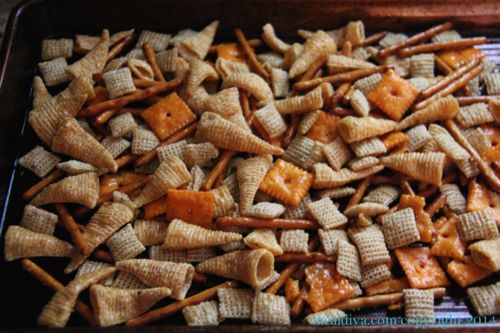 The key to making this snack mix tasty is to bake it low and slow at 250 degrees for 1 hour. It's similar to making homemade granola: Be sure to toss it every 15- 20 minutes to make sure nothing sticks to the bottom of the pan or burns. The first time I made this recipe, I left it in the oven while I showered and it got all stuck to the pan and was ruined. Please, I beg of you, learn from my mistake: keep an eye on your Reindeer Snack Mix.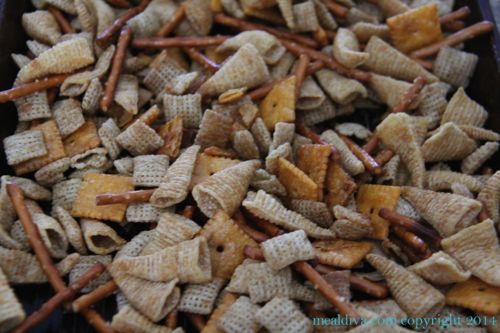 Here it is: all crisp and perfectly seasoned. I like to package it up in a mason jar with a bow and a tag that includes the recipe.
The only question I have is why is this called Reindeer Snack Mix? Last year my kids left some out for Santa's reindeer and it was certainly devoured. I guess reindeer really do love homemade snack mix….
Happy Cooking!
Reindeer Snack Mix
Ingredients:
2 cups bugels
2 cups Cheez-It crackers
2 cups pretzels
1 cups Rice Chex Mix cereal
1/2 cup butter
1 1/2 tbs. maple syrup
1 1/2 tsp. Worcestershire sauce
3/4 tsp. Cajun seasoning
A pinch of red pepper flakes
Directions:
Preheat oven to 250 degrees.
In a large bowl, combine the first 4 ingredients.
In another bowl, combine the butter, syrup, Worcestershire sauce, cajun seasoning and red pepper flakes.
Pour the butter mixture over the dry ingredients mixture and toss to coat.
Transfer to an un-greased cookie sheet and bake for 1 hour, stirring every 15-20 minutes minutes.
Remember to check out the links below!:
Beverages:
Bread:
Appetizers and Snacks:
Condiments and Sauces:
Savory and Sweet Mixes:
Desserts and Sweets: