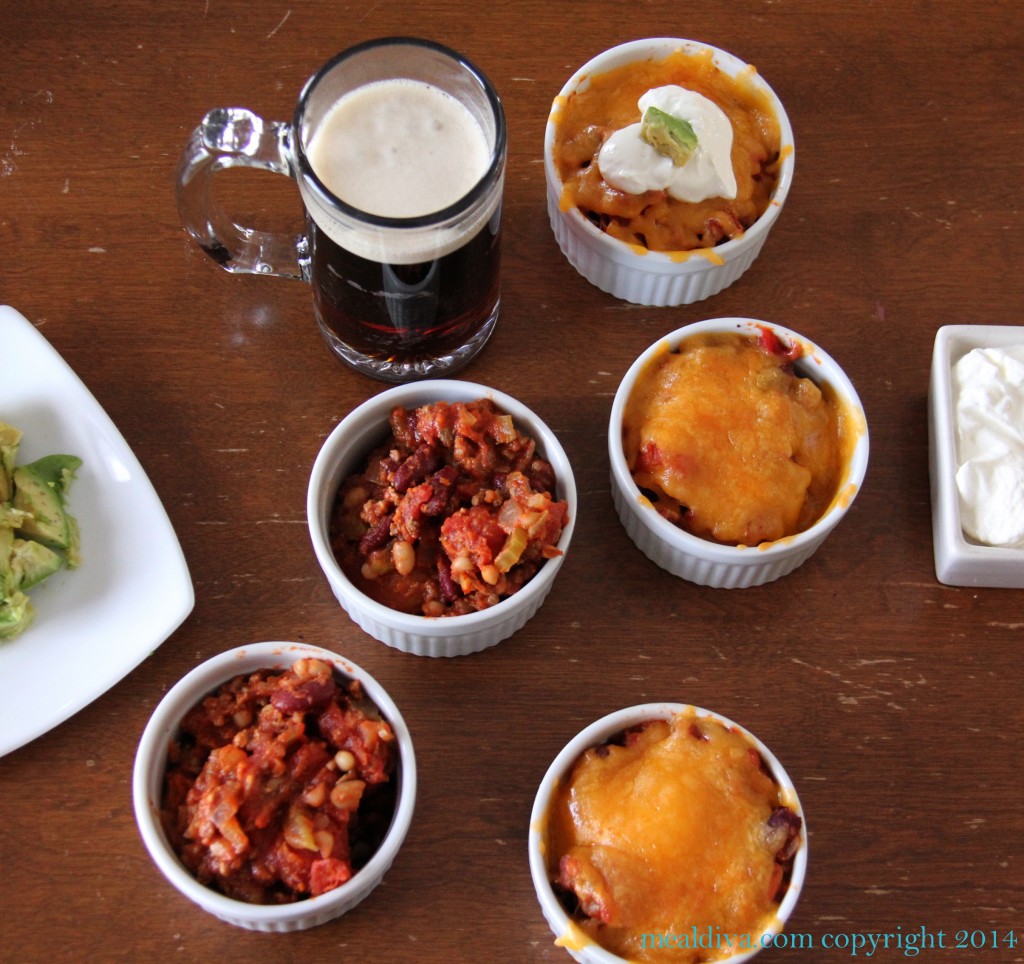 Happy Super Bowl Sunday! Today is an exciting day for me — this is my first post with #SundaySupper! I am very honored to be a part of #SundaySupper and the talented group of food bloggers who bring yummy and inspiring recipes to you! I have been following #SundaySupper for months now and I love all of the fantastic recipes! There is nothing better then Sunday dinner with friends and family!
The Super Bowl is upon us and while I don't usually care about the game or the commercials, I do care about the food! It's got to be GOOD food! Let's be honest here, most football fare usually involves dips, burgers, fried foods, etc… you know, the really scrumptiously- bad -for- you stuff…but seeing that I'm all about fresh, healthy food, I decided to create a dish that falls somewhere in the middle. After all, I didn't want to let anybody down.
These Personal Chili Pots are filled with a reasonably healthy chili then topped with copious amounts of good quality cheddar cheese. Feel free to serve these up as an appetizer or even as a comfort-filled side dish. This chili so yummy and will satisfy all of your comfort food cravings. If you don't like meat chili, feel free to use Vegetarian Chili instead.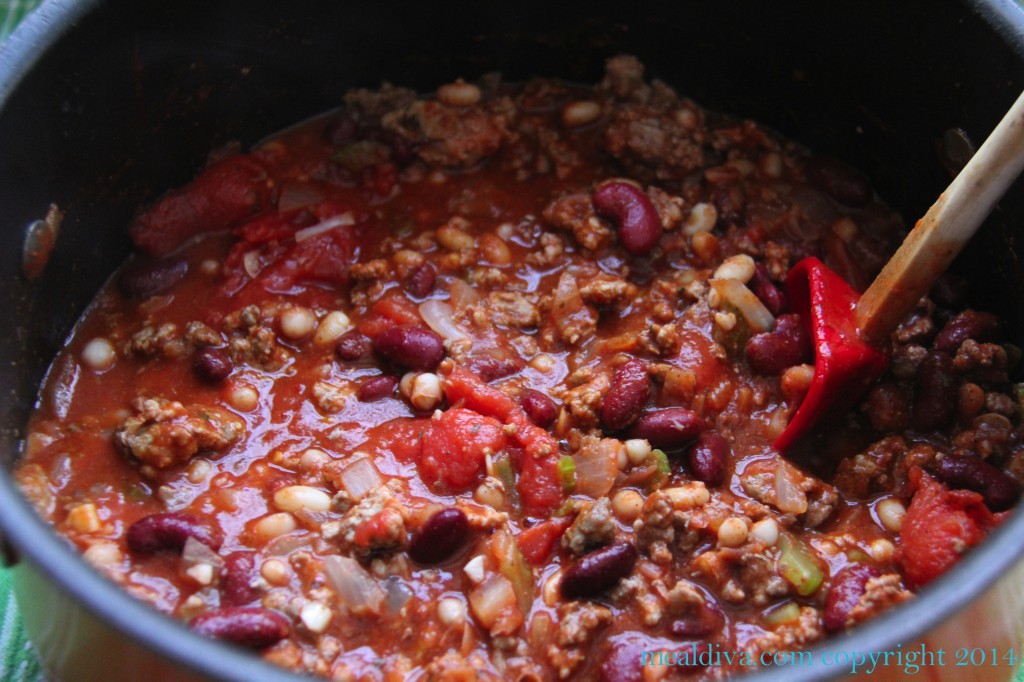 Once you get the meat, onion, celery and beans down in the pot, add the tomatoes and spices. Can you smell this through you computer screen?
The secret to making this chili taste perfect is the addition of maple syrup and vinegar.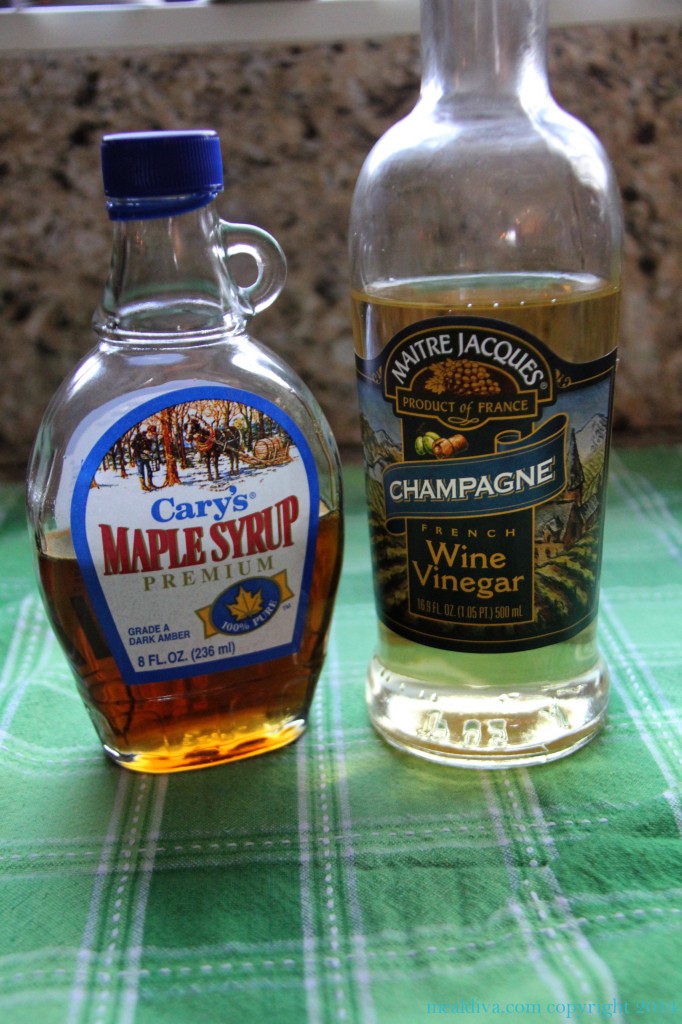 Once it's simmered for 45 minutes, preheat your broiler on HI. While it's heating up, scoop the hot chili into each ramekin…then… here's what makes it tasty… top them with cheese ( be generous). Place ramekins on a lined baking sheet (this will help with cheese clean up) and broil until cheese is melted and bubbling.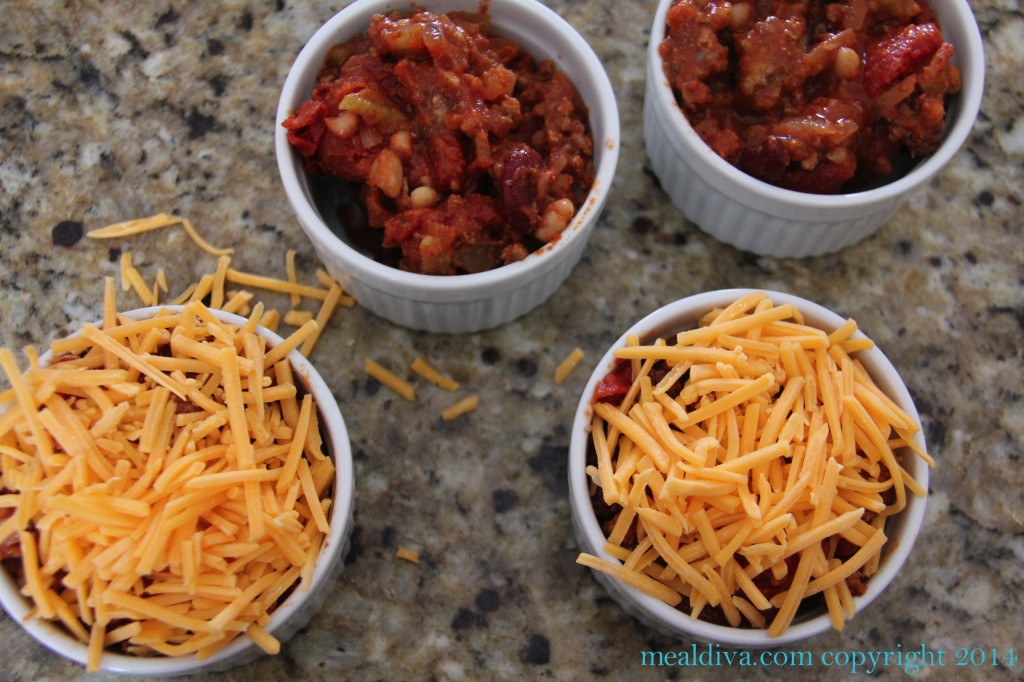 Remove from the oven and top with sour cream and avocados (if you wish).
When I pulled these out of the oven all my husband could say was "come to papa…" He ate three pots as soon as my picture -taking- session came to an end and when he reached the bottom of the last ramekin, all I could hear was the clanging around of his spoon in an attempt to get every last morsel. It sounded like a percussion instrument.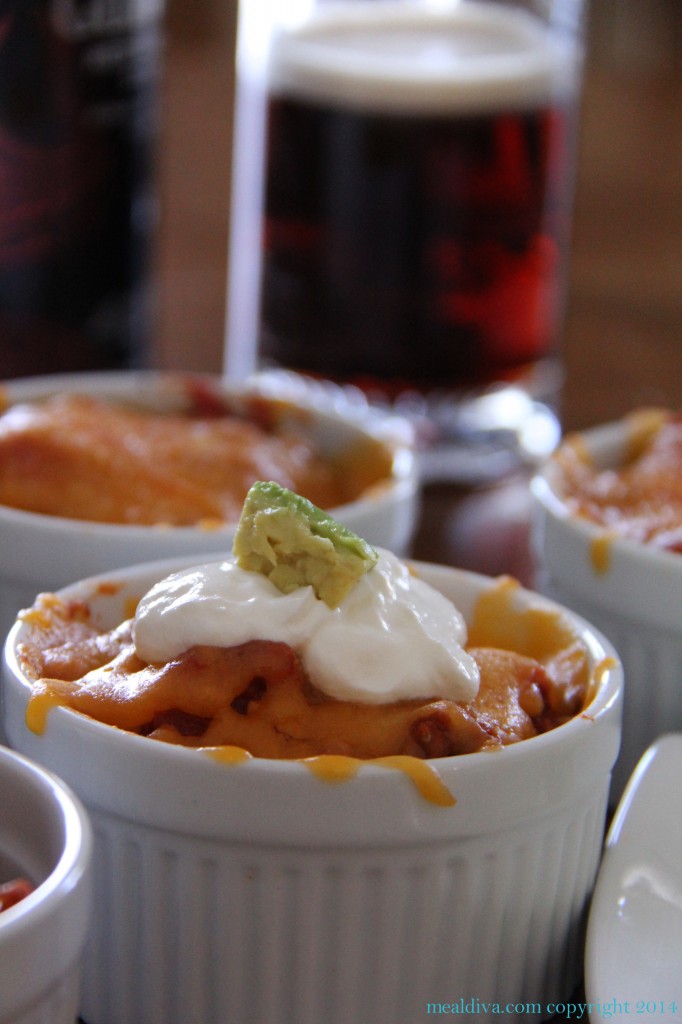 Personal Chili Pots
Ingredients:
1/4-cup olive oil
1 lbs. ground beef
1 lbs. ground pork
1 large yellow onion, roughly chopped
2 stalks of celery, roughly chopped
5 cloves garlic, finely chopped
4 tbs. chili powder
1 tbs. ground cumin
1 (24 oz) can whole, peeled tomatoes
1 (14-ounce) can chopped tomatoes, drained and pureed
1 tbs. champagne vinegar
1 tbs. pure maple syrup
1 (14oz) can small white beans, rinsed and drained
1 (14oz) can red kidney beans, rinsed and drained
Salt and freshly ground black pepper to taste
3 -4 cups shredded cheddar cheese
Topping: Sour cream and chopped avocados
Directions:
Heat oil in a large Dutch oven over high heat.
Sauté meat until browned on all sides.
Add the onions to the pan and cook until soft.
Add the celery and cook for 1 minute then add the garlic and cook for 2 minutes.
Add the chili powder and cumin and cook an additional 2 minutes.
Add tomatoes, vinegar and maple syrup and bring to a boil.
Add the beans and continue cooking for 15 minutes.
Reduce the heat to medium, cover the pan, and simmer for 45 minutes.
Remove from the heat and spoon into individual ramekins.
Preheat oven to broil on HI
Top ramekins with shredded cheddar cheese and broil on high for 2 minutes until the cheese is melted.
Serve with sour cream and diced avocados.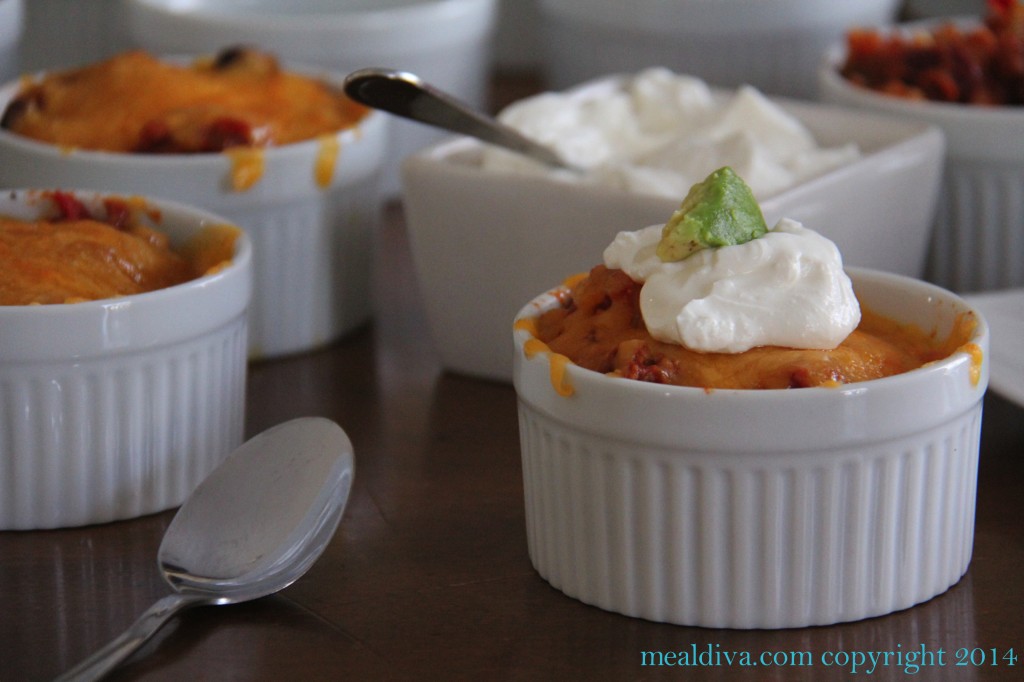 Here are some WONDERFUL sites from some terrific food bloggers featuring fantastic Super Bowl recipes. They are all a part of  #SundaySupper:
Make sure you check out all the Game Day deliciousness we are sharing this Sunday!
Game Day Appetizers:
Game Day Entrees:


Game Day Desserts:
Join the #SundaySupper conversation on twitter every Sunday!
We tweet throughout the day and share recipes from all over the world.
Our weekly chat starts at 7:00 pm ET. Follow the #SundaySupper hashtag
and remember to include it in your tweets to join in the chat.
Check out our #SundaySupper Pinterest board for more fabulous recipes and food photos.
Would you like to join the Sunday Supper Movement? It's easy! You can sign up by clicking here: Sunday Supper Movement.