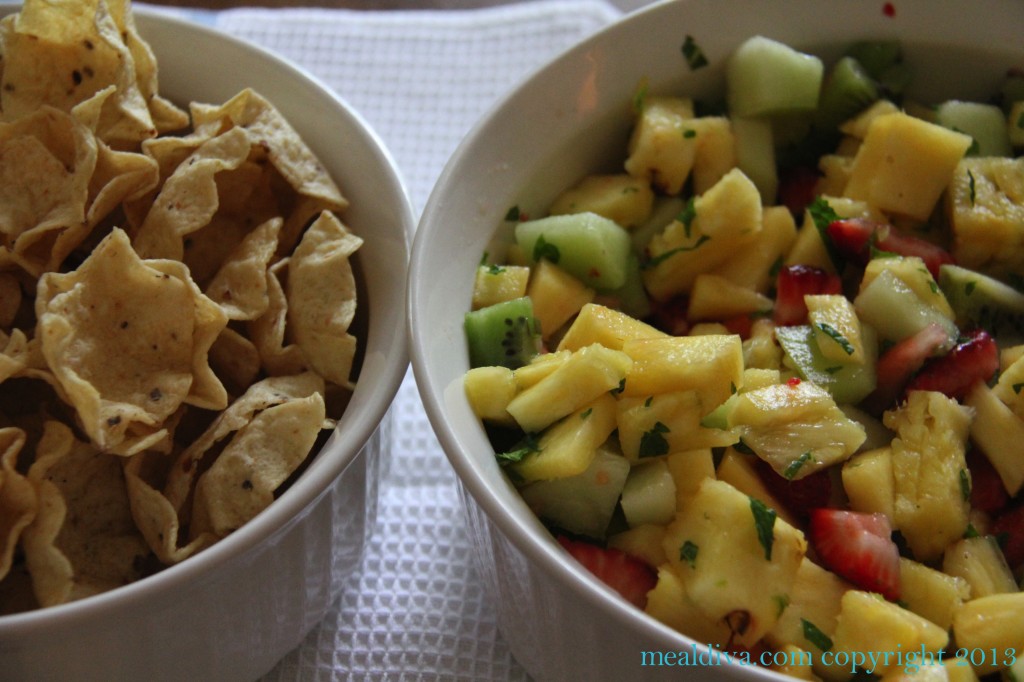 I have always been torn: can fruit really be enjoyed as salsa? I found my answer at a little "hole-in-the-wall" restaurant on pre-911 Broadway in New York. There, in this authentic Mexican restaurant, I was presented with the most mouth watering, gorgeous mango-blueberry-apple –salsa. OMG! The restaurant served it in place of the typical salsa and chips and when they asked if I wanted more, I couldn't resist! In fact, I ate two bowls of it before my boss and colleagues questioned my eating behavior. If I remember correctly, I couldn't even eat my own entrée because I filled up on fruit. I still dream about it: it was THAT AMAZING! I've been obsessed with coming up with my own favorite fruit-salsa combination ever since because it's the perfect addition to any backyard BBQ; after all both kids and adults love it! Whenever I make this dish, I think about that little restaurant and remember 911.
This is a really easy fruit recipe. Feel free to swap out one fruit for another, say blueberries instead of kiwi; it won't ruin the end result. Promise. Serve it with whole-grain corn chips. Enjoy!
Labor Day Fruit Salsa
Ingredients:
1 pint of strawberries, chopped
1 pineapple, cored, peeled and chopped
½ cantaloupe, seeds removed, peeled and chopped
1 mango, pit removed, peeled and chopped
3 kiwi fruits, peeled and chopped
A small handful, about ¼ cup fresh mint, roughly chopped
2 tbs. fresh lime juice (a short cut would be to use the already prepared juice)
A pinch of salt
Directions:
Combine all of the fruit in a large bowl
Next, whisk together lime juice and salt
Add to the bowl along with the fresh mint and gently toss to combine.
Let salsa chill for at least 1 hour or overnight
Serve with Tortilla or Corn Chips
YUM!!!!!!