Inspired by Food Network Kitchens, these Fresh Eggplant Ricotta Bites will make you swoon.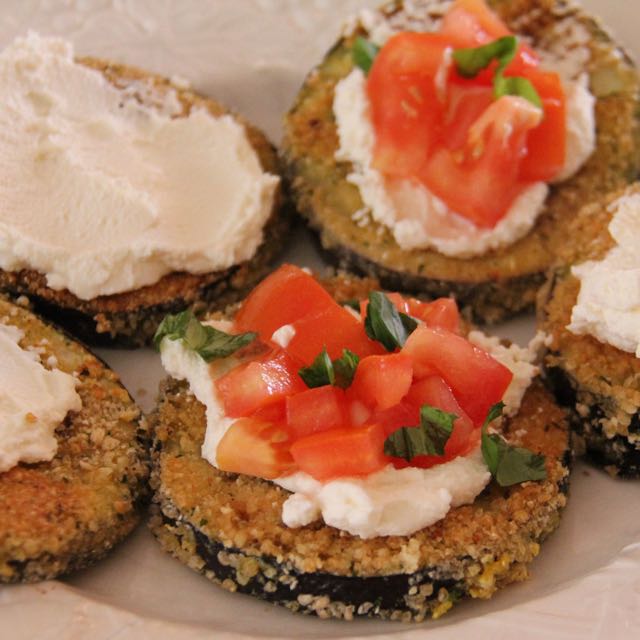 Happy week leading up to the New Year! I hope your getting the champagne chilling; it's time to celebrate the end of a good year and the anticipation of another! After 2016's amazing meals, I am contemplating the future as celebration food beckons. This year I plan to fill the party table with small bites inspired by my favorite meals.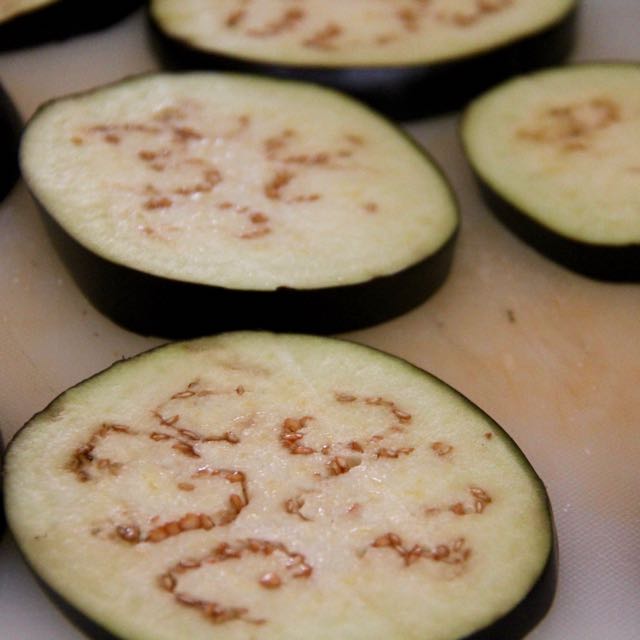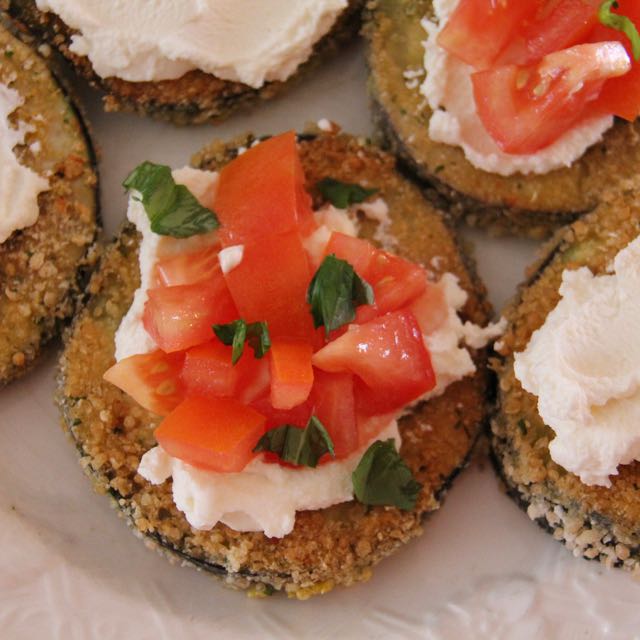 First up will be these Fresh Eggplant Ricotta Bites. Inspired by my classic Eggplant Parmesan recipe, I'll be serving up nibbles of panko fried eggplant and fresh tomatoes. This is a deeply satisfying appetizer. Happy New Year! Enjoy!
Fresh Eggplant Ricotta Bites
Ingredients:
1 large eggplant
Sea salt
Whole wheat flour
2 eggs
3/4 cup Panko breadcrumbs
1/4 cup grated parmesan cheese
1 tbs. plus 2 tsp. extra- virgin olive oil, plus more as needed
2-3 tomatoes, diced
2-3 tsp. red wine vinegar
1 1/2 cup ricotta cheese
Fresh bail for topping
Directions:
Thinly slice the eggplant into rounds and season with salt and set aside for 10 minutes.
Use a piece of paper towel to dab off excess water accumulated on the eggplant.
Pour some flour into a shallow dish.
Beat the eggs in another dish.
In a third dish, mix the breadcrumbs and parmesan.
Dredge eggplant in the flour, then dip in the eggs then coat with the breadcrumb mixture.
Toss the tomatoes with the remaining 2 teaspoons olive oil and the vinegar in a bowl, set aside to marinate.
Heat 1 tbs. olive oil in a large skillet over medium heat.
Working in batches, cook the eggplant until golden, about 3 minutes per side, adding more oil between batches, if necessary.
Drain on paper towels.
Spoon some ricotta onto each eggplant slice. Top with the tomato mixture and basil. Serve warm or at room temperature.