This post brings another year to a close, though as I write, the weekend has just concluded and I'm still abuzz from all of the excitement of Christmas.
This year maybe coming to and end, but there will always be new recipes and new perspectives on the complex and every changing world of eating. If your planning on hosting a New Years celebration I hope these easy cheese- based appetizers help to make your menu stress free and fun! I hope you'll continue to accompany me on this voyage of food for many years to come.
Cheers & Happy New Year!
Easy Cheesy Appetizers:
Apple, Grape & Goat Cheese Crostini: Crostini is always easy to make and a big hit at parties! Chopped tomatoes, brie cheese and any kind of pork product always make great toppers as well.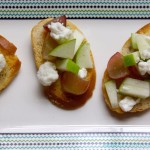 Goat-Cheese Stuffed Cherry Tomatoes: Tomatoes stuffed with cheese – is there anything better?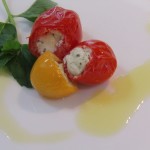 Smoked Gouda Beer and Bacon Dip: Hands-down on of my favorite recipes. This bowl of deliciousness will go fast so you might want to make twice as much!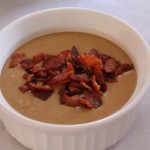 Bite Sized Meatballs – Perfect if you have lots of little kids running around!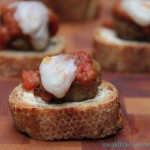 Stuffed Poblano Peppers: For the spice-loving friends, these are easy to make, vegetarian and just yummy!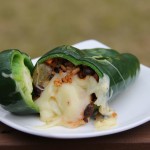 Baked Goat Cheese ( 3 ingredient recipe): I don't think there is anything tastier or easier then this recipe from the wicked noodle!
3 Ingredient Blue Cheese Appetizer: From Half Baked Harvest, here is an "idiot proof" appetizer for you!
Easy Cheese Bomb Bread: Averie Cooks makes this amazing cheese bomb. Yum.
Do you have a favorite cheesy appetizer? Let me know about it in the comments below!