This good appetizer recipe will take you about 8 minutes from start to finish. Does it get any easier than that? No chopping, no dicing, no baking, no marinating, no mess, NO PROBLEM!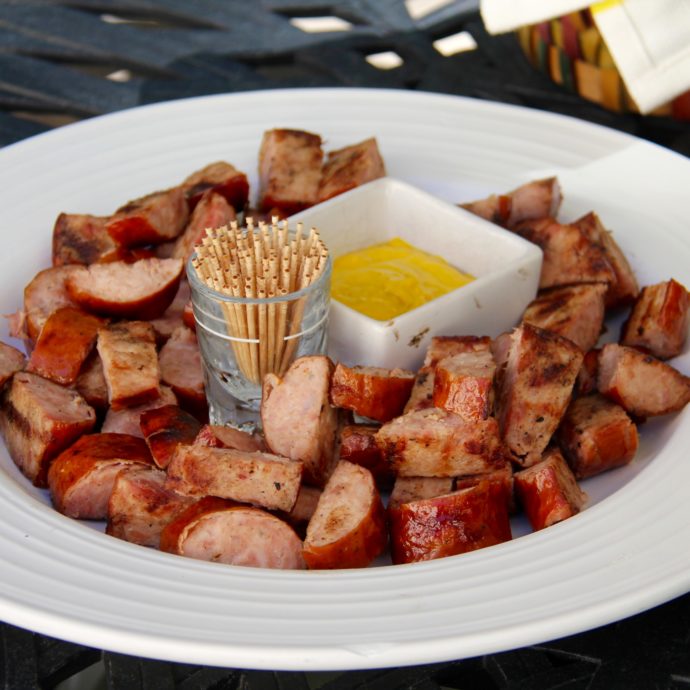 My butcher knows my weakness… every time I go in to purchase meats, he tosses one of these in my bag: Smoked Kielbasa, also known as Polish Sausage. My butcher makes an amazing one and today I wanted to share my favorite way to serve it up to a crowd: by grilling it.
Adults and children alike flock to the table when grilled Kielbasa comes hot off of the grates because it's charred and smoky and warm and perfectly delicious when topped with a little mustard. What a treat. Enjoy the recipe!
Easy 8 Minute Grilled Appetizer
Ingredients:
Smoked Kielbasa (as known as Polish sausage)
Oil for grill
Various mustards for serving
Directions:
Heat grill to medium-high heat and lightly oil grill bars
Place Kielbasa on grill bars to score
Cover and cook about 4 minutes on each side
Remove to a cutting board, slice into bite sized pieces and serve with mustard for dipping
If you like this recipe, be sure to check out my Easy Apricot Kielbasa recipe too!