Last year for Thanksgiving, I blogged about some delicious side dishes and my ultimate cranberry sauce. This year, I HAD to share with you my new go-to FAVORITE  Thanksgiving recipe: Potato and Apple Gratin – this my friends is Thanksgiving comfort food Heaven: starchy potatoes, sweet apples, salty bacon, savory cheese and cream — it doesn't get any better then this!!
Time to get started:
First, using a mandolin ( a handheld slicer like this one works well to), thinly slice the potatoes and apples.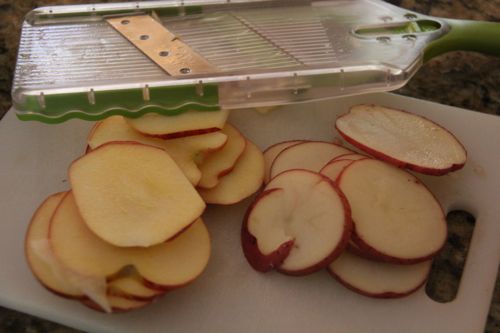 Before we continue, I just want to talk about bacon. For this recipe, I recommend taking the time to bake your bacon to perfection in the oven ( low and slow at 300 degrees for 40-60 mins). Why? Because it creates the most amazingly crumbly and crisp bacon!! Trust me and try it! Oh, and if your baking the bacon, be sure to line the cookie sheet with foil first ( it makes clean up easy).
Ok, on to the Gratin: putting it together is just like making a lasagna – layer ½ the potatoes then ½ the apples, half the onions and 1/3 the bacon in the dish. Sprinkle with ½ the salt & pepper and cheese. Repeat layers until you've used up all of the ingredients listed. Make sure there is bacon left over for top of the dish!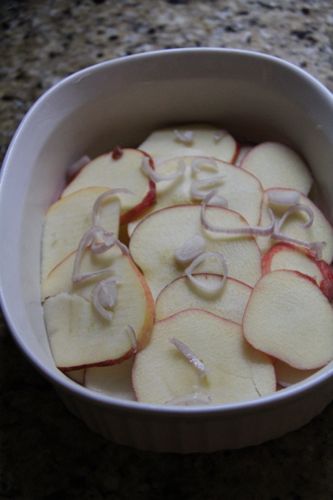 Also, to make ahead, prepare as directed, except cook the potatoes and apples in separate pans of lightly salted, boiling water for 7 minutes. Drain, pat dry and continue as directed without preheating the oven. Chill for up to 24 hours, remove from fridge and allow to come to room temperature for at least 30 minutes before baking at 350 degrees.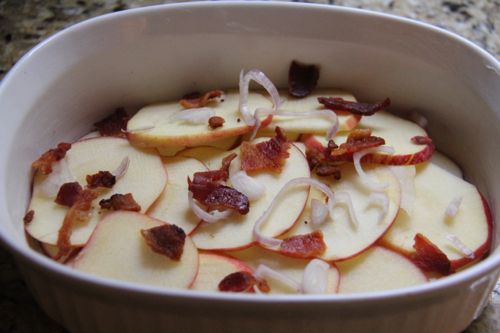 Next, make the cream sauce by combining the cream, garlic and a sprinkle of nutmeg. I really love to cook with nutmeg during the holidays – it really add a little "something special"( right?) Now take this yummy sauce and pour it over the apples and potatoes. So simple. Cover with foil and bake in a 350 degree oven for 1 hour and 30 minutes.
While it's cooking, inhale deeply because this recipe smells almost as amazing as it tastes!!!!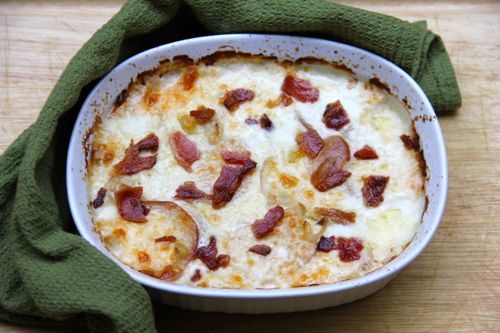 Remove the foil, top with remaking cheese and bake for an additional 15 minutes. Remove the dish from the oven, add the rest of the bacon and let it stand for 10 minutes before serving. Heaven. Enjoy!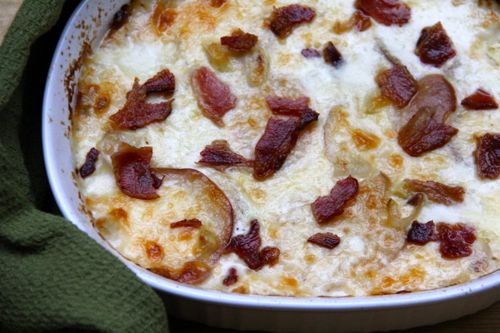 Thanksgiving Potato and Apple Gratin
Ingredients:
8 Yellow-flesh potatoes (like Yukon), thinly sliced
3 Gala Apples, cored and thinly sliced
6 Green onions, finely chopped
8 slices cooked, crispy bacon, crumbled
1  tsp. Sea salt
½ tsp. black pepper
3 Cups Monterey Jack Cheese, shredded
1 large scallion, peeled and thinly sliced
1 2/3 cups whipping cream
3 garlic cloves, minced
½ tsp. nutmeg
Directions:
Preheat oven to 350 degrees.
Grease a 3-quart baking dish.
Layer ½ the potatoes then ½ the apples, half the onions and 1/3 the bacon in the dish. Sprinkle with ½ the salt & pepper and cheese. Repeat layers.
In a medium bowl, combine the cream, garlic, and nutmeg.
Pour mixture oven the potatoes and apples.
Cover with foil.
Bake for 1-½ hours. Uncover, top with remaining cheese and bake for 15 minutes or until the potatoes are fork tender.
Let stand for 10 minutes and sprinkle with remaining bacon.