Glo·ri·ous: having a striking beauty or splendor that evokes feelings of delighted admiration – I think this Beet Salad with Honey Dijon Vinaigrette certainly meets this definition!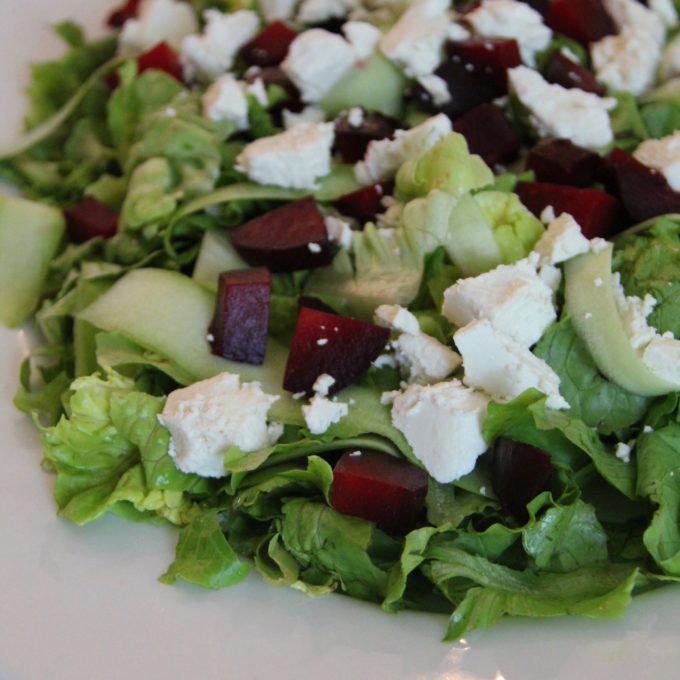 This savory salad is a perfect side-dish for a weeknight dinner and it could also make for a beautiful, healthy and tasty addition to any holiday menu as well.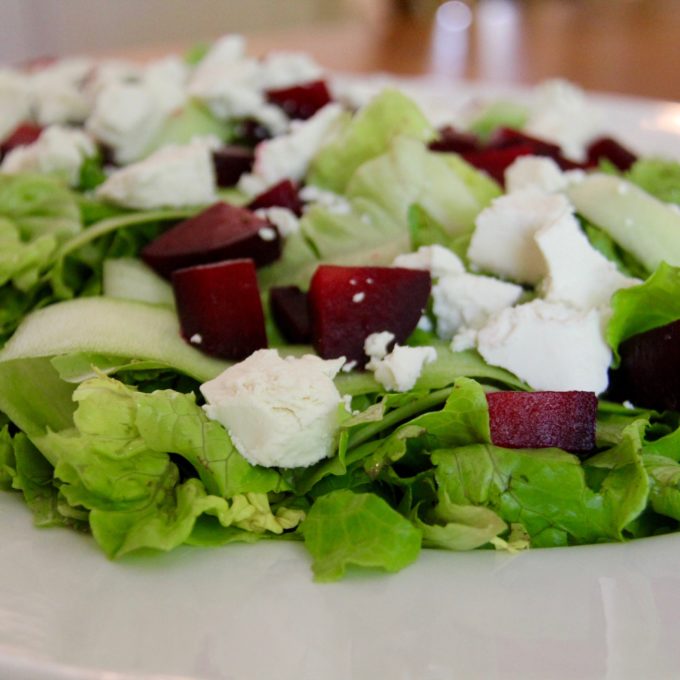 It pairs so nicely with chicken, pork, turkey or fish and the leftovers can be enjoyed warm or cold. Add chopped chicken or walnuts to it and you've got yourself a complete meal.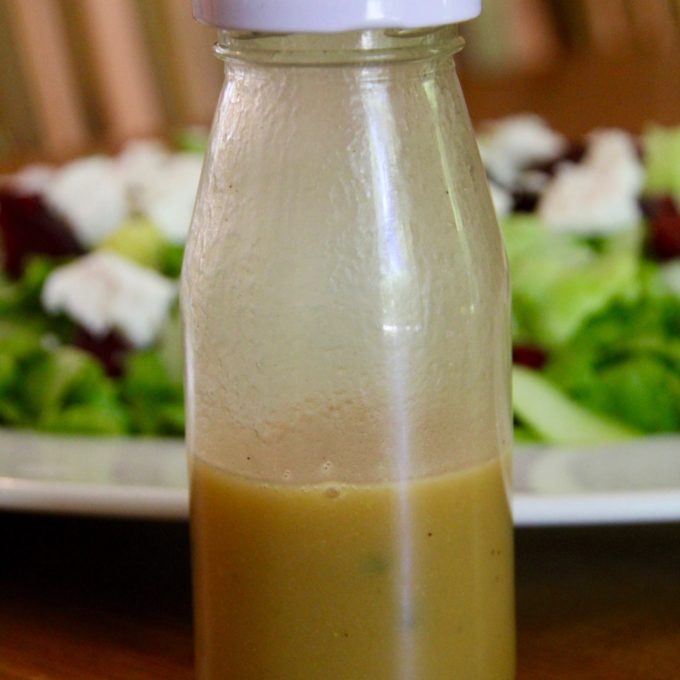 Could there be anything better?
Glorious Beet Salad with Easy Honey Dijon Vinaigrette
Ingredients:
1 bunch medium beets (about 3)
1 tbs. extra virgin olive oil
10 ounces mixed greens or romaine, torn
1 zucchini, ribboned
3-6 oz goat cheese
For the Beets:
Preheat oven to 425°F. Wipe or scrub beets clean then trim stems down to one-inch (leave "tails" on).
Place beets on a large piece of foil; drizzle with olive oil, then wrap foil around them to form a neat packet.
Roast directly on rack in middle of oven until tender, about 1 hour.
Test for doneness by piercing the largest beet with a knife. If it enters easily, it's done.
Unwrap beets and let sit until cool enough to handle.
Use your hands or a paring knife to peel skin, then cut into ½-inch dice (I usually do this right on the aluminum foil but you can also use a stain-proof cutting board or plate). Set aside
For the Salad:
Using a peeler, make ribbons from the zucchini, peeling it into long strips.
Place the greens and zucchini in a large bowl, drizzle with about half of the vinaigrette and toss to combine.
Add as much of the remaining vinaigrette as desired and toss again.
Divide greens onto plates, then sprinkle with beets and goat cheese. (The reason you don't just mix it all together in a salad bowl is that the beets would cause the whole salad to turn pink.)
Easy Honey Dijon Vinaigrette
Ingredients:
1⁄2 cup olive oil
1⁄3 cup honey
2 tbs. lemon juice
1 tbs. mayonnaise
2 tbs. Dijon mustard
Directions:
Whisk oil, honey, lemon juice, mayonnaise and mustard until well combined.
Remix before using.