I love this classic, protein packed, vegetarian dish.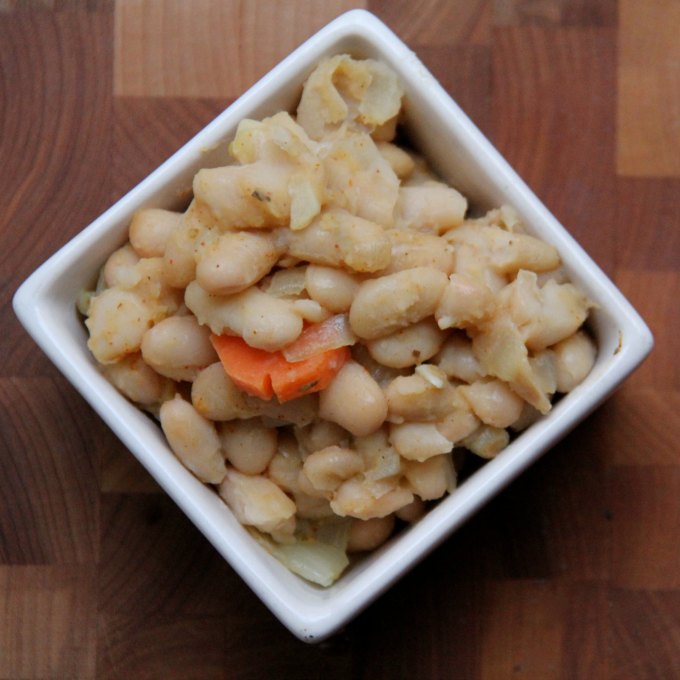 It can be whipped up in a matter of minutes and when it's served with a side salad, my family cheers (ok, truthfully, Spud hates this dish – but everyone else LOVES it).
If your family adores beans like we do, be sure to check out my Rice and Bean Wraps and Cuban Style Black Bean recipes as well! Enjoy!
Garlicky White Beans
Ingredients:
3 tbs. olive oil
1 small yellow onion, peeled and diced
4 garlic cloves, peeled and sliced
1 medium carrots, peeled and sliced
A pinch of red pepper flakes
2 (15oz) cans small white beans, rinsed and drained
2 tsp. red wine vinegar
Directions:
In a skillet over medium-high heat, add the oil and onion, sautéing for 5 minutes.
Add the garlic, carrots, red pepper flakes and sauté for 2-3 minutes, careful not to burn the garlic.
Add the beans and cook, stirring for 2 minutes.
Add just enough water to cover the beans and simmer until the beans are tender and creamy.
Stir in the red wine vinegar and enjoy!