Asparagus and salty pork products like bacon, pancetta and prosciutto make the perfect pairing. For today's savory recipe, I'm cooking with pancetta.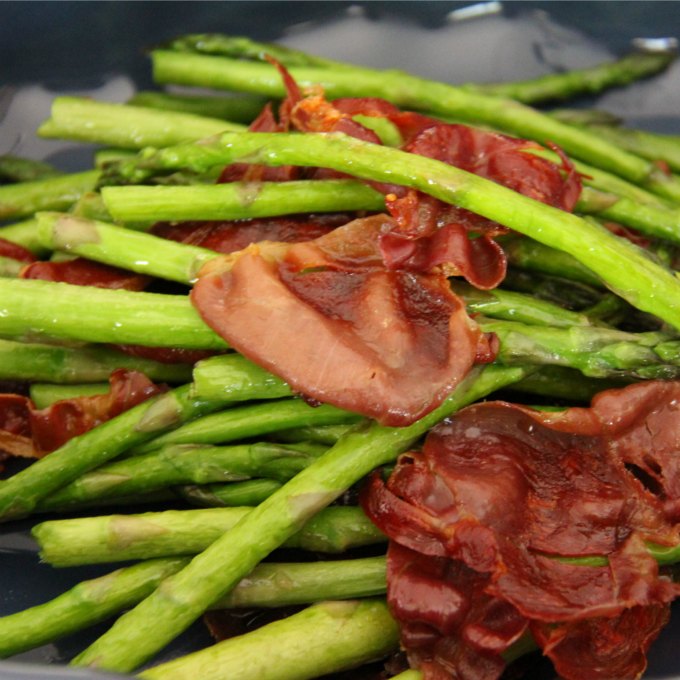 Did you know that pancetta, bacon, prosciutto are all very different? Pancetta is cured and un-smoked meat while bacon is cured and smoked meat. Both need to be cooked before eaten. Meanwhile, prosciutto is cured over a long period of time (anywhere from a few months to several years). Once cured, prosciutto is thin sliced and eaten as is. In other words, it's cured for so long that it can be eaten uncooked.
So there's your pork- product lesson for the day. On to deliciousness:
Asparagus and Crispy Pancetta
Ingredients:
1 tbs. olive oil, plus more for roasting
1 (3 oz) package of sliced pancetta
2 lbs asparagus spears, trimmed
Directions:
Preheat oven to 375 degrees.
Heat 1 tbs. oil in large skillet over medium high heat.
Working in batches, cook pancetta in skillet until crisp, about 2 minutes per side then transfer to paper towels.
Arrange asparagus in single layer on rimmed baking sheet.
Drizzle with olive oil, turning to coat then sprinkle with salt and pepper.
Bake asparagus until tender, about 20 minutes.
Top asparagus with pancetta and serve warm or at room temperature.