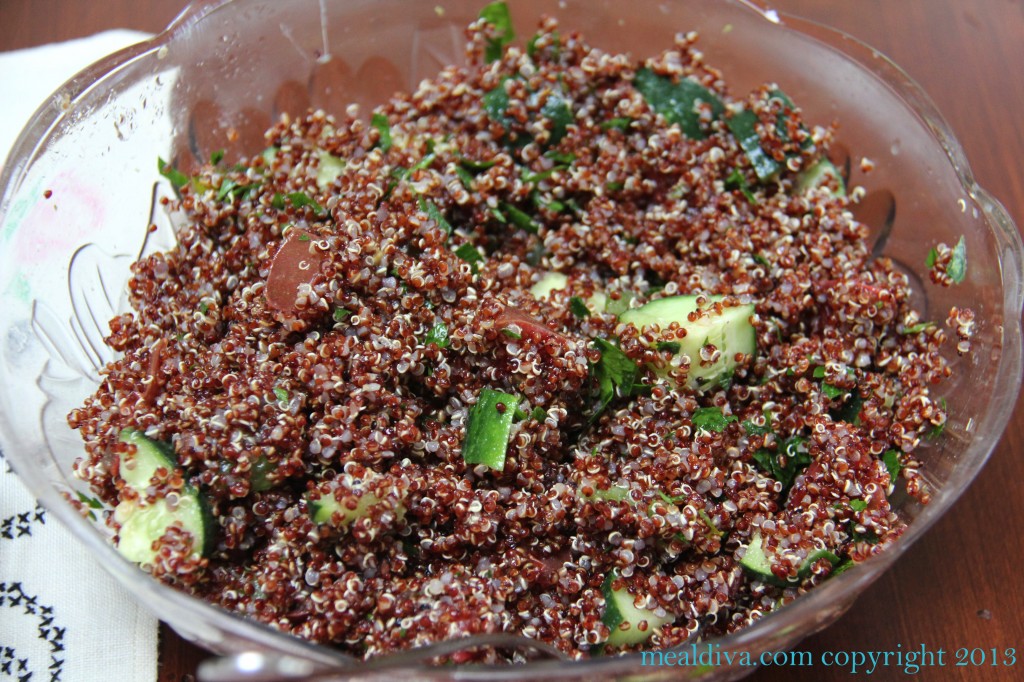 Quin-what? Pronounced "keen-wah," this is a protein-packed seed, not grain, that is experiencing a moment in the spot light: I see if popping up everywhere! Do a Google search: there are MILLIONS of articles, recipes and restaurants talking about it… so of course, I needed to jump on the bandwagon with this Quinoa Salad!
Just kidding! It's actually very popular in the MealDiva house and I have several great recipes like the one my daughter, Peanut created in July. If you haven't tried Quinoa, there is no time like the present! It doesn't have to be of the red variety for this recipe… I just liked the way it looked! Enjoy!
To make this a MealDiva Approved meal, serve it alone as lunch of as a side dish to a meat recipe like this Unbelievable Lemon-Chili Chicken.

Red Quinoa Salad
Ingredients:
1 cup dried red quinoa, rinsed
2-½ cups water
1 cucumber, chopped
1 avocado chopped
½ cup cilantro, chopped
½ cup basil, leaves torn
2 tbs. red wine vinegar
3 tbs. orange juice
3 tsp. miso
1 tbs. extra virgin olive oil
1 1-inch piece ginger, grated
Directions:
Wash quinoa well before cooking.
Bring a medium pot to boil on the stove, add quinoa and simmer for 15 minutes, fluff with a fork and set aside to cool.
In a small bowl, stir together vinegar, juice, miso, olive oil and ginger to form a paste.
Add to a blender and puree until smooth.
In a large bowl, combine the quinoa, cucumbers, avocado, cilantro and basil and dressing.
Toss gently to coat.