Everyone needs a go to lunch salad that's colorful, full of texture and crunch! Loaded with lots of nutrient packed chickpeas, carrots, raisins, dates, pistachios, parsley and cilantro it's not only healthy, it will also leave you will feeling satisfied, full and happy.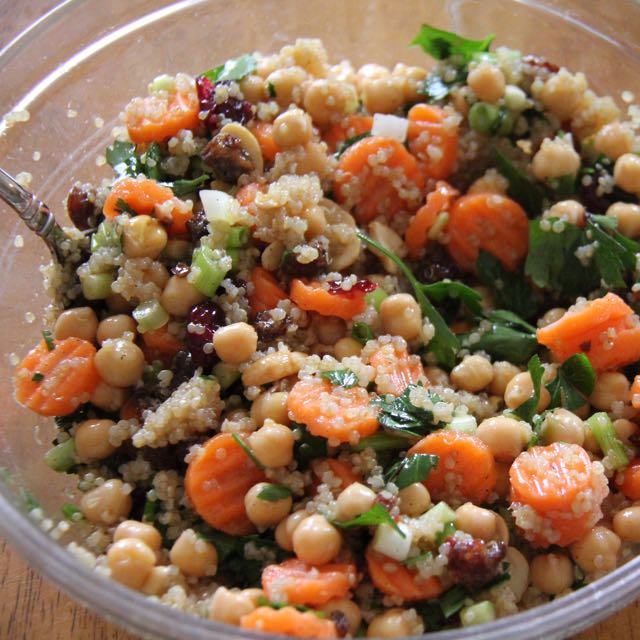 This is a staple in the MealDiva house and I know your going to love it. I often make it on Monday and enjoy it throughout the week for lunch. Enjoy!
Nutrient Packed Chickpea Quinoa Salad with Lemon Honey Dressing
Ingredients:
1 ½ cups cooked quinoa (or ½ cup uncooked)
3-4 carrots, chopped or sliced ( I used a fancy slicer for mine)
4 scallions, diced
1 (15 oz.) can of chickpeas, rinsed and drained
⅓ cup chopped dates
1/4 cup raisins
¼ cup craisins
¼ cup chopped pistachios
1 handful flat leaf parsley, chopped
1 handful cilantro, chopped
For dressing:
½ teaspoon cumin powder
1/3 cup olive oil
2 tbs. fresh lemon juice
1 tbs. raw honey
½ teaspoon sea salt
⅛ teaspoon chili powder
Directions:
Cook the quinoa according to package directions ( if your short on time you can always use microwavable quinoa but it won't be as nutritious). Allow the quinoa to cool completely before adding it to the salad.
Combine the ingredients for the dressing in a jar and give it a few good shakes until the dressing mixes through.
Add the dressing into the salad and toss it together to combine. Serve immediately or store in the refrigerator for later! The longer it marinates, the yummier it is!
Want more Quinoa in your life? Check out Quinoa Risotto, Red Quinoa Salad, Quinoa Salad with Lemon
Want more Chickpeas in your life? Check out Indian Style Chickpeas in Curry, Chickpea Stew, Broccoli Rabe Pasta Toss