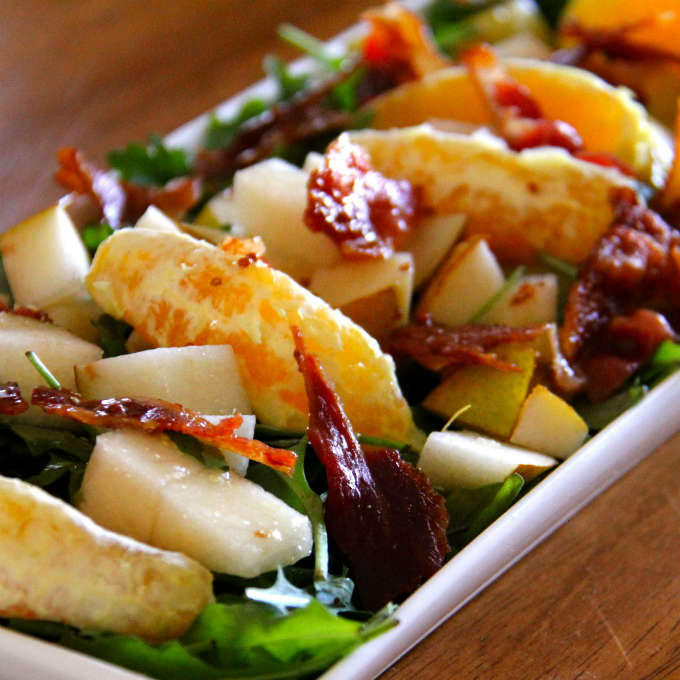 One of my new favorite cookbooks is Against all Grain by Danielle Walker. She is amazing! Her cookbook is loaded with recipes that are gluten, grain and dairy-free and I'm enjoying cooking my way through it. I highly recommend her cookbook (and I say this without being compensated in anyway).
This Paleo-friendly Winter Citrus and Bacon Salad is from Against All Grain. Walker includes almonds in her salad and I added a little more bacon. I love that recipes are all about interpretation and making them your own.
Time to whip up this easy winter salad and dig in! I served mine with a little Lemon Tilapia (minus the slaw).
Paleo Winter Citrus and Bacon Salad
Ingredients:
5-6 cups arugula
1 large grapefruit, peeled and segmented
1 large orange, peeled and segmented
6 slices cooked bacon
Salt and pepper
1 tbs. apple cider vinegar
1 tsp. Dijon mustard
¼ cup olive oil
Directions:
In a bowl or on a large platter, combine the arugula, orange, grapefruit and bacon.
Sprinkle with a little salt and pepper.
Place vinegar, mustard and olive oil in a small bowl or jar with a lid and either whisk or shake to combine. You want the dressing well blended.
Drizzle salad with dressing and toss to coat.