April's #WeekdaySupper's theme is "it's a wrap," featuring dinner's that can be wrapped, stuffed, and filled with deliciousness. All of the recipes are quick, easy and will be on your table in less than 30 minutes so be sure to check out the other fantastic #WeekdaySupper recipes at the bottom of my post. In addition, if you like this week's theme, be sure to check out my Eggplant Rollatini recipe as well!
Today, MealDiva is preparing Thai Portobello Mushroom Wraps.
Some of my favorite family meals are the ones that we eat with our hands. These Thai Portobello Mushroom Wraps are on my infinitely long list of beloved #WeekdaySupper recipes that my entire family enjoys. These wraps are filled with delicious Thai flavors –ginger, garlic, hot pepper flakes and cilantro. The hot pepper flakes bring some heat to the dish that is then cooled off with mint.
To get the party started, get your flavor ingredients into the bowl and combine. I tossed in a little extra Asian style hot sauce because I was craving some more heat but it's not necessary.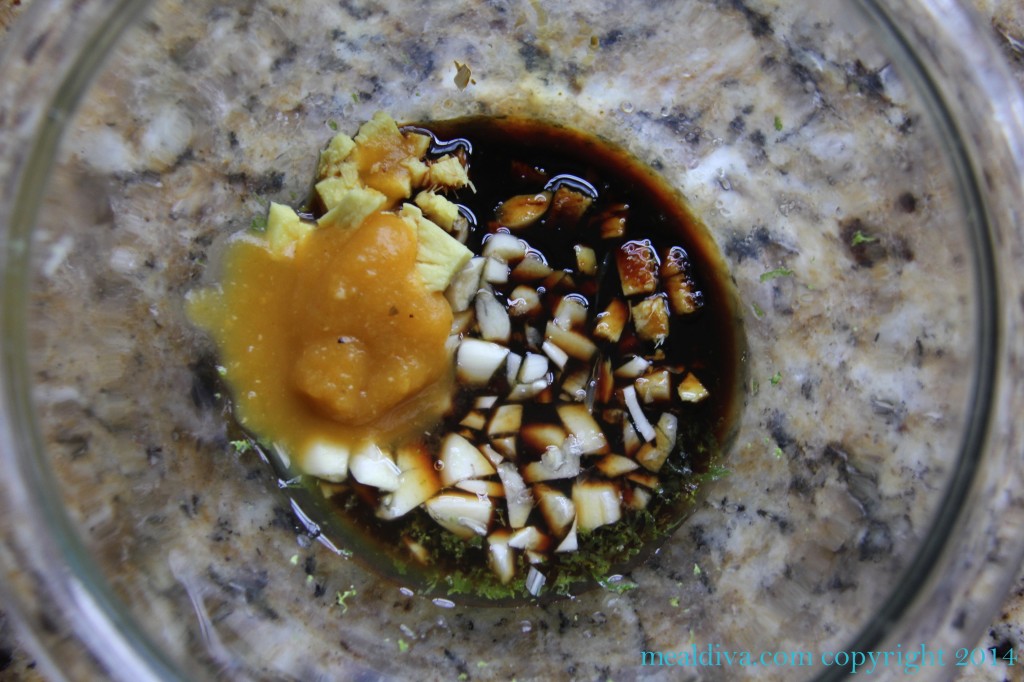 Next, get your shallots and mushrooms into a hot pan and sauté for 5 minutes or until the mushrooms are cooked to your liking. Personally, I like my mushrooms almost crispy.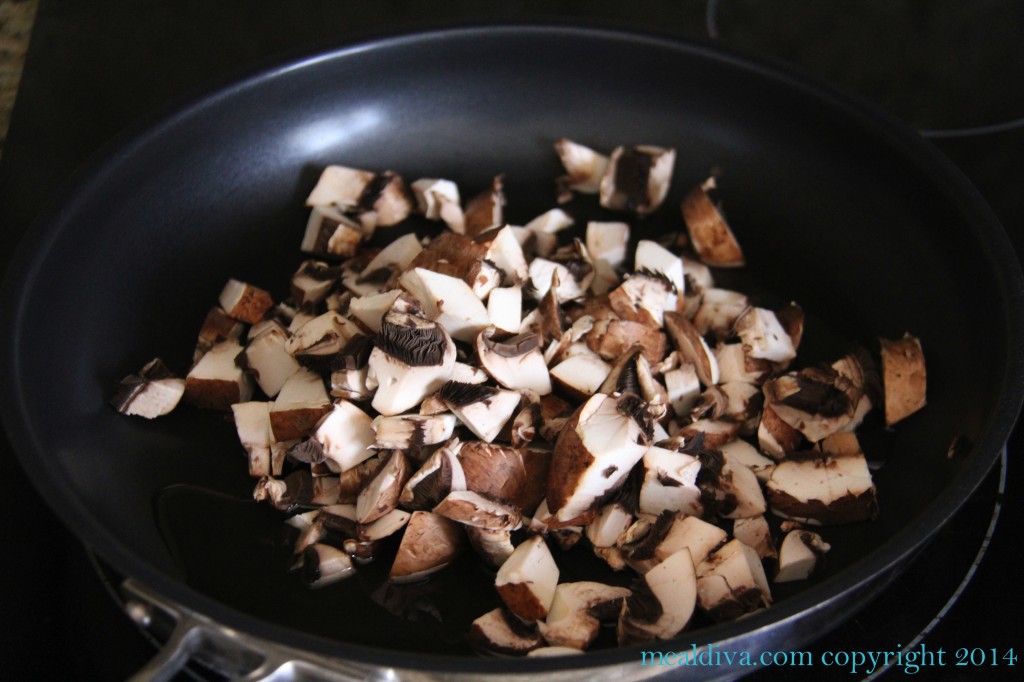 Once all of your ingredients are sautéed, add the cilantro, mint and scallions and toss it all together to combine. Yummy, yummy in my tummy! This is when I can't help myself — I have to taste test it — and usually end up eating at least two spoonfuls –Mmmmmm…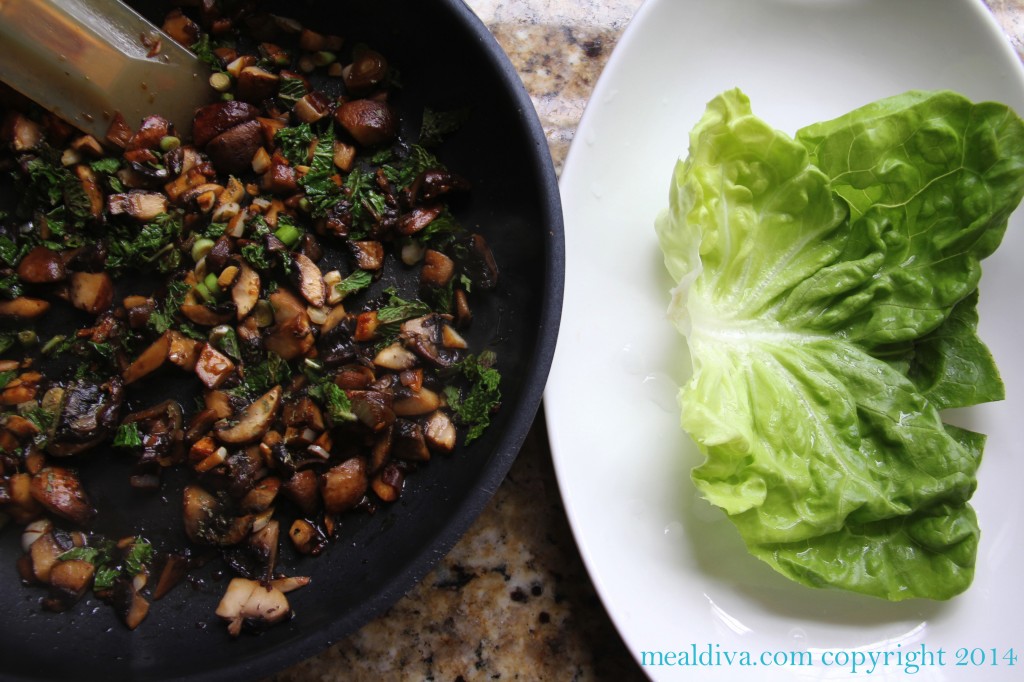 Next, spoon the mushroom mixture into each lettuce leaf then fold it at the top to serve. I like to serve this dinner family style on two platters with extra soy sauce for dipping.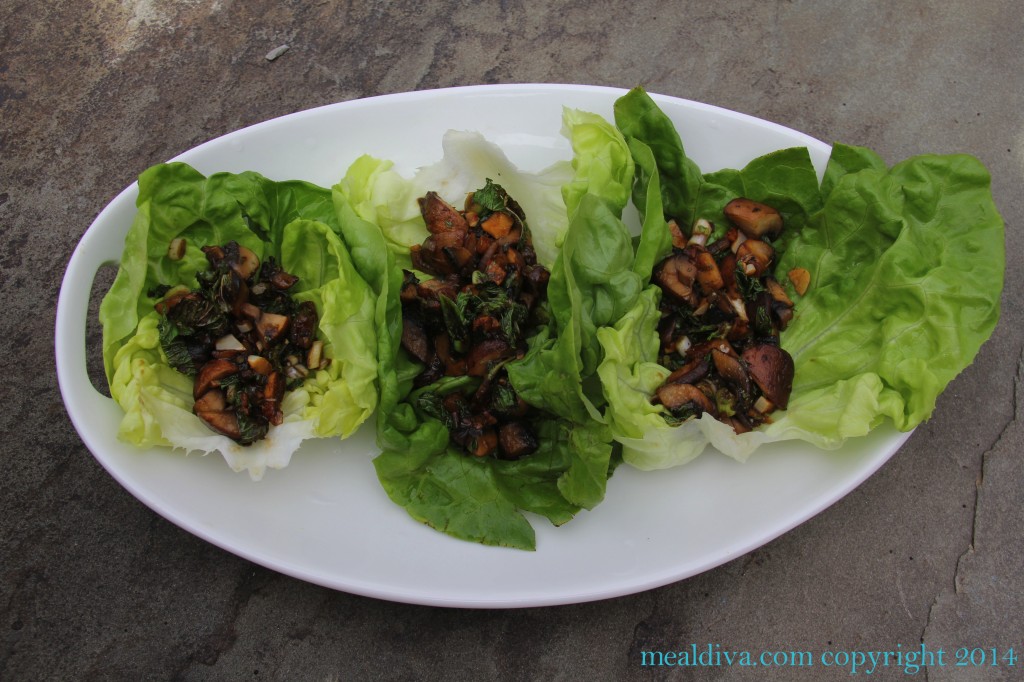 Dig in!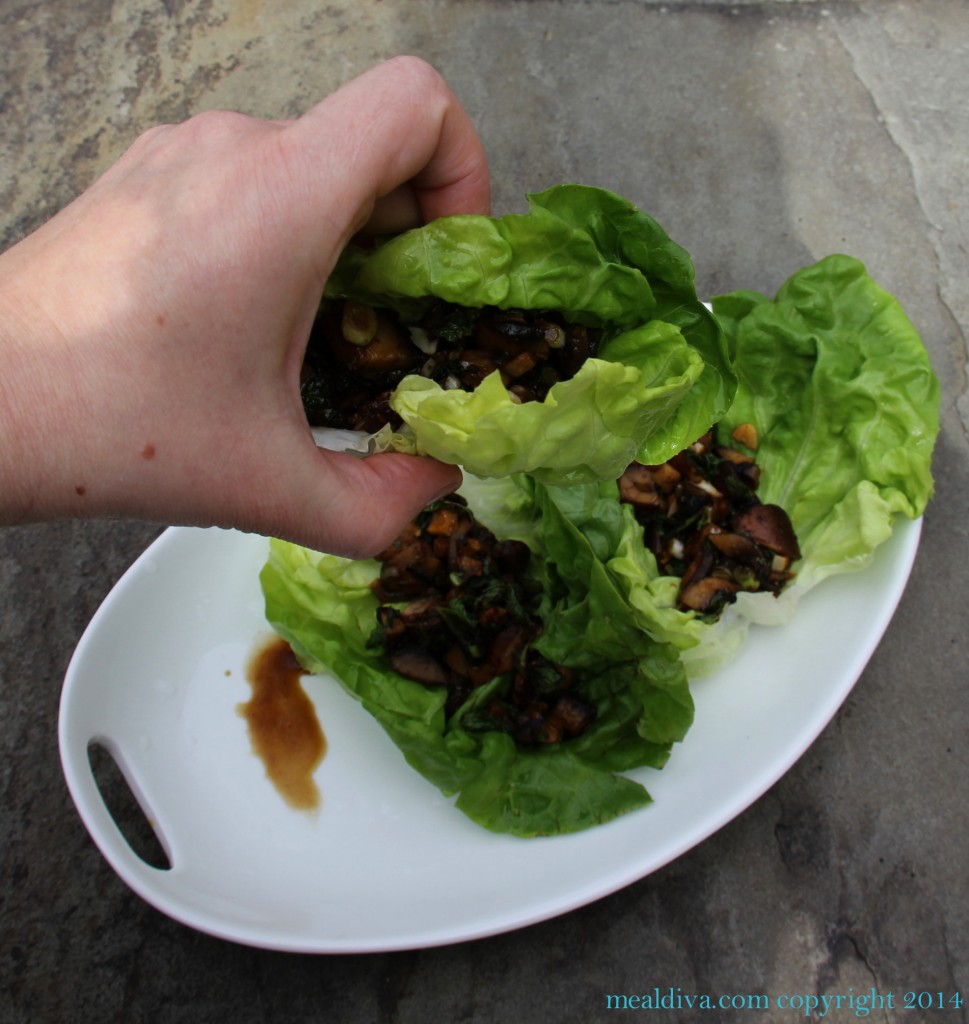 Thai Portobello Mushroom Wraps
Ingredients:
1 inch fresh ginger, peeled and minced
3 cloves of garlic, peeled and minced
4 tbs. soy sauce
1 lime, zested and juiced
A pinch of red pepper flakes
2 tbs. olive oil
3 shallots, peeled and diced
1-½ lbs. Portobello mushrooms, cleaned, stems removed and chopped into bite sized bits.
A handful of cilantro, roughly chopped
A handful of mint, roughly chopped
4 scallions, sliced (green and white parts)
8 Boston lettuce leaves, cleaned
Directions:
In a small bowl, combine ginger, garlic, soy sauce, lime zest and red pepper flakes.
Heat olive oil in a large non-stick skillet over medium-high heat
Add the shallots and mushrooms and sauté for 5 minutes.
Add ginger mixture and cook for an additional minute then remove from the heat and add the cilantro, mint and green onion. Toss to combine.
To serve, place some of the mushroom mixture into each lettuce leave and fold the lettuce over too make a wrap. Enjoy!
Be sure to checkout what's on the menu for this week's #WeekdaySupper:
Tuesday – Skillet Stuffed Peppers by Melanie Makes
Wednesday – Crockpot Chicken Quesadillas by Momma's Meals
Thursday – Mediterranean Pita Pockets by Take A Bite Out of Boca
Friday – Skirt Steak Salad by Gluten Free Crumbley