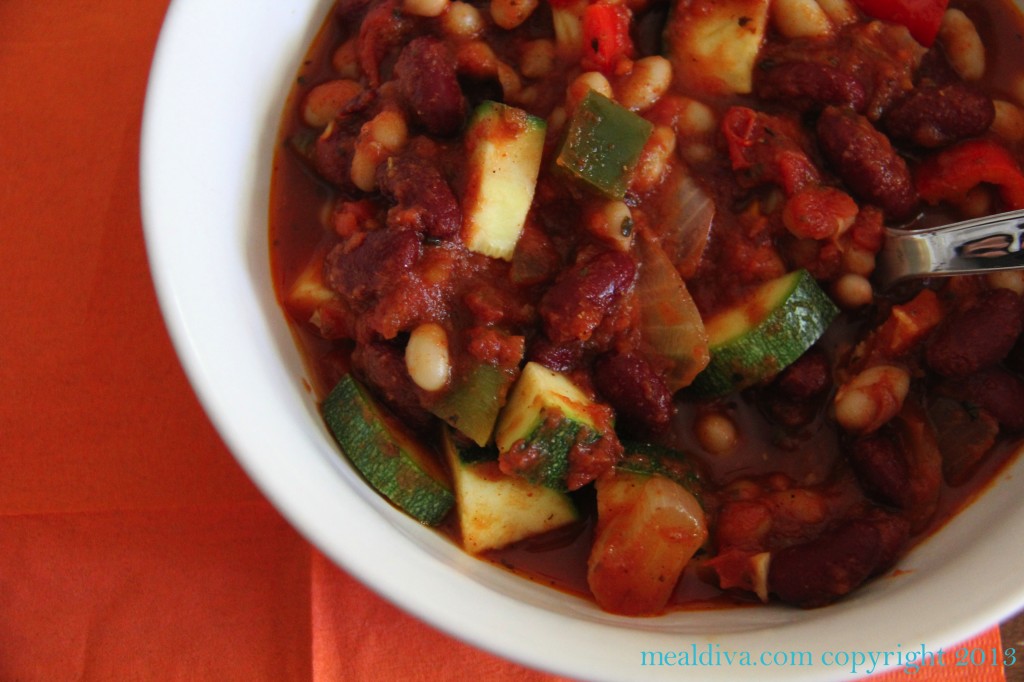 As we slide into fall, it's important to embrace the season with everything we have. For me, that means lots of one pot, comfort-food-type dinners like this YUMMY chili. Straight up, this is the best vegetarian chili that you will EVER have and it is super easy to make and including chopping time, it can be on your table in an hour! Enjoy!
Vegetarian Chili – a take on Dr. Oz's
Ingredients:
3 tbsp. olive oil
1 red onion, chopped
2 carrots, diced
2 peppers ( choice of colors), diced
1 zucchini, diced
11/2 tbsp. ground cumin
1/2 tsp. crushed pepper flakes
2 tbsp. chili powder
2 cloves of garlic, chopped
1 jalapeno, diced
3 (14.5 oz) cans diced, fire roasted tomatoes
1 (15 oz) can chickpeas
1 (15 oz) can red kidney beans
1 (15 oz) can black beans
2 tbsp. dried oregano
3 tbsp. tomato paste
1 tsp. maple syrup
1 tsp. red wine vinegar
1 (10 oz) bag frozen corn
Optional toppings
Diced avocado
Sour cream
Chopped fresh cilantro
Sliced scallions
Limes
Directions:
In a large heavy-bottom pot, warm the oil and sauté onions, carrots, peppers, stirring occasionally until the vegetables start to soften, about 10 minutes.
Stir in the cumin, crushed pepper flakes and chili powder as well as the garlic and jalapeno and cook a few more minutes until fragrant.
Add the tomatoes, all beans and chickpeas, oregano, tomato paste and maple syrup and vinegar.
At this point, you can add a little vegetable broth or vegetable juice or water if you like your chili a bit thinner.
Cover and simmer for 15 minutes, stir in the corn; cook 5 more minutes – until corn is heated through.
If you like this recipe, you will LOVE my Butternut Squash Soup!