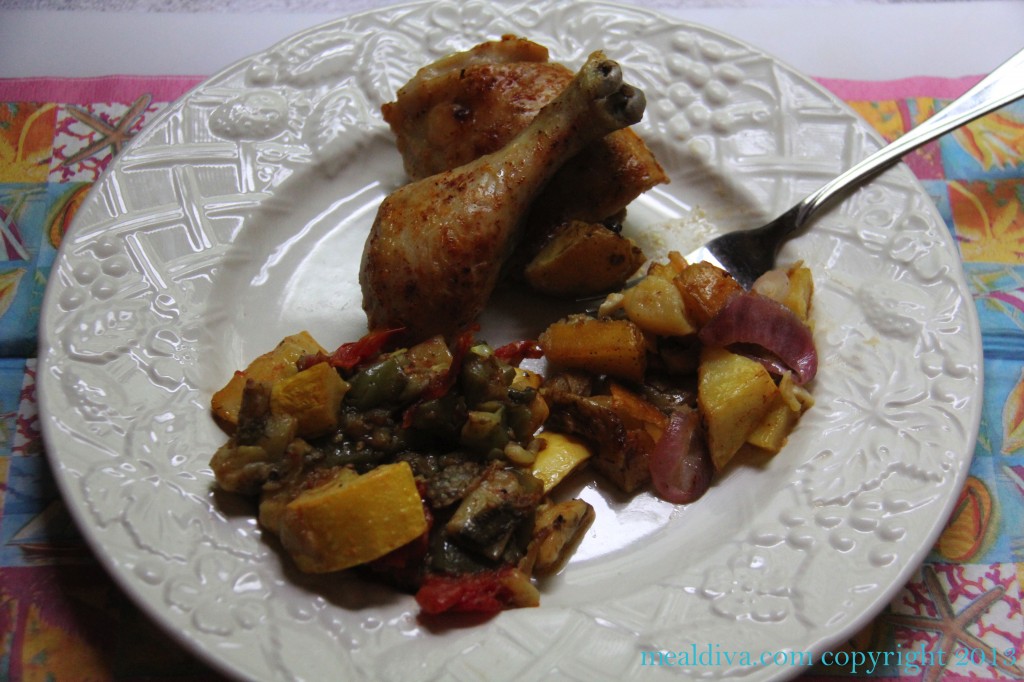 What Peanut calls "chicken on the bone," ( i.e. chicken drumsticks and thighs) is real favorite over here. I think a lot of people are scared to prepare and eat "chicken on the bone" and I wonder why…
I promise you that no matter how you cook it, this chicken recipe ALWAYS turns out juicy and delicious! Seriously, say good buy to the dried out chicken breast and give this a whirl! This easy chicken recipe will make you close your eyes, sigh, and feel like everything is going to be ok.
What kind of chicken to do like to cook: breasts, tenderloins, drumsticks or wings?
To make this a MeadDiva Approved dinner, serve it with a side of baked vegetables!
Unbelievable Lemon-Chili Chicken with Potatoes
Ingredients:
3 large golden potatoes, cut bite size pieces
4 cloves garlic, roughly chopped
2 tbs. extra-virgin olive oil
Salt
1 1/2 pounds skinless, boneless chicken thighs and drumsticks
2 tsp. chili powder
1 tsp. paprika
Freshly ground pepper
2 lemons (1 juiced, 1 cut into wedges)
1 red onion, sliced
Directions:
Place a large pot of water to boil on the stove.
Add potatoes and garlic and boil for 8 minutes or until they are fork tender but not soft.
While the potatoes are boiling, position a rack in the upper third of the oven.
Place a large cast-iron baking dish or a rimmed baking sheet on the rack and preheat to 500 degrees F.
Next, pat the chicken dry and transfer to a bowl.
Sprinkle with the chili powder, paprika and salt and pepper.
Add the lemon juice to the chicken and toss to coat. Set aside.
Remove the hot baking dish from the oven add the potatoes, spreading them in an even layer.
Place the onions and garlic on top.
Roast until the potatoes start to brown, about 15 minutes.
Toss the potatoes and then lay the chicken pieces on top, adding any accumulated juices from the bowl.
Return to the oven and roast until the potatoes are tender and the chicken is cooked through, about 12-15 more minutes.
Turn oven up to broil and broil on high for 2 minutes to really crisp up the skin.
Remove from the oven and serve with the lemon wedges.