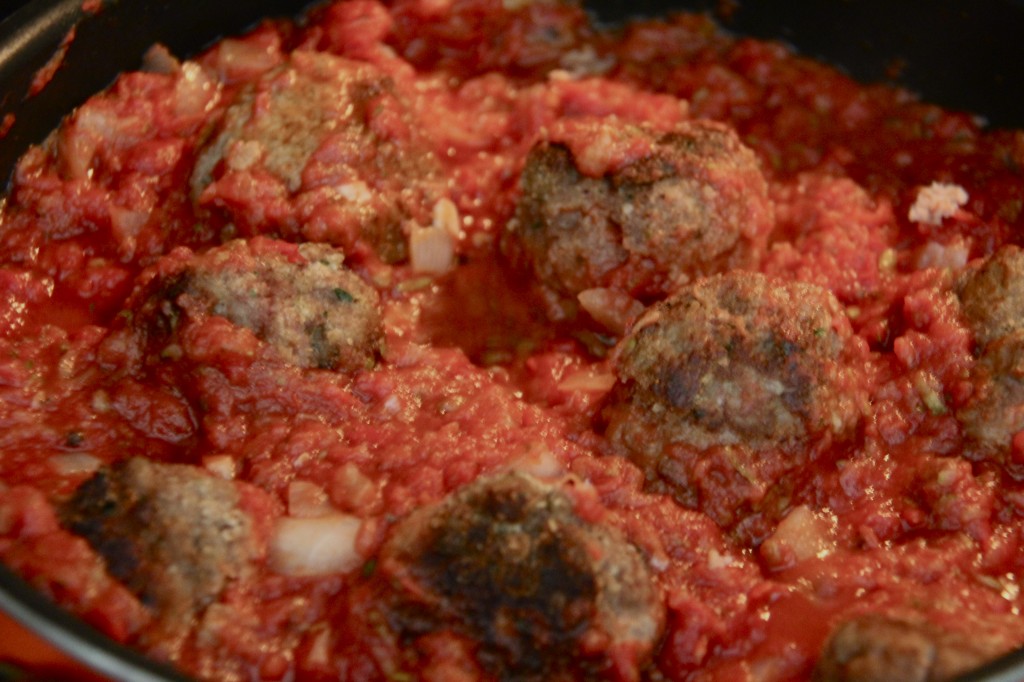 Using only a handful of ingredients these MealDiva Approved Turkey Meatballs are fast, delicious, healthy and SUPER easy! To round out your meal, serve these meatballs with a side salad and homemade garlic bread. Enjoy!
Turkey Meatballs with a Quick Red Sauce
Ingredients:
1-pound ground turkey
1 small onion, chopped
1 tsp. garlic powder
2 tsp. poultry seasoning
½ cup breadcrumbs
2 eggs
Directions:
Preheat oven to 350
In a large bowl combine the turkey, onion, grated zucchini (if using), garlic powder , poultry seasoning and breadcrumbs.
Using your hands, combine the ingredients.
Next, add the eggs and continue to gently combine.
Using your hands, form mixture into meatballs, about the size of a golf ball.
Heat a medium skillet on med-high and add 2 tbs. olive oil.
Add meatballs and sear, turning until all sides are browned, about 3 minutes.
Remove meatballs to a baking sheet.
Bake meatballs at 350 for 20 minutes.
 Meanwhile, what turkey meatball is complete without sauce?
Quick Red Sauce
If you like your sauce thicker, add 1 tbs. tomato paste.
Ingredients:
1 tbs. olive oil
½ yellow onion, diced
2 garlic cloves, diced
1 28 oz can crushed tomatoes
A small handful of fresh basil, leaves torn.
Salt and pepper to taste
Optional: A pinch of red pepper flakes
Directions:
In a large, high-sided skillet, heat olive oil over medium heat.
Add onion and cook for 2 minutes, sautéing to bring out the flavor.
Add garlic and cook for 30 seconds.
Ad tomatoes and red pepper flakes (if using) and bring to a simmer.
Add a little salt and pepper to taste and then add basil.
Simmer sauce while meatballs are baking.
When meatballs are done, remove from baking sheet and add to sauce. Simmer for another 10 minutes and serve over pasta or in a sandwich roll.
Super fast, super YUM!