Happy #SundaySupper my friends! It's been awhile but I'm happy to be back participating into today's meatball themed event hosted by Sue Slugger from Palatable Pastime!
Homemade meatballs are one of my FAVORITE things to eat! I've been making this recipe for years now and it works well with gluten-free breadcrumbs too. If you are a frequent pre-made/packaged meatball eater, I beg you to give this recipe a try! I promise that once you make, smell and devour these, you will NEVER go back to the horrors of packaged, processed, fake food! Feel free to double or triple this recipe and freeze ½ for a quick weeknight meal down the road. TRUST ME, YOU CAN MAKE MEATBALLS, just follow the recipe!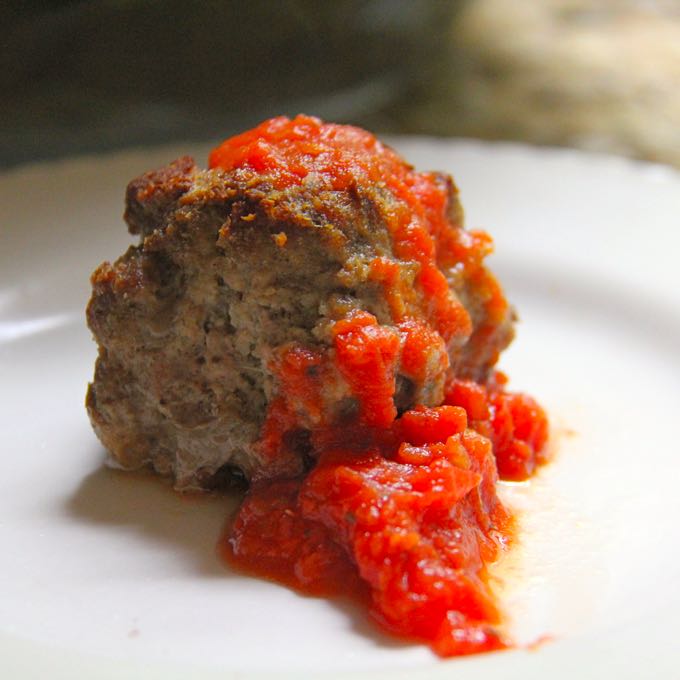 My kids inspired today's post: As Spud say's "some days, I just need a big bowl of bowtie pasta and meatballs" (they don't like spaghetti with meatballs – bizarre –don't ask). And, by applying a few basic meatball -making principles (like not overworking the meat mixture) you can have your kids' request this incredible, luscious, healthy, homemade dinner too. As a time-saver, I used store- made, salt-free, whole-wheat breadcrumbs and grated my carrot by hand. You can certainly use homemade breadcrumbs or a food processor to whiz your carrot into pieces but I have to admit, I was too lazy to get out, set up, and clean up my food processor today. Laziness at its best? Perhaps….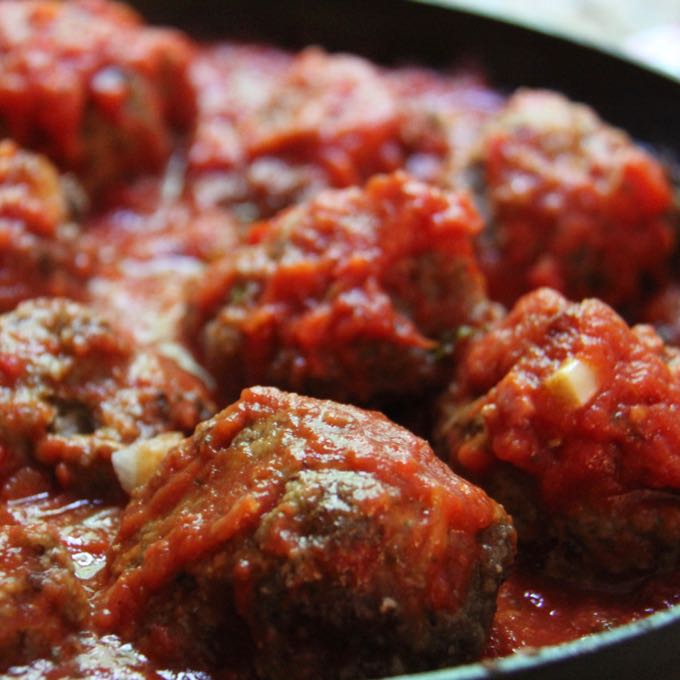 Let me know how your meatball making goes by leaving a comment below….
The Ultimate Pasta and Meatballs
Ingredients:
3 tbs. (plus a little more for drizzling) extra-virgin olive oil
1 yellow onion, chopped
3 garlic cloves, finely chopped
2 tbs. fresh parsley, roughly chopped
1 medium carrot, grated
1-cup whole-wheat breadcrumbs
1 1/2 lbs.  ground beef
1 1/2 lbs. ground pork
1 large egg
1/2 cup freshly grated Parmigiano-Reggiano, plus more for serving
Salt and pepper
4 cups heated red sauce, recipe follows, or good quality jarred tomato sauce
1/2 pound mozzarella cheese, cut into chunks
8 sprigs fresh basil
1 box whole-wheat bow tie pasta or spaghetti
Directions:
Heat 3 tbs. oil in an ovenproof skillet over medium heat.
Add the onion, garlic, and parsley and cook until the vegetables are soft but still translucent, about 10 minutes.
Take the pan off the heat and let cool.
In a bowl, add the meat and breadcrumbs, then the egg followed by the Parmigiano.
Season generously with salt and pepper.
Add the cooled onion mixture to the bowl (Hang onto the pan – you'll need it to cook the meatballs)
Gently combine all the ingredients with your hands until mixed together (Don't overwork or the meatballs will be tough)
Divide into 12 equal pieces and shape them into balls.
Preheat the oven to 350 degrees F.
Heat 3 tbs. oil in the frying pan over medium heat and sear the meatballs on all sides, 8-10 minutes.
Put them into a baking dish and spoon about half of the tomato sauce over. Sprinkle with mozzarella and drizzle with a little olive oil.
Put the meatballs in the oven and bake until the meatballs are cooked through, about 20 minutes.
Meanwhile, bring a big pot of water to a boil for the pasta.
Cook the pasta in the boiling water until al dente, about 8 minutes.
Drain and put it onto a large serving platter.
Pour on the rest of the sauce and mix well.
Spoon the meatballs on top of the pasta and garnish with basil leaves.
Serve immediately along with extra cheese for sprinkling.
Quick Red sauce:
If you like your sauce thicker, add 1 tbs. tomato paste.
Ingredients:
1 tbs. olive oil
½ yellow onion, diced
2 garlic cloves, diced
1 (28 oz) can crushed tomatoes
A small handful of fresh basil leaves torn.
Salt and pepper to taste
Optional: A pinch of red pepper flakes
Directions:
In a large, high-sided skillet, heat olive oil over medium heat.
Add onion and cook for 2 minutes, sautéing to bring out the flavor.
Add garlic and cook for 30 seconds.
Ad tomatoes and red pepper flakes (if using) and bring to a simmer.
Add a little salt and pepper to taste and then add basil.
Simmer for 12-15 minutes and use in your favorite dish!
Super fast, super YUM!
If you love meatballs as much as I do, be sure to check out all of the fabulous recipes below! Happy Meatball Eating Sunday! Cheers!
Meatball Appetizers:
Meatball Soups:
Main Dish Meatballs:
Meatball Desserts:
Plus Buffalo Chicken Meatballs and More Amazing Meatball Recipes  from Sunday Supper Movement
Join the #SundaySupper conversation on twitter on Sunday! We tweet throughout the day and share recipes from all over the world. Our weekly chat starts at 7:00 pm ET. Follow the #SundaySupper hashtag and remember to include it in your tweets to join in the chat. To get more great Sunday Supper Recipes, visit our website or check out our Pinterest board.Would you like to join the Sunday Supper Movement? It's easy. You can sign up by clicking here: Sunday Supper Movement