This isn't a split pea soup recipe, it's a simple and easy Pea Soup recipe that uses a big old bag of frozen peas. My kids have loved this easy recipe since they were babies and, after they requested it this weekend, I was reminded of it's simplicity. It's a sweet soup and I think that's why my kids adore it.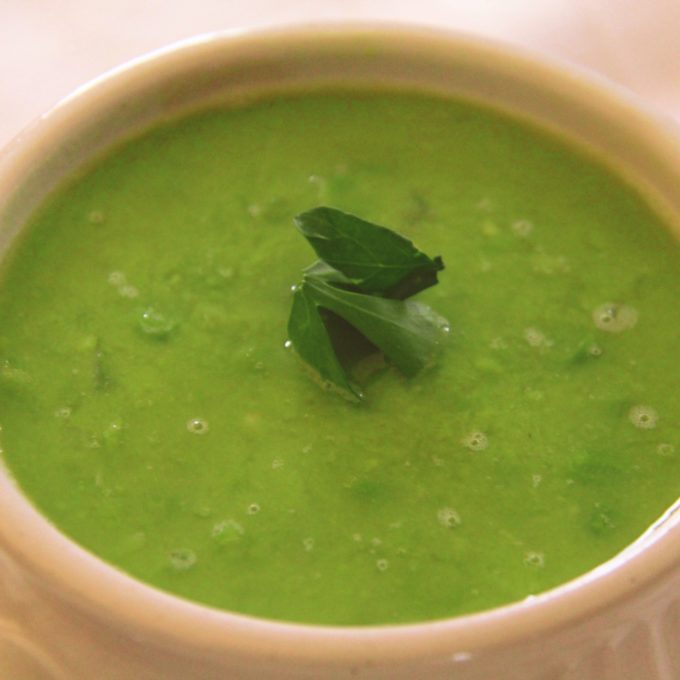 Sometimes the small pea is overlooked and this recipe really highlights it's harmonious and delicious side. Peas are a part of the legume family, high in fiber and protein while low in calories and cholesterol. Because they are higher in protein then many other vegetables, they should be a staple in every vegetarian diet.
Without further ado, here's one of the most kid-friendly, easy to make soup recipes out there!
Stay warm and enjoy my friends!
Super Simple Pea Soup
Ingredients:
1 tbs. of olive oil
1/2 onion, chopped
1 clove of garlic, minced
1 bag of frozen peas
1/4 brown rice
2 cups of vegetable or chicken broth, plus more if needed
Sea salt and pepper, to taste
Parsley leaves, for garnish
Optional Toppings: sour cream or fresh plain yogurt
Optional Non-vegetarian toppings: bacon crumbles or crispy pork belly pieces
Directions:
In a large pot, heat oil over medium-high heat add onions and cook until tender, about 7-10 minutes.
Add garlic and cook until fragrant, about 1 minute.
Add rice, peas and vegetable or chicken broth, and cook until broth just begins to simmer and rice is a little tender.
Working in batches, carefully transfer the soup to a blender, cover, and blend until pureed. Add a little more broth to the blender if needed. OR use an immersion blender and blend soup right in the pot. I left my soup a little chunks instead of completely smooth. Texture is personal taste.
Return the pureed soup into pot.
Heat pureed soup over medium heat until it bubbles and is heated throughout, stirring frequently. Thin out with more broth if needed. Season with salt and pepper.
Divide between bowls and garnish with parsley and any other toppings of choice listed above.