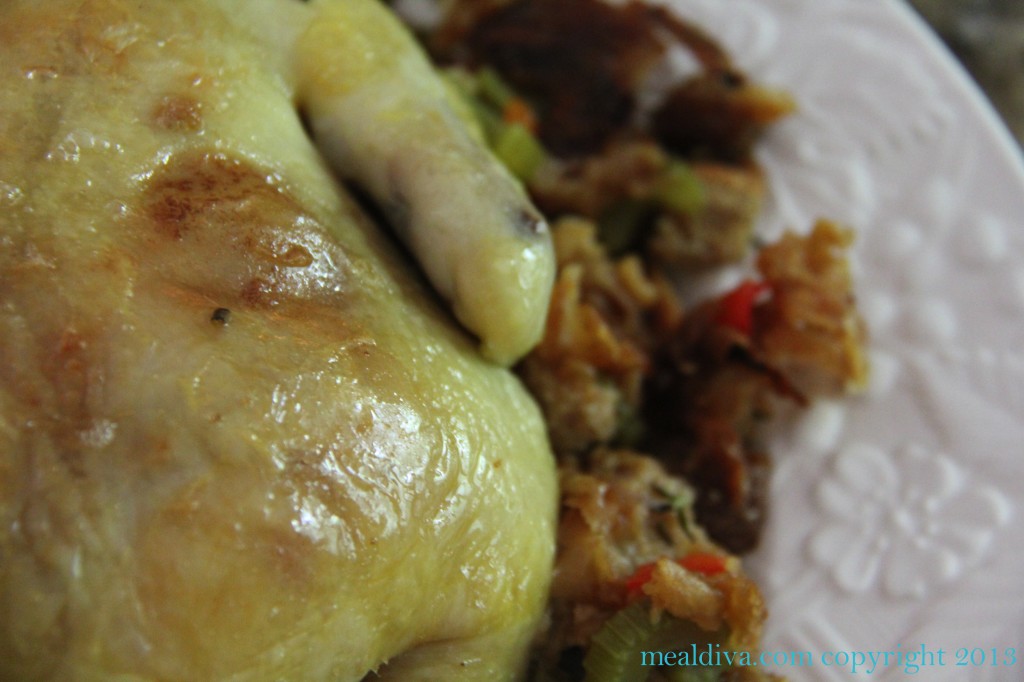 Holy Moly guacamole is this dinner yummy! Seriously, this is one of my all-time favorite, number one, first choice, most delicious meals EVER! No exaggeration, this is a home-run! You can even stuff them in the am, wrap them in foil and keep them in fridge all day until your ready to cook them. Did I say this was delicious?
My love of Cornish Hens started at my wedding: we served them and I fell in love. These beauties are perfect to serve-up at any dinner party because they are deceptively easy to prepare and they never fail to impress! So go pick yourself up a few of these delicious little birds and give this great recipe a try. To make this a complete MealDiva approved dinner, serve it will a side of steamed broccoli or Chive Vinaigrette Salad. Enjoy!
Stuffed Cornish Hens
Ingredients:
1 package of sliced white mushrooms
3 stalks of celery, chopped
1 red and 1 green pepper, chopped
6 tbs. olive oil, divided
1 (28 oz) can of French fried onions
2 pieces of stale bread, torn into bits (if you don't have stale bread, toast the bread then use)
A pinch of salt
½ tsp. dried rosemary
½ tsp. poultry seasoning
½ tsp. black pepper
¼ cup water
4 Cornish hens
Directions:
Preheat oven to 425 degrees
In a medium- large skillet, heat 3 tbs. olive oil on medium high heat.
Add mushrooms and celery and cook until tender, 5 minutes then remove from heat.
In a medium bowl, combine French fried onions, bread, salt, rosemary, poultry seasoning and pepper.
Add mushrooms, celery, peppers and water then toss to combine.
Stuff hens with this mixture then fasten with string.
Brush hens with remaining oil and wrap each hen in aluminum foil.
Place in a shallow pan and roast for 40 minutes.
Open foil, brush hens with drippings and roast for an additional 25 minutes until golden brown.
Note: These are small birds so they can be over-cooked easily. I recommend using a meat thermometer and taking them out at 160 degrees. Let the hen sit for a few minutes and the temperature should rise to 165 degrees. Perfect! Enjoy!