This months #WeekdaySupper is going to be delicious! June's theme is Summer produce and man, oh man, am I excited to participate!
Nothing screams summer produce more then zucchini. Every summer I enjoy it in abundance, often freezing some so that I can make farm fresh zucchini bread in January…. But that's a different story….
On to zucchini for an easy #WeekdaySupper:
This recipe came together, as the best cooking discoveries tend to happen: by accident.
I always grill my zucchini. So, by habit, last week I started to grill it…and then I got distracted (fighting kids) and I took the zucchini off of the grill prematurely…I forgot to turn off the grill and and promptly ran out of propane…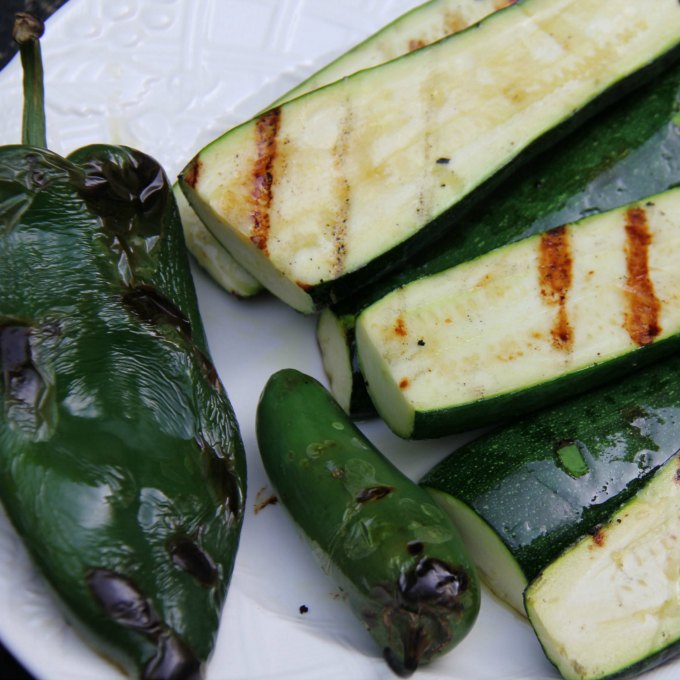 The good news is….
The barely cooked zucchini still looked appetizing and that's when it hit me – throw it in the pan and make succotash – yes zucchini succotash – brilliant I know….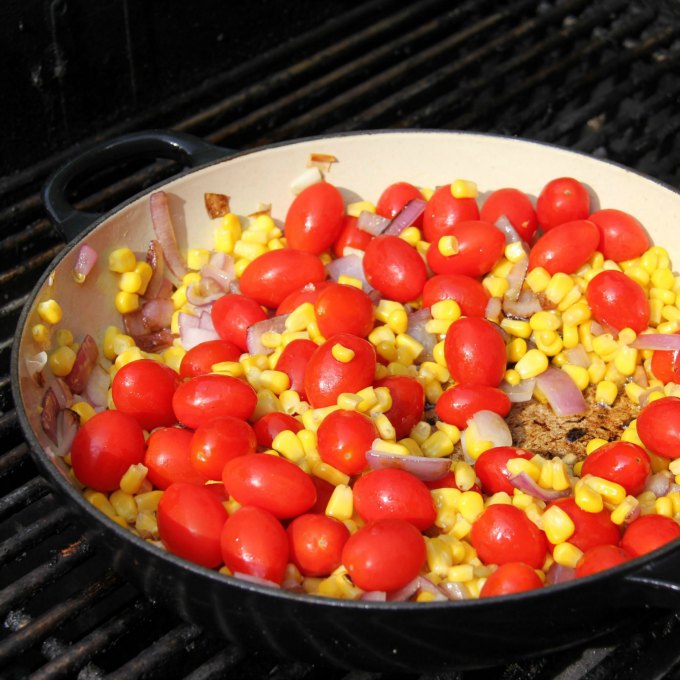 I've made this recipe several times and you can even make it all on the grill. Just use a grill-safe pan.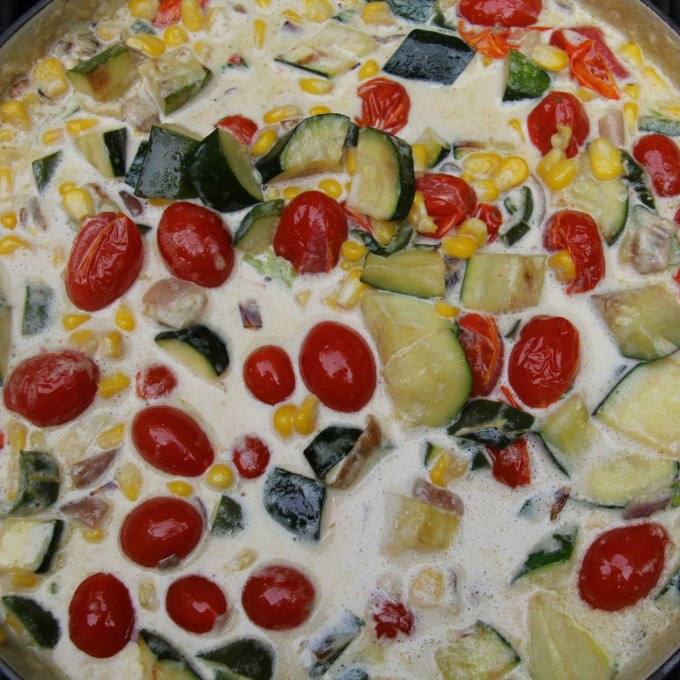 The moral of this recipe? Zucchini is versatile and it always makes a great, light, healthy and delicious week night dinner.. Enjoy!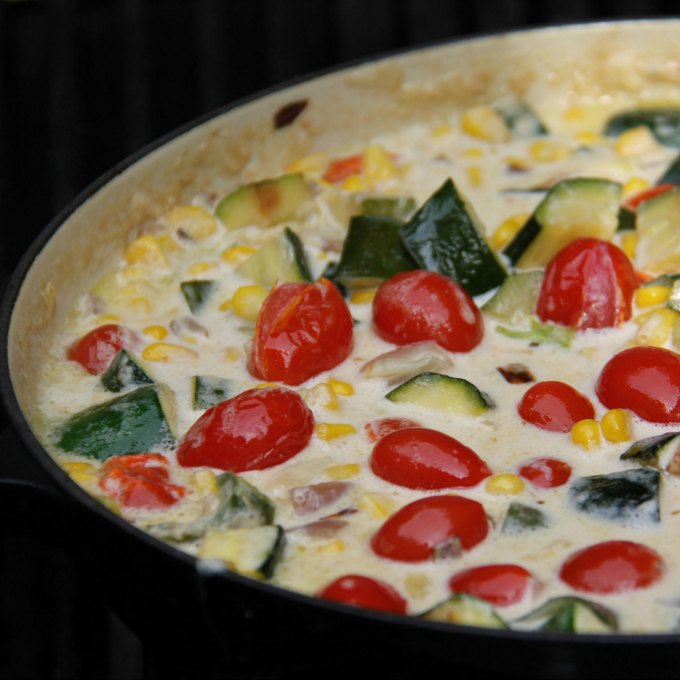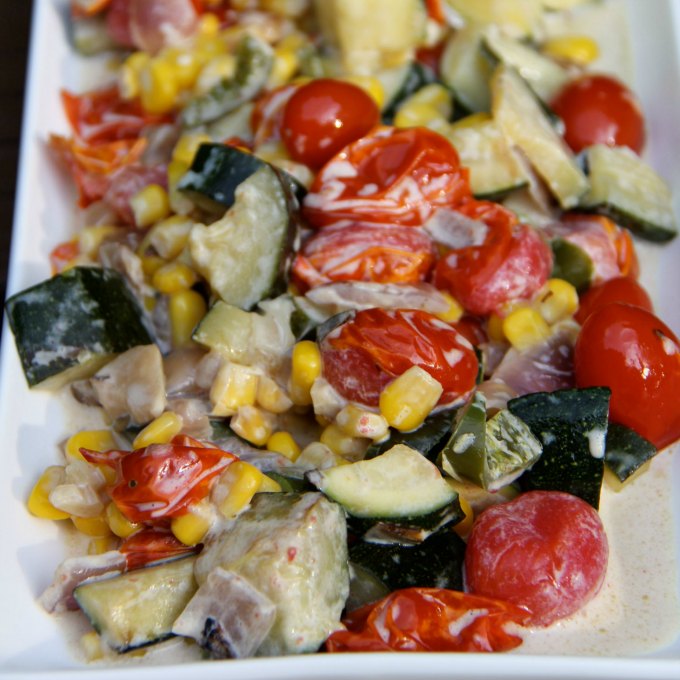 Summer Zucchini Succotash
Ingredients:
2 zucchinis, halved (the long way)
3 tbs. olive oil
Salt and freshly ground pepper to taste
1 red onion, peeled and chopped
3 garlic cloves, diced
1 cup fresh or frozen corn
1 pint cherry tomatoes
1 poblano chile pepper
1 jalapeno pepper
2 cups heavy cream
1 cup grated Parmesan cheese
1/4 cup chopped cilantro leaves
Directions:
Heat grill to high. Brush cut side of zucchini and peppers with 2 tbs. of the oil and season with salt and pepper.
Grill, zucchini cut-side down, until golden brown, about 3 to 5 minutes.
Grill peppers until the blistered slightly
Turn over zucchini and peppers and continue cooking for another 2 minutes.
Remove zucchini from the heat and cut into bite-sized pieces.
Remove peppers from the heat and set aside to cool, then peel, remove seeds and dice.
Heat remaining oil in a medium skillet on the stove top ( the grates of the grill work as well).
Add the onion and cook until soft, about 3 minutes.
Add the garlic and cook for 1 minute.
Add the corn kernels and cook for 5 minutes.
Add the tomatoes, peppers, diced zucchini, and heavy cream and cook until the cream is reduced by half and begins to thicken, about 5 minutes.
Season with salt and pepper, to taste.
Remove from the heat and add the cheese and cilantro.
This recipe also tastes delicious served over brown rice or as a side to ribs, brisket or steak.
And now, let me present to you the line-up for this week's fabulous #WeekdaySupper recipes:

Tuesday – Israeli Couscous with Grilled Vegetables by Caroline's Cooking
Wednesday – Eggplant Caprese Skillet Pizza by The Crumby Cupcake
Thursday – Spicy Chicken Burgers by Life Tastes Good
Friday – Sesame Chicken Lettuce Wraps by Hezzi-D's Books and Cooks