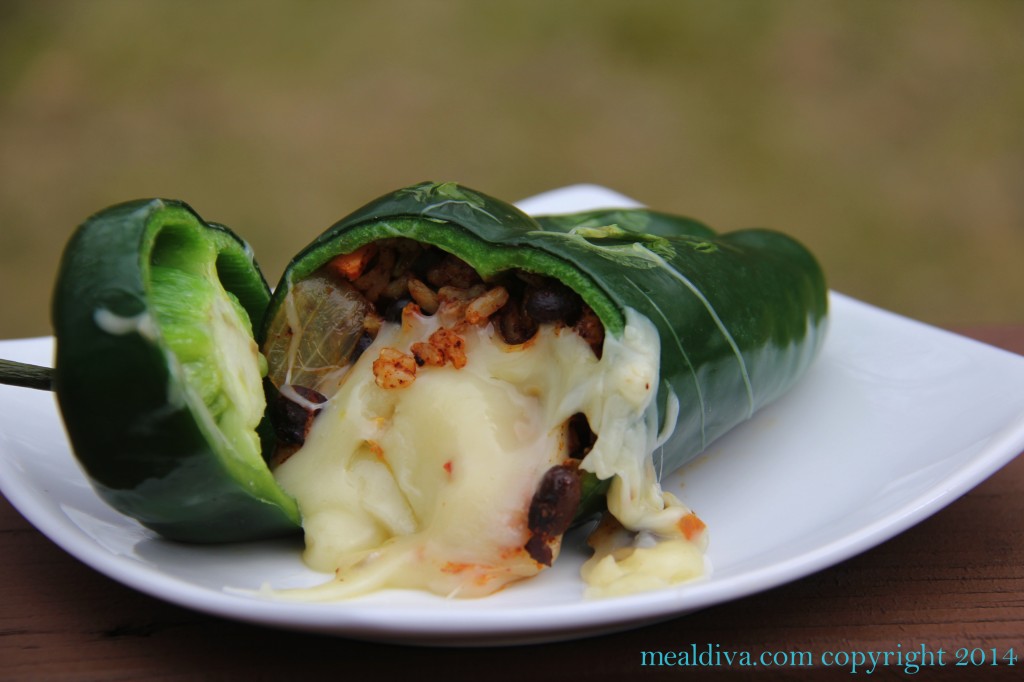 Might this be food porn for the stuffed pepper lover? Cinco De Mayo is coming up and I'm so excited to be sharing this delicious Stuffed Poblano Pepper recipe with you today!
This recipe is inspired by The Gallo Family Vineyards Moscato wine. May 9, 2014 is Gallo Vineyards National Moscato Day and to celebrate, they are hosting a party and you're invited! This year, I am very excited to be participating in the celebration and I have created a perfect, mouthwatering Moscato wine and food pairing for this Sunday's #SundaySupper. So why am I sharing this recipe with you today? Well, Gallo Family Vineyards have three kinds of Moscato wine (red, white and pink) and I had a hard time choosing the perfect pairing for this weeks #SundaySupper party. While this week's #SundaySupper's post is blind-blowingly yummy; I did have a hard time choosing between making a dessert or an entree. This is my "runner up" entree recipe ( I had my family vote between this one and the one that I'm using for Sunday's party). This Stuffed Poblano Peppers recipe is absolutely delicious — the spicy peppers with melted cheese pairs perfectly with the sweet Red Moscato Wine. If you like this recipe, I know you will LOVE this weeks #SundaySupper so please be sure to join me on Sunday for a fantastic wine and food party! Happy Cooking!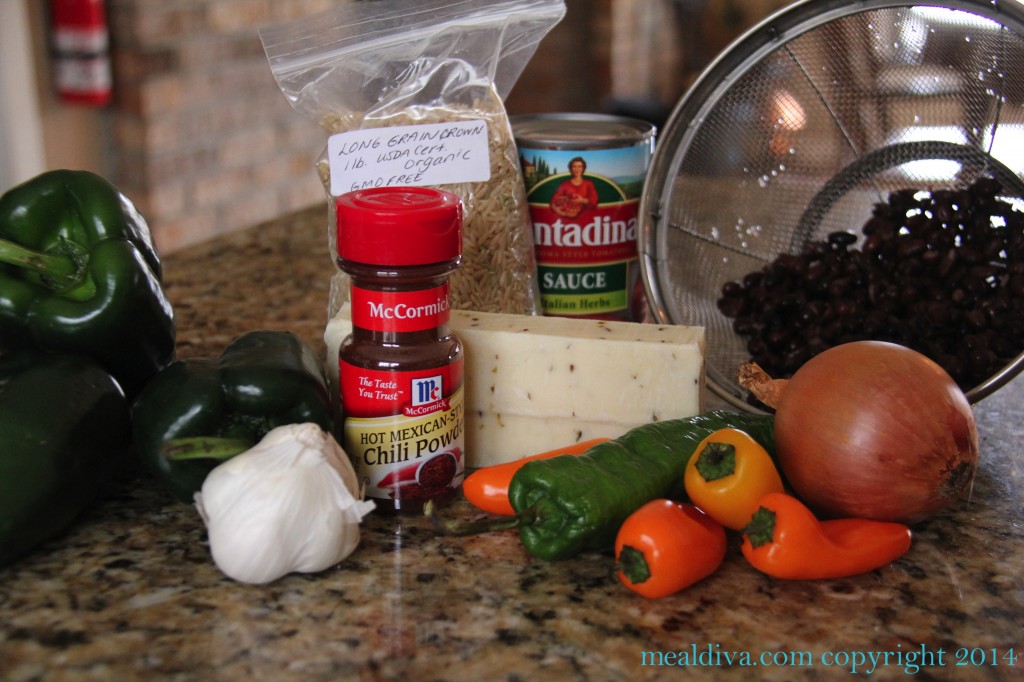 To make the peppers, lay out all of the ingredients and roast the poblano peppers. Do you have a gas or electric stove top? I have an electric stove so my peppers go into the oven for 1 hour. I have to tell you that my husband doesn't like his peppers roasted so I didn't roast all of them for this recipe and it still tasted GREAT!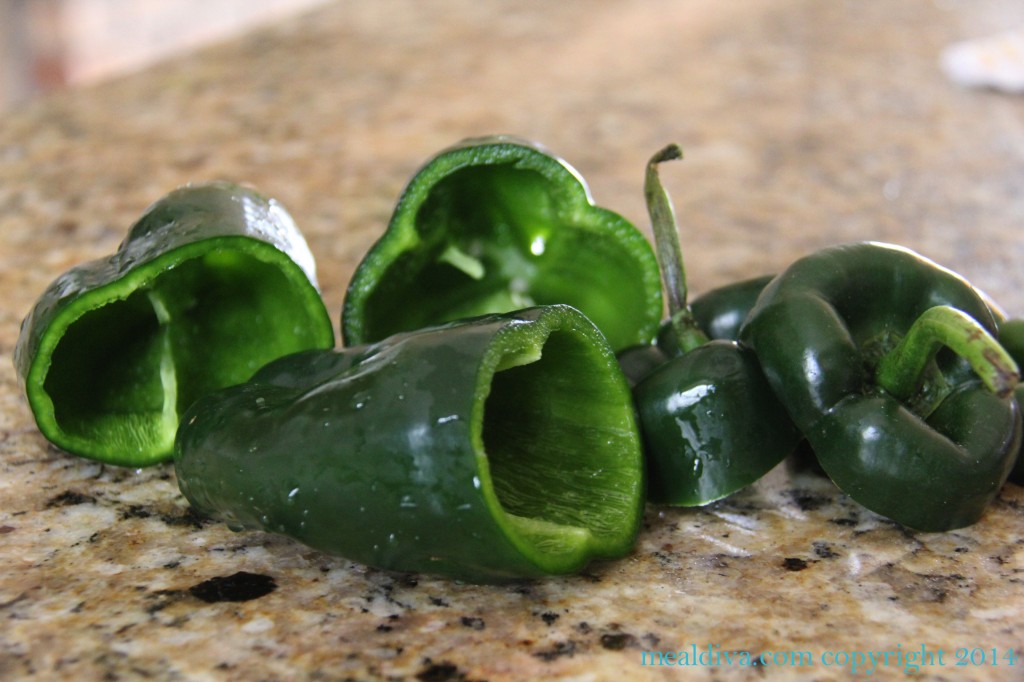 Once the peppers have been roasted, time to get the olive oil and onions in the pan. Don't you just LOVE the smell of cooking onions? Mmmmm… Once the onions are ready, add the hot pepper, garlic, rice, beans, chili powder and tomatoes to the pan. Sometimes I make this rice/bean/tomato mixture and eat it over a salad as well. Yummy!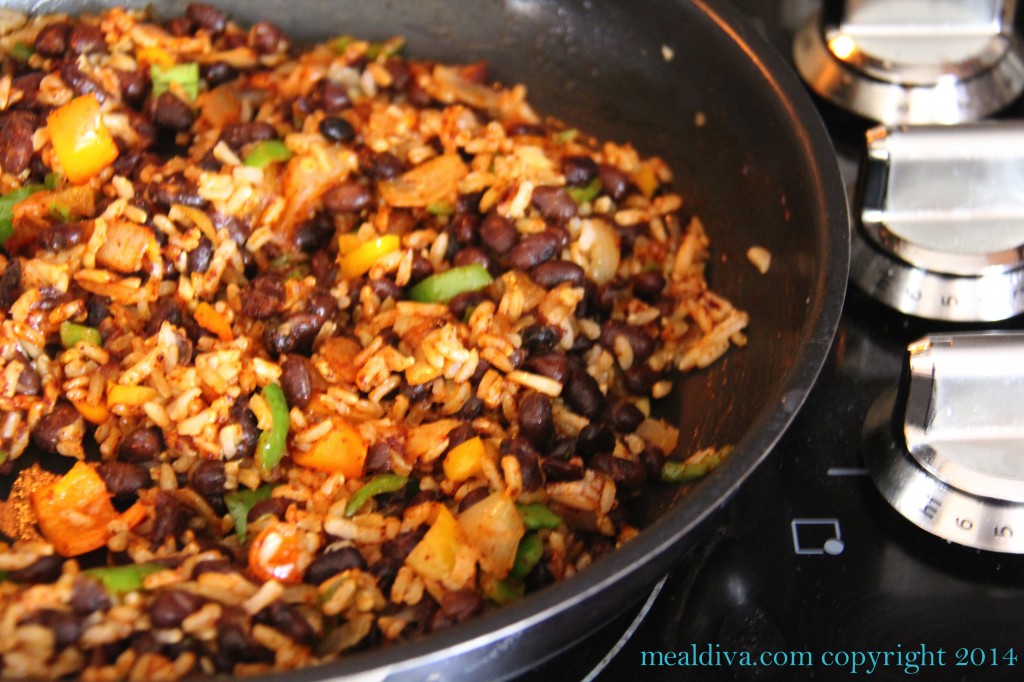 Stuff the peppers then top with cheese…oh yes… beautiful cheese…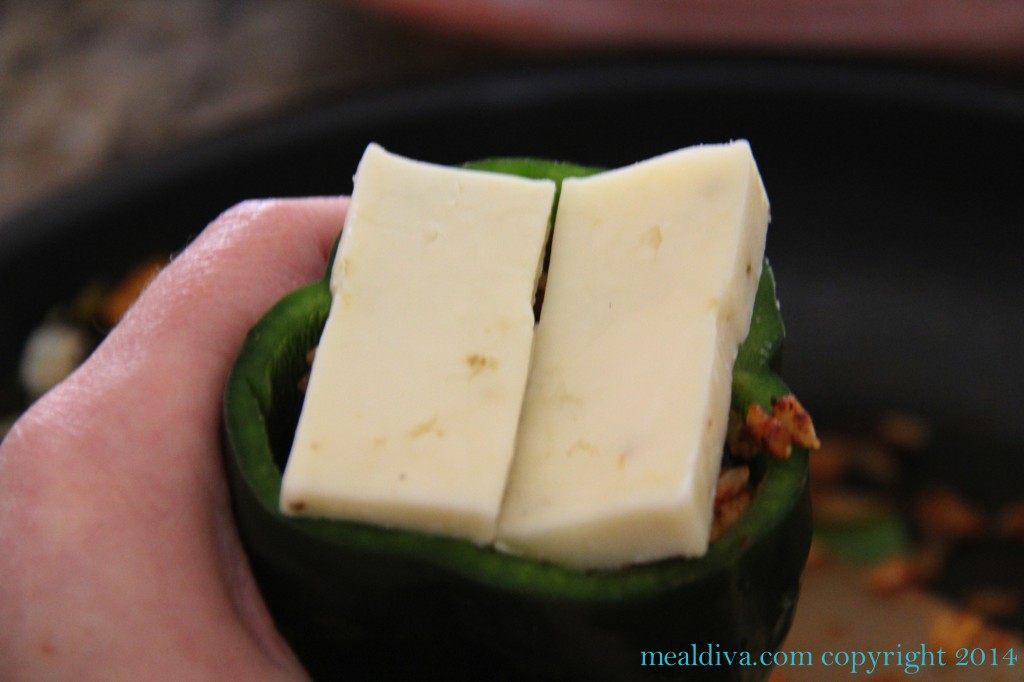 Pop the peppers into the oven until the cheese is melted and they are warmed through! Enjoy!
Stuffed Poblano Peppers
Ingredients:
3-4 poblano peppers, seeded
2 tbs. olive oil
1 yellow onion, diced
1 long hot pepper, seeded and diced
2 garlic cloves, diced
1 cup long grain brown rice, cooked according to package instructions
1 (15 oz) can black beans
2 tbs. chili powder
1 (15 oz) can tomatoes with Italian Seasoning
Monterey jack cheese, sliced thin
Directions:
Roast peppers either on a gas stove top (over an open flame) or in the oven for 1 hour at 400 degrees. Once the peppers are roasted, remove them to a plastic bag and let them sweat until cool. When the peppers have cooled, peel off the chard skin.
Preheat oven to 350 degrees
In a large skillet over medium-high heat, heat the olive oil and then sauté the onion for 5-7 minutes.
Add the hot pepper and garlic and sauté for an additional minute.
Add the cooked rice, black beans and chili powder and stir to combine.
Add the tomatoes and bring the mixture to a boil then reduce heat to simmer for 10 minutes.
Season with salt and pepper (if desired)
Fill each poblano pepper with the rice/bean/tomato mixture and arrange the peppers on a baking dish.
Top with large slices of cheese and bake for 15-20 minutes or until the cheese has melted and the peppers are warmed through.
If you like "stuffed" recipes, be sure to check out MealDiva Approved Eggplant Rollatini, Stuffed Manicotti and Thai Lettuce Wraps!