This mouthwatering, creamy, delectable and bold pan sauce is one of my favorites and I'll tell you why. Are you ready? Here goes:
It's mouthwatering, creamy and delectable! That's why.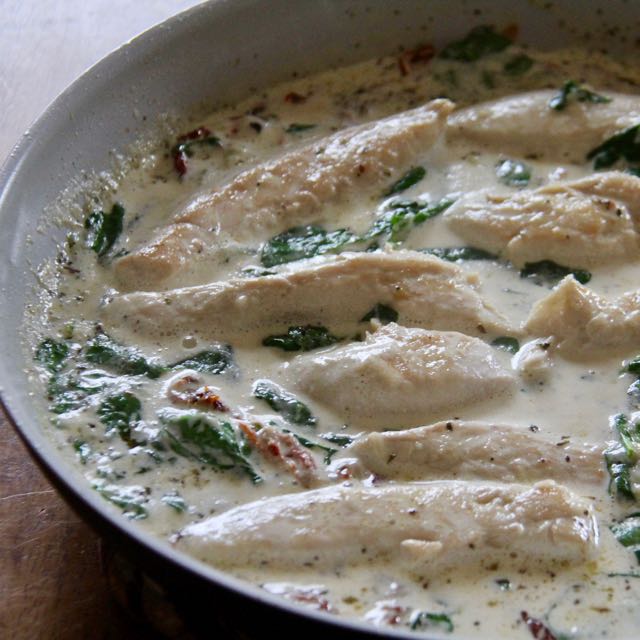 Seriously, it's really good and instantly transforms plain, boring chicken into something wonderful. You really should make this recipe for your family today.
Serve it with salad, garlic bread or a little pasta to soak up the sauce. Enjoy!
Stovetop Garlic Cream Chicken with Spinach
Ingredients:
6-8 boneless, skinless chicken tenders
2 tbs. Olive oil
Salt Pepper
Creamy Parmesan Garlic Sauce:
¼ cup butter
2 garlic cloves, minced
½ cup chicken broth
1 cup heavy cream or half and half
½ cup grated parmesan cheese
½ teaspoon garlic powder
¼ teaspoon pepper
Pinch of salt
2 tbs. sun-dried tomatoes, chopped
1 cup spinach, chopped or torn
Directions:
In a large skillet add olive oil and cook the chicken on medium high heat for 3-5 minutes on each side or until brown on each side and cooked until no longer pink in center.
Remove chicken and set aside on a plate.
To make the sauce add the butter and melt.
Add garlic and cook until tender.
Whisk in chicken broth, heavy cream, parmesan cheese, garlic powder, pepper and salt.
Add the tomatoes and spinach and let simmer until it starts to thicken and spinach wilts.
Add the chicken back to the sauce and serve over pasta is desired.