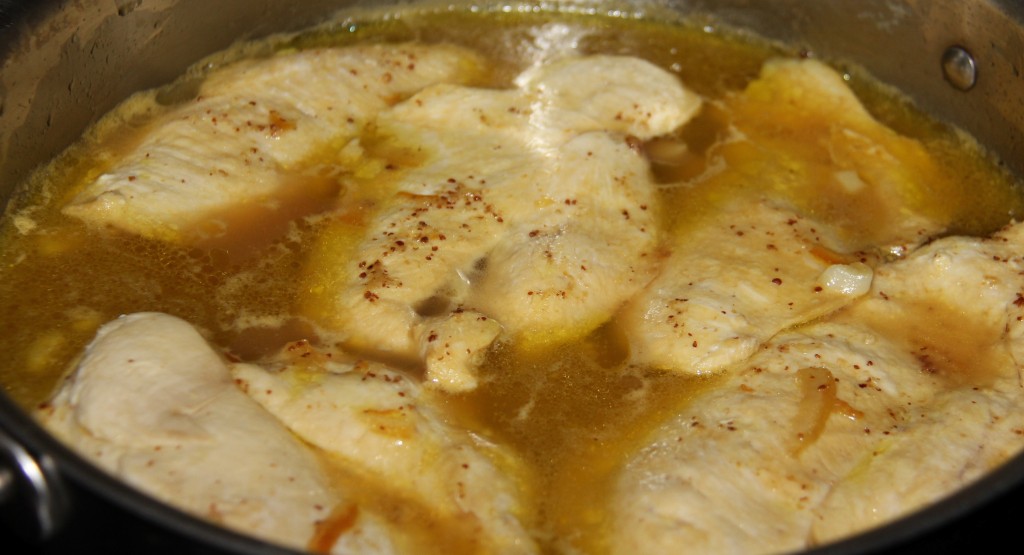 This afternoon, I asked my hard-to-please child, Spud, what she wanted to for dinner and was pleasantly surprised when she jumped up and down screaming "Orange Marmalade Chicken." She even helped me make it!
This dish is so simple and tasty that it's a must for your recipe box. The sauce does pack a punch so a nice side dish like roasted vegetables compliments it nicely.
If you have a busy day planned, to shorten your evening cooking time, you can mix the sauce ingredients (chicken broth, white wine vinegar, mustard, and juice) together in the morning and then store them in the fridge until your ready to make dinner. This way, dinner will come together SUPER FAST!
Orange Marmalade Chicken
Ingredients:
1- cup reduced-sodium chicken broth
2 tbs. white-wine vinegar
2 tbs. orange marmalade
1 small orange, juiced and zested
1 tsp. grainy brown mustard
1 package thin-sliced, boneless, skinless chicken breasts
A pinch of salt and a dash of pepper to taste
6 tsp. extra-virgin olive oil, divided
1 large shallot, minced
Directions:
In a medium bowl, whisk together the broth, vinegar, marmalade, mustard and juice from the orange.
Sprinkle chicken with salt and pepper.
Heat 4 tsp. oil in a large skillet over medium-high heat.
Add the chicken and cook until golden, about 2 minutes per side.
Transfer to a plate and cover with foil to keep warm.
Add the remaining 2 tsp. oil and shallots to the pan and cook, stirring often, until they begin to brown, about 30 seconds.
Whisk the broth mixture again and add it the pan. Bring to a simmer, scraping up any bits off of the bottom.
Reduce heat to a simmer and cook until the sauce is slightly reduced and thickened.
Add the chicken and return to a simmer.
Cook, turning once, until the chicken is heated through, about 2 minutes.
Remove from the heat and stir in orange zest.
To make this a Mealdiva approved dinner, serve with Summer Squash with Chives and 1 cup of Whole-Wheat Rice.