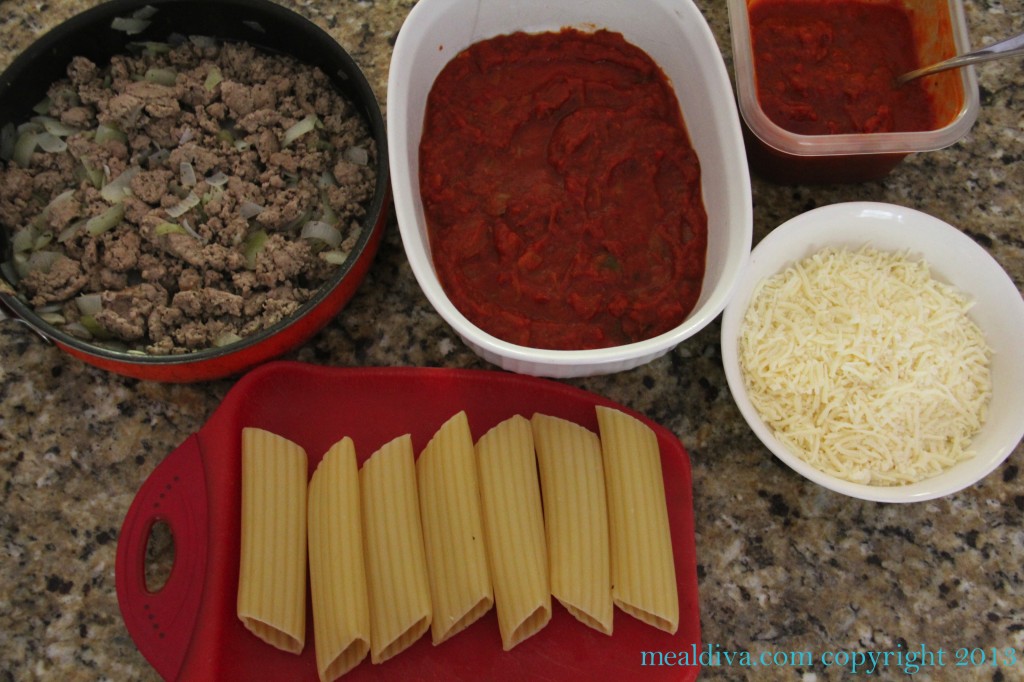 The season changed and it was like BOOM! My everything wants red sauce. My body, mind, soul – you know, all that stuff. I told my family to be prepared for something with red sauce at least once a week…like this manicotti.
Today I made stuffed turkey manicotti. Whenever I serve these piping hot from the oven, everyone is initially quiet since they're all busy plowing through the pasta, uncovering the savory flavors inside. Usually, it's a good 5 minutes before anyone comes up for air and starts chatting as normal. Delicious and healthy.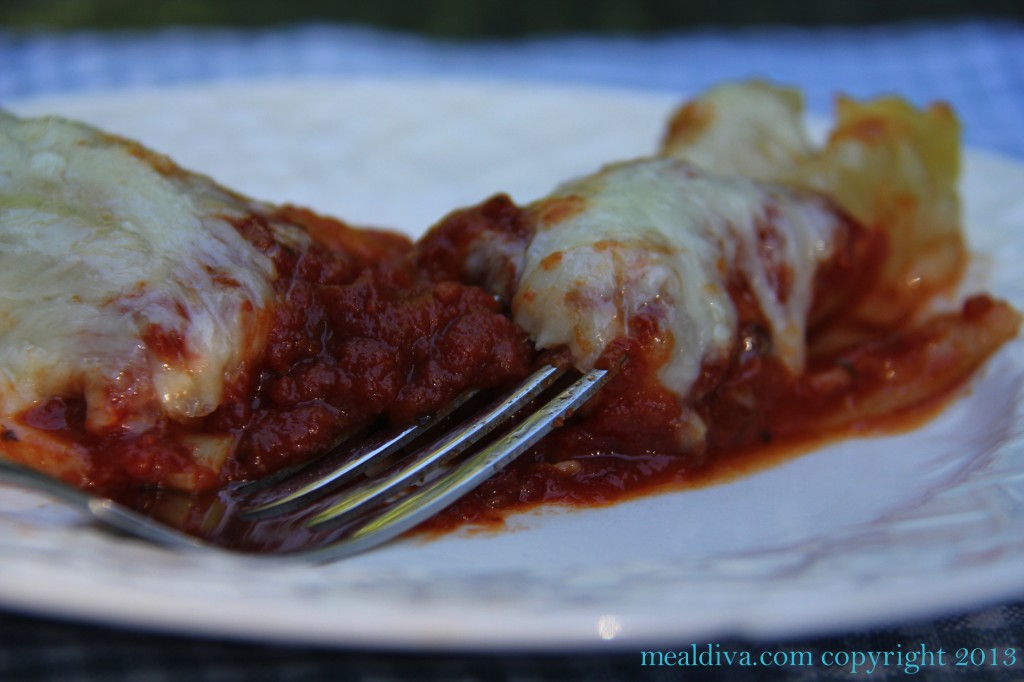 My recipe does not call for any vegetables (Spud won't eat it if there is anything other then turkey, onions and garlic in her manicotti) but feel free to add spinach or peppers. In addition, ground beef or lamb can be substituted for the ground turkey. To make this a MealDiva Approved, be sure to serve it with a nice side salad,  kohlrabi or swiss chard and some crusty whole-wheat bread!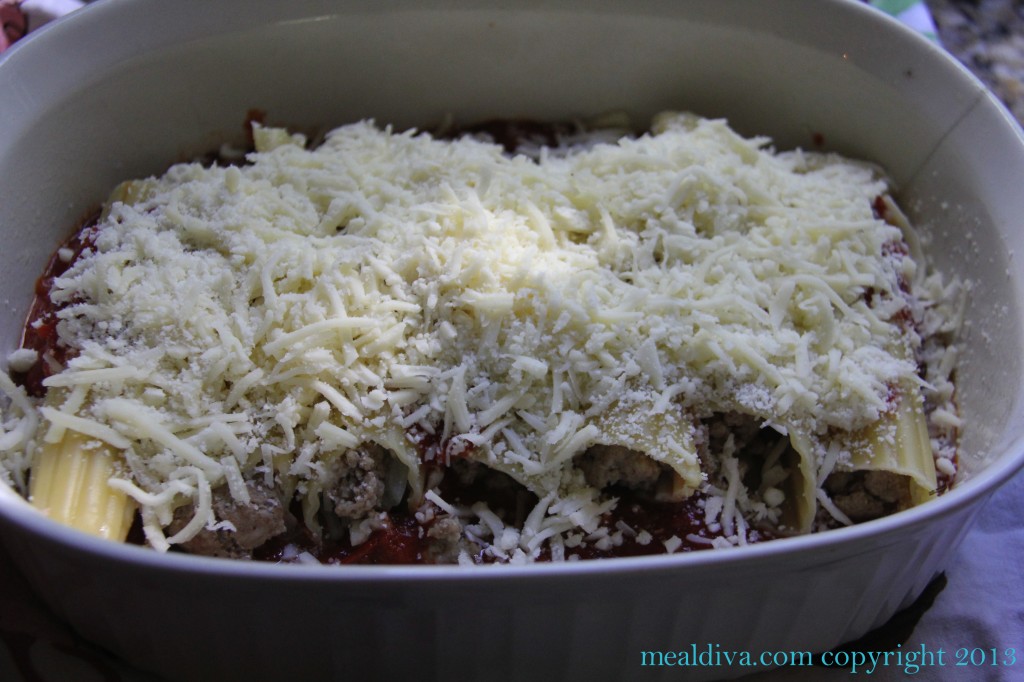 Simple Stuffed Manicotti Shell's – Peanut's Favorite
Ingredients:
For the stuffed Manicotti:
Sea Salt
Fresh ground pepper
1 8oz package of manicotti pasta shells
1 tbs. extra-virgin olive oil, plus more for drizzling
1 small onion, chopped
2 cloves garlic, diced
1 tbs. dried Italian seasoning
1 lb. ground turkey
1 1/2 cups cottage cheese
2 cups shredded mozzarella cheese
1/2 cup grated parmesan cheese
For the sauce:
See Quick Red Sauce  ( at the bottom of my turkey meatball recipe) or use a good-quality store-made one
Directions:
Make the stuffed manicotti: Bring a large pot of salted water to a boil.
Add the manicotti and cook until just slightly softened but still firm, about 7 minutes.
Drain and rinse under cold water.
Drizzle with olive oil and set aside.
In the meantime, heat olive oil in a large skillet over medium heat.
Add the onion and cook, stirring until soft, about 5 minutes.
Add the garlic and Italian seasoning, sauté for 30 seconds.
Add turkey and cook, breaking it up with a wooden spoon, until browned, about 8 minutes.
Add salt and pepper to taste and stir to combine.
Remove from the heat and let cool completely.
Make or open the red sauce.
Preheat the oven to 350 degrees
Combine the turkey mixture, cottage cheese, 1-cup mozzarella, the parmesan and 1 tsp. salt in a bowl.
Stuff each manicotti shell with the filling; set aside.
Brush a 9-by-13-inch baking dish  (or if you have a small oven like me, use two oven-proof dishes) with olive oil and pour in a little of the red sauce.
Add the stuffed manicotti and top with the remaining sauce.
Cover with aluminum foil and bake 20 minutes.
Uncover and top with the remaining mozzarella; continue baking until the sauce is bubbly, 15 more minutes.