If you are looking for a weeknight dinner that is quick, delicious and easy to make ( easy as in simple to make and to clean up), look no further! Dinners like this Sheet Pan Fall Vegetables and Sausage require only one pan and are my solution to a busy night. Sometimes I prep the vegetables the day before and have everything ready to go in the fridge when I get home. Then, all I do is heat the oven, place the sheet pan inside, set the timer and walk away. Dinner is done when the timer goes off and voila! Easy Peasy.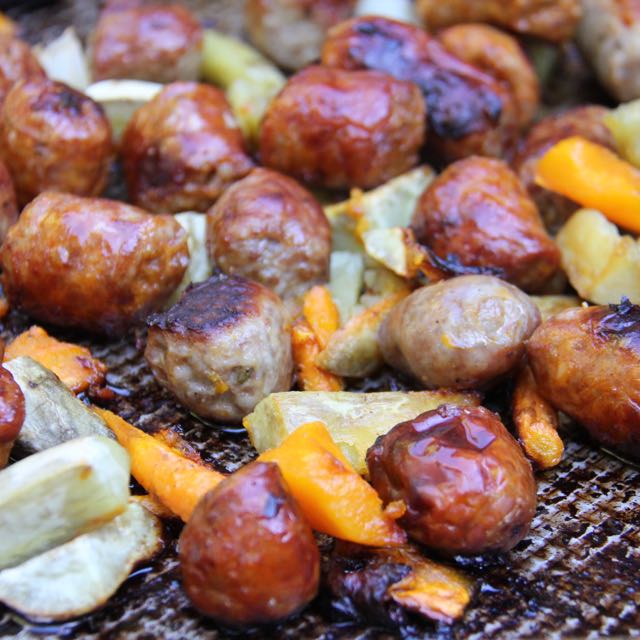 You can serve this sheet pan dinner simply as is or pile it on a sandwich or inside a panini. Leftovers can go in a soup! So versatile! Enjoy this fantastic fall recipe! Cheers!
Sheet Pan Fall Vegetables and Sausage
Ingredients:
1  Butternut Squash, trimmed, scraped of seeds, and sliced into 3/4-inch cubes
2 Sweet Potatoes, peeled and sliced into bite sized pieces
2 Parsnips, peeled and sliced into bite sized pieces
2 Potatoes, peeled and sliced into bite sized pieces
2 tbs. olive oil
Salt and pepper to taste
1 pound sweet Italian sausage links,, cut into bite sized pieces
1 Yellow Onion peeled, and cut into wedges that are 1-inch at their thickest/point
A pinch of red pepper flakes
1 garlic clove, chopped
freshly ground black pepper to taste
Directions:
Preheat oven to 400°F.
Toss the butternut squash, sweet potatoes, parsnips, and potatoes with  olive oil and salt.
Spread them out on a sheet pan and nestle the sweet Italian sausage pieces among the vegetables.
Distribute the onion wedges and garlic evenly around the pan.
Roast for 30 to 45 minutes, turning the sausages after about 15 minutes, or until the vegetables are tender and the sausages are beginning.