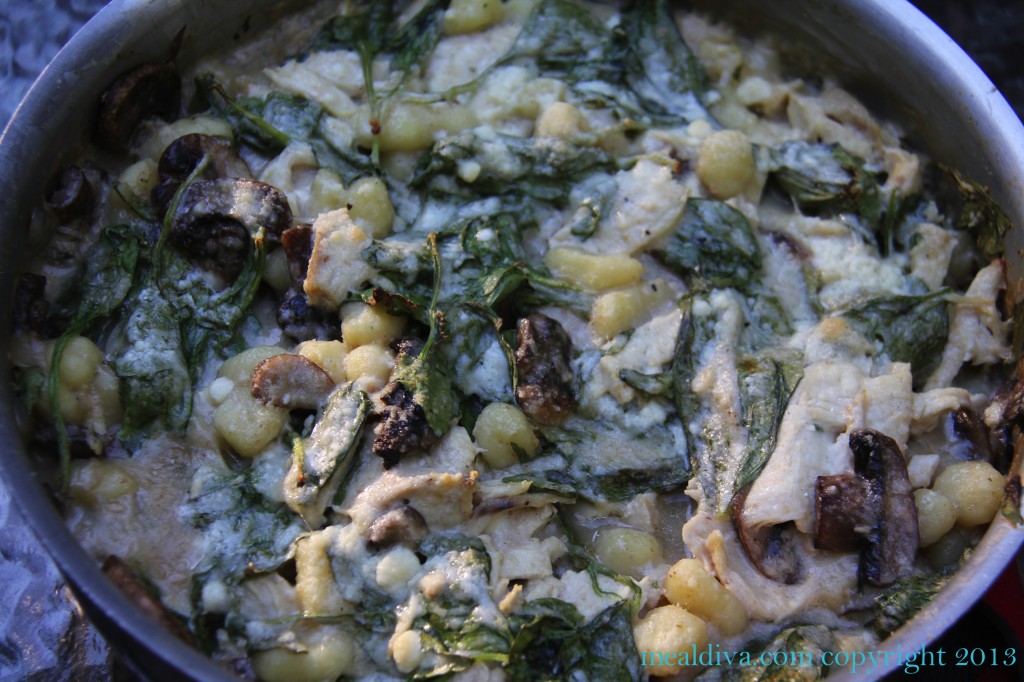 This one-pot meal is straight out of October 2013's Food Network Magazine. Ok, we tweaked the gnocchi recipe a little but they get all of the credit!
My mom was over yesterday and was browsing through the magazine. Then, while I was out, she whipped this together, using the ingredients that I had in the house, and it turned out yummy! Be sure to make the sauce in an oven-proof pan because it goes from the stove top to the oven to finish cooking just like a frittata. From start to finish, this gnocchi recipe took 40 minutes! What a great comfort dish! Enjoy!
Scrumptious Baked Gnocchi
Ingredients:
1 tbs. olive oil
1 small package of white mushrooms, sliced
Salt and Pepper to taste
2 tbs. salted butter
2 tbs. whole-wheat flour
1 ½ cups skim milk
1 cup organic, reduced sodium chicken broth
¼ tsp. nutmeg
½ rotisserie chicken, meat shredded
1 package of potato gnocchi
1 ½ cups spinach
1/4 cup grated Parmesan cheese
Directions:
Preheat oven to 425
Heat olive oil in a skillet over medium-high heat
Add the mushrooms and a pinch of salt and a dash of pepper and sauté for 5 -8 minutes. I like my mushrooms really browned so I cook them for 8 minutes. The time is up to you.
Transfer mushrooms to a plate.
Melt butter in the same skillet over medium heat
Add the flour and whisk for 3 minutes.
Whisk in the milk and then the chicken broth until they are well blended together, about 5 minutes.
Add a pinch of salt and the nutmeg
Add the chicken, mushrooms, gnocchi and spinach to the sauce and stir until everything is well coated and the spinach is wilted.
Add Parmesan to the top and transfer the skillet to the oven,
Bake until bubbling, about 20 minutes.
If you wish, broil for the last few minutes of cooking time to brown the cheese.