The theme for this month's #WeekdaySupper is GREEN and we are sharing recipes that celebrate Spring, St. Patrick's Day, green dishes and green cooking methods. Today, I'm sharing a green-colored dish with you: Scallops with Wilted Spinach and Arugula. Scallops are delicious and super low in calories. Paired with healthy spinach and arugula – this is a really healthy meal that has a lot of flavor.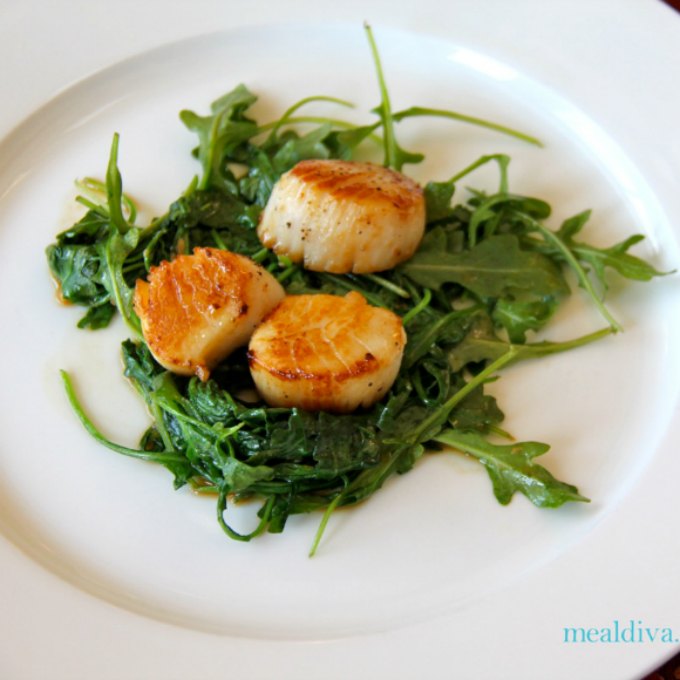 This recipe only  uses olive oil, garlic, salt, pepper and red pepper flakes. The results are scrumptious: a little salty, a little bitter, and a little spicy. Serve this dish tonight and everyone will love it. I promise.
Before we start cooking, I have to give my in-laws a big shout- out for letting me use their kitchen! I can't cook shellfish in my home because Peanut's allergies  are so severe that I only eat it when I'm out with Daddy Diva for dinner. Over all, I'm pretty sure they weren't very "put-out" since I served them some of this Heaven -on- a- plate for lunch.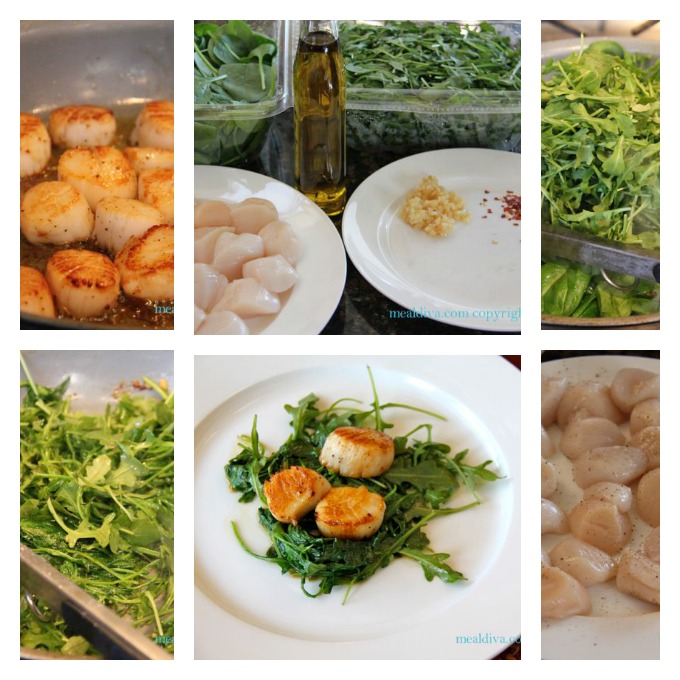 Time to chow down.
Scallops with Wilted Spinach and Arugula
Ingredients:
16 large sea scallops, rinsed, dried and tough muscles removed (cut them off with a knife)
Sea salt
Ground pepper
3 tbs. olive oil
2 garlic cloves, peeled and minced
8 cups spinach
8 cups arugula
Red pepper flakes
Directions:
Heat a large skillet over medium-high heat.
Sprinkle scallops with a pinch of salt and pepper.
Add 1 tbs. oil to the skillet and then the scallops.
Cook the scallops on 1 side until golden brown, about 7 minutes then flip and cook an addition30-45 seconds. They should be opaque.
Transfer to a paper-towel lined plate and set aside.
Reduce heat to medium and the rest of the oil.
Add garlic and cook for 20 seconds then add the spinach, arugula and a pinch of red pepper flakes.
Cook, tossing until the greens are just wilted, about 2 minutes.
Transfer to a platter, top with scallops and serve hot.
Be sure to check out this week's simply scrumptious #WeekdaySupper line up:
Monday – Shrimp with Basil Pasta by Recipes Food and Cooking
Wednesday – Rice and Beans with Guacamole by Feed Me, Seymour
Thursday – Barley Risotto with Garlicky Spinach by eating in instead
Friday – Green Eggs and Ham by Sew You Think You Can Cook